Permalink Manager supports many popular WordPress plugins. For a few, you will need to add an additional snippet to your site to get the most out of this plugin.
Please note that the list is not exhaustive and is continually being extended. The WordPress.org plugin directory now has around 60.000 plugins. The absence of a plugin from the list does not always indicate that it will not function with Permalink Manager.
Custom fields & custom post types WordPress plugins
Advanced Custom Fields
The plugin allows you to add custom fields managed by Advanced Custom Fields to custom permalinks.
Inside the permalinks, you may include any of the following field types: "Text", "Number", "Relationship", "Taxonomy", "Select", "Post object", or "Date picker".
Pods, Toolset, JetEngine & Custom Post Type UI
Permalink Manager is compatible with both custom post types and custom fields defined with these plugins. It can be used to modify the permalink structure of custom post types and taxonomies that have been registered using the aforementioned plugins.
In general, Permalink Manager gives you complete control over the format of permalinks for custom post types and taxonomies. This allows you to quickly modify them in bulk or make individual URL adjustments for each of posts and terms.
One of its key applications is to remove default rewrite bases (for example, "product/product-title", "portfolio/portfolio-title") that are appended to the beginning of native permalink. This is just one example, but there are many more ways to use Permalink Manager in combination with Pods, Toolset, JetEngine, or Custom Post Type UI plugin.
SEO plugins
Yoast SEO, RankMath & SEOPress
Permalink Manager is compatible with all the key Yoast SEO, RankMath & SEOPress functionalities. Permalink Manager will automatically modify all permalinks in meta tags (canonical URL), sitemaps, and breadcrumbs displayed with these plugins.
The plugin uses the primary category for default permalinks. To deactivate this functionality just unselect '"Primary category" support' option in Permalink Manager settings.
Why Yoast SEO displays different URL in its metabox?
Yoast SEO uses the native slug to provide the URL preview in its metabox. Currently, there is no technical possibility to make it show the custom permalink established using Permalink Manager. Nevertheless, this issue affects only the Yoast SEO metabox displayed solely in admin panel. All URLs (including canonical meta tags and sitemaps created by Yoast SEO) are properly filtered by Permalink Manager.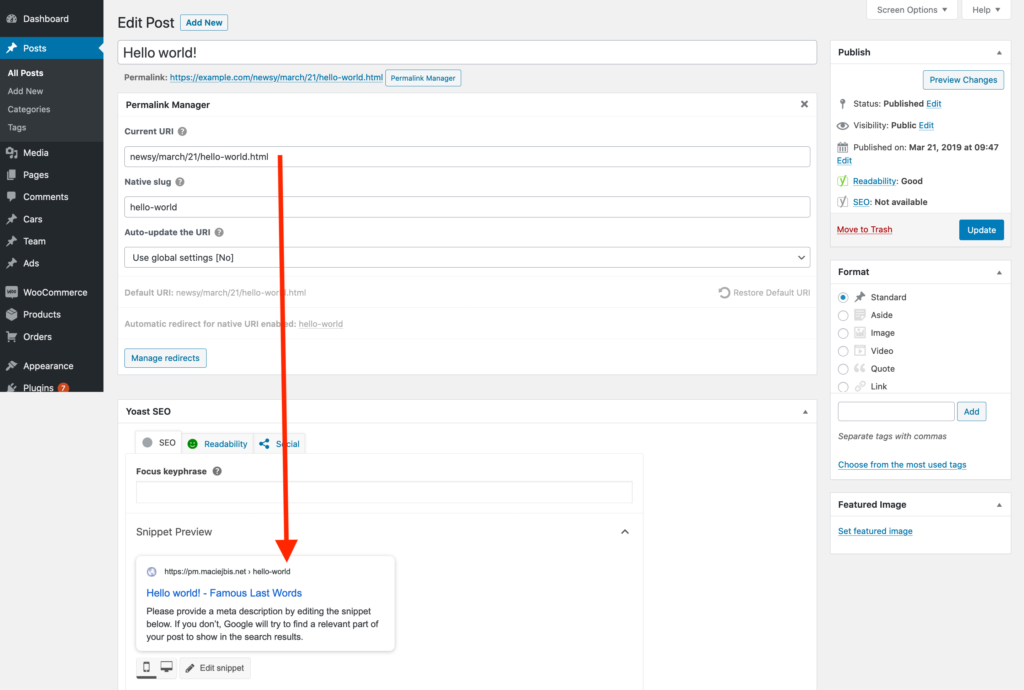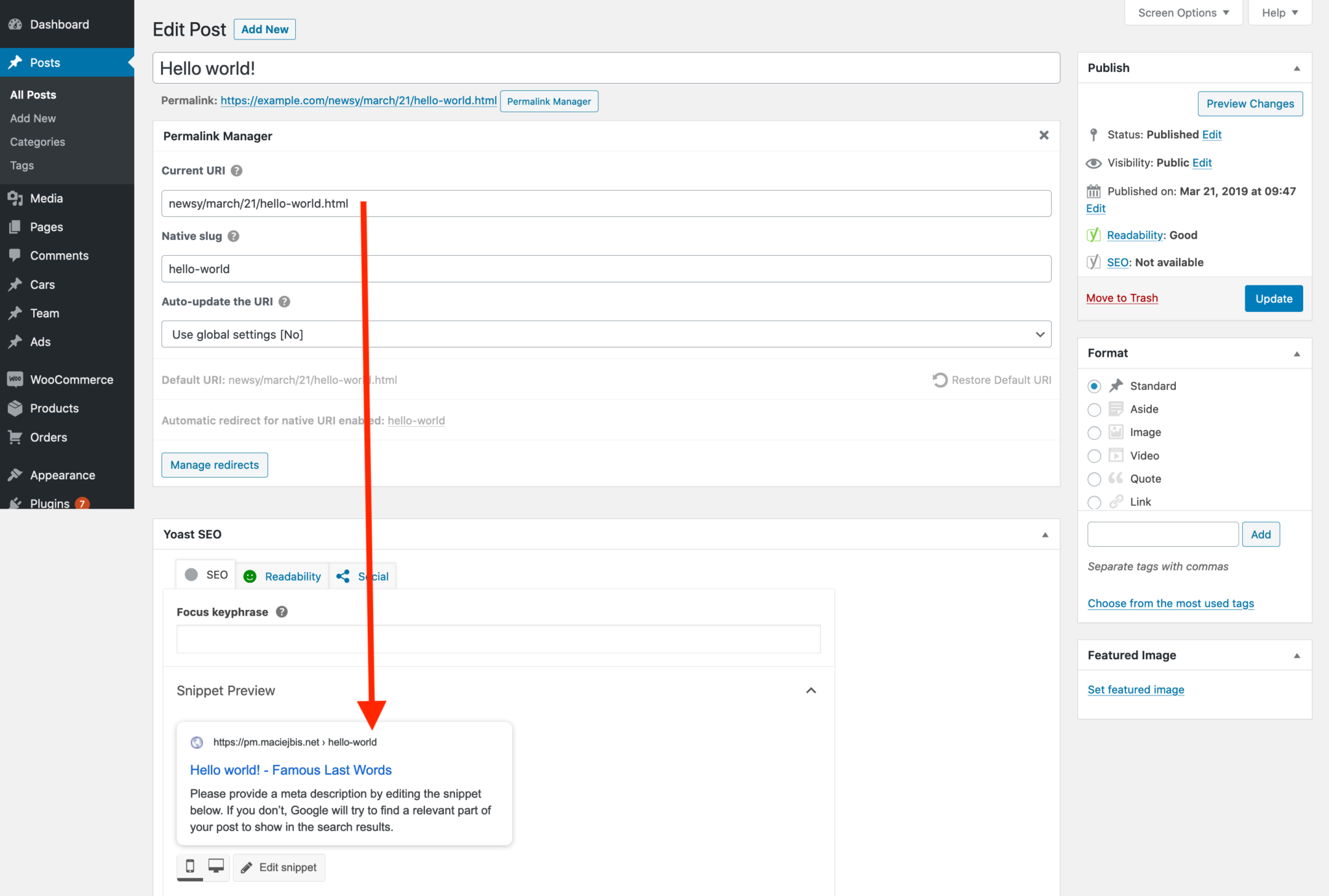 Language plugins
WPML & Polylang
Permalink Manager works with both WPML and Polylang in most usual user cases. In some cases, when Permalink Manager is used with other plugins, some of its built-in features may not work as well as they should. Disabling this feature may help solve any problems you have with how custom permalinks' language is determined.
If you are having problems with the way the language of custom permalinks is recognized, consider deactivating the "WPML/Polylang language mismatch" and "WPML compatibility functions" options in the plugin settings.

TranslatePress
Unfortunately, Permalink Manager is not compatible with TranslatePress.
Unlike WPML or Polylang, which save translations as separate posts, TranslatePress adopts a different method to store translated content. As a result, Permalink Manager cannot process permalinks for translated content items.
Furthermore, if the slug is translated directly using TranslatePress, the algorithm that detects custom permalinks will be unable to identify the URI.
WooCommerce
Permalink Manager was created with e-commerce customers in mind, and it fully supports WooCommerce. As a result, the plugin has a vast number of specific features that will allow you to beautify your website's URL addresses.
It is also possible to use the in-built import/export tool to import and export custom permalinks for products.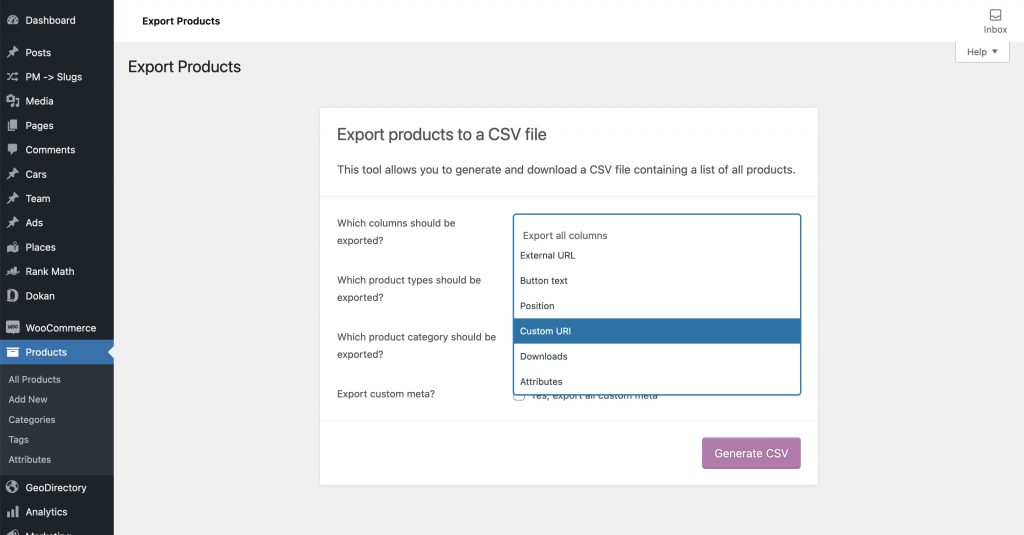 Dokan
Using an extra code snippet you can make Permalink Manager include store/vendor name in WooCommerce product permalinks. To take benefit of the snippet, you will need to paste it to functions.php file in your (child) theme directory. This would allow Permalink Manager to identify a new permastructure tag (%store%) for new product permalinks.
If you need to exclude the Dokan dashboard page from the Permalink Manager URI functions, a second code snippet is provided below. This code may be useful if Permalink Manager does not recognize the URLs of Dokan's dashboard sections.

Forum/community plugins
Asgaros Forum
To detect the URL addresses of the forums and subforums, Asgaros Forum uses a specific approach. The issue is that it may conflict with the Permalink Manager functions that identify custom permalinks. To ensure that both plugins work smoothly together please pick "Forum" page in Asgaros Forum plugin settings.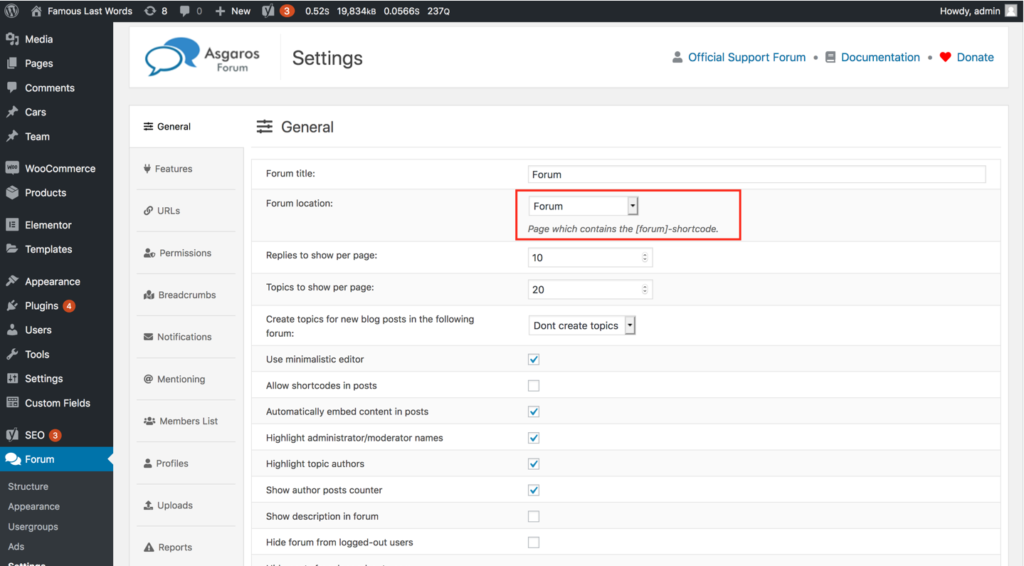 Additionally, please copy and paste the following snippet into functions.php in the (child) theme directory.

Other WordPress plugins
GeoDirectory
Permalink Manager may be used to customize the permalinks of any GeoDirectory-controlled custom post types (including "Places").


Default category support
Please put the below PHP code snippet into functions.php in the child theme directory to make Permalink Manager respect the "default category" selection inside the custom permalinks of "Place" post type.
WP Job Manager
The free version of the plugin supports the permalinks of Job Listing items. Editing URLs of Job Types and other user-defined custom taxonomies is available with Permalink Manager Pro.
WP All Export
Permalink Manager works with the WP Export plugin, so you can include the permalinks in the export dump.
When customizing the export, pick the "Custom URI" field displayed in the "Permalink Manager" section to export the plugin's custom permalinks.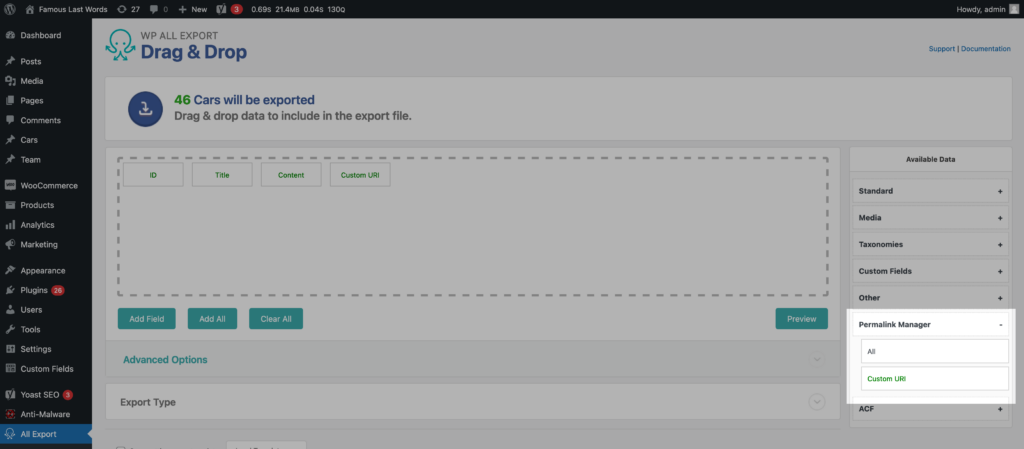 WP All Import
When you utilize the WP All Import plugin to import posts, pages, custom post type items, or products, you may use Permalink Manager to automatically generate the custom URIs.
Only the URI (e.g. business/softly-t-shirt) should be included in the custom URIs in the import file (XML, CSV, TXT), not the complete URL (e.g. https://example.com/business/softly-t-shirt). If you leave the field in the "Permalink Manager" section blank, the plugin will use your current Permastructure settings to create new custom permalinks.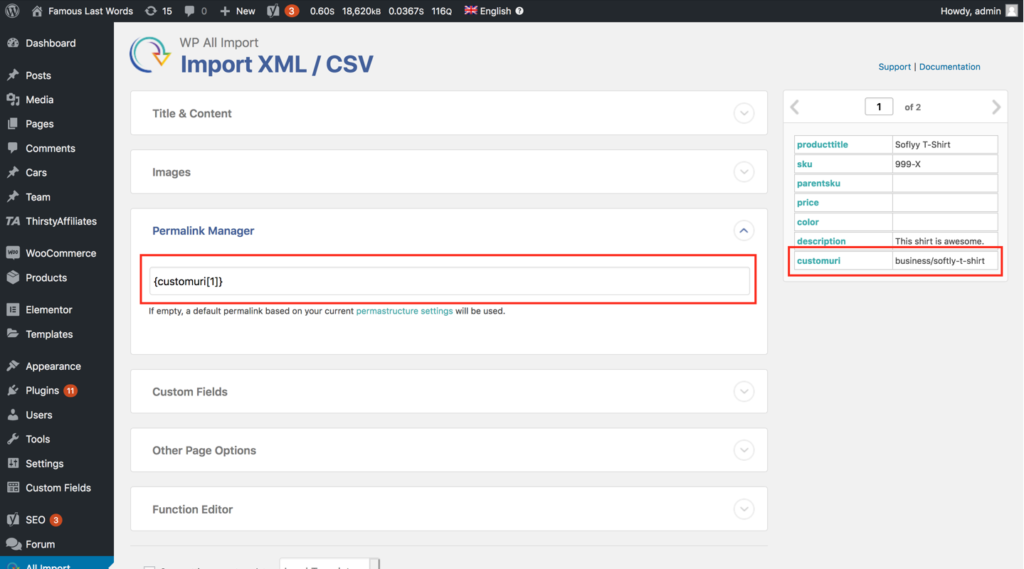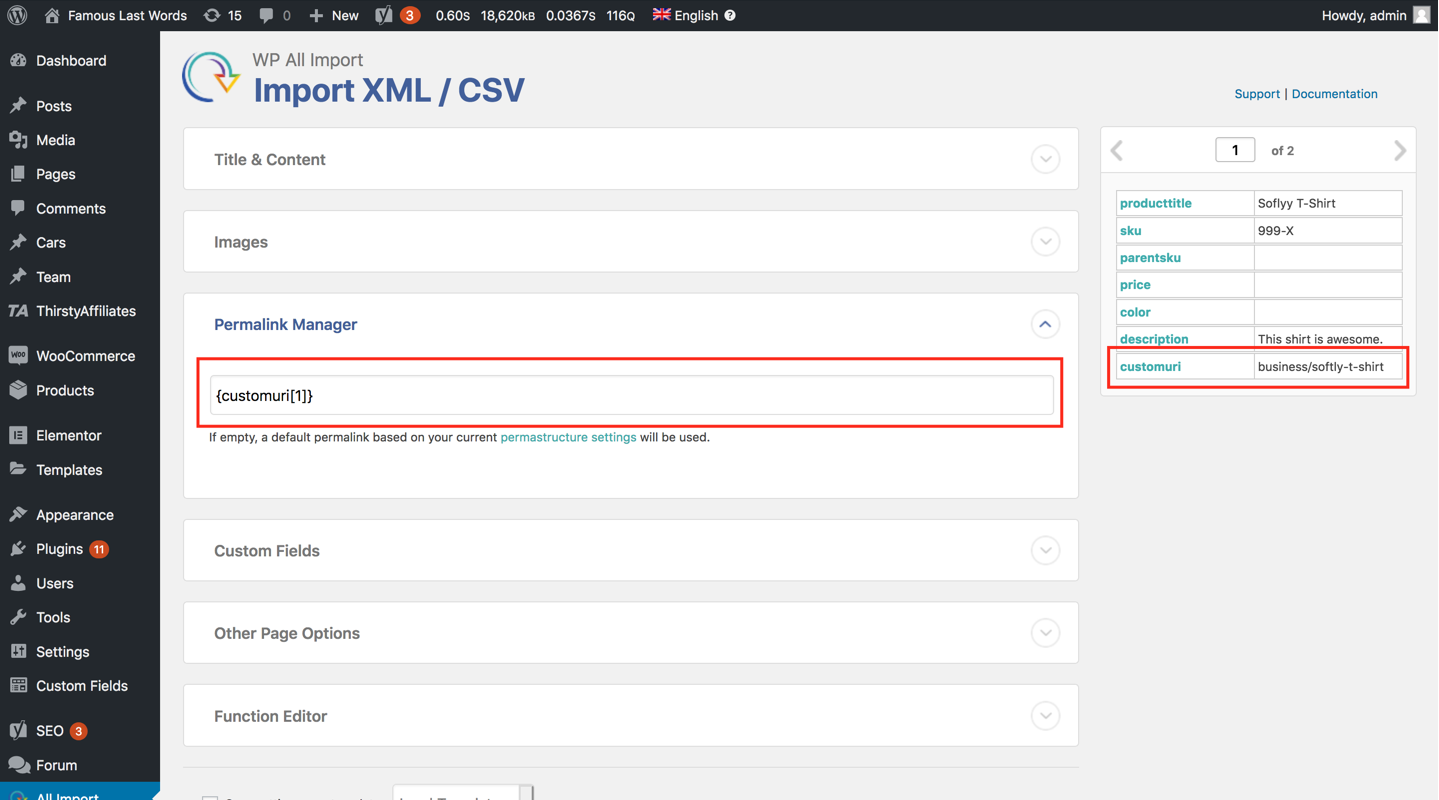 Themes
Enfold theme