In terms of customizing your shop URLs, WooCommerce permalinks do not provide you with a lot of options. This tutorial will show you how to quickly and easily modify the permalinks for products, categories, and tags using Permalink Manager Pro.
Some of the functionalities presented in this article are not available in free version (Permalink Manager Lite).
Without a question, well-designed URLs make it easier for search engines to detect and comprehend your store structure. However, there are a few things to think about before making the decision to change your permalink structure.
If you are beginning a new website, there is not much danger because your site will only be ranked in search results in the future. Changing permalinks on a well-established website, on the other hand, may be more dangerous and complicated.
To get a general idea, watch the below short video from Google Search Central's official YouTube channel, which includes a list of things to think about before making the transition.
Tips for improving WooCommerce permalinks
To begin with, all URLs should be easy to understand and precise. In fact, the shorter the URL, the better, because it is easier to understand. Not only does it important to your potential customers, but it also matters to search engines, which only show about 100 characters at a time.
While an organized structure is beneficial, you should also consider making your permalink as short as possible. To do this, avoid using "stop words" and other extended naming structures in your permalinks. With default WooCommerce permalinks prefixed with "/product/" and "/product-category/" URL bases, the latter can be a serious problem. You may simply get rid of them by using a third-party plugin, such as Permalink Manager, as discussed further in this post.
According to the WooCommerce documentation, deleting those bases will lengthen the time it takes for the website to load and recognize the page you are attempting to visit. Although this is true for huge websites, there have been no reports of performance decreases after changing permalinks on small and medium WooCommerce websites. In fact, unless you need to change tens of thousands of product permalinks, you will not notice any difference in page load time.
It is not only the structure and format of your URL addresses that matter. The structure of URLs is not the only factor Google considers when determining a site's structure. Crawlers examine the relationship between pages to learn about the importance of various pages on a website. In other words, the more internal links a page has, the more valuable it is to Google. To take advantage of this, you may link the page you wish to promote from the homepage or from other locations, such as blog posts.
How to manage WooCommerce permalinks?
In-built permalink settings for WooCommerce
After you have installed WooCommerce, you should see a few extra settings options in your WordPress dashboard under "Settings > Permalinks".
You can change the default base for each content type. For example, you may change the product category base from "product-category" to "clothing," resulting in a URL like store.com/clothing/shirts.
Unfortunately, leaving these fields blank and removing the permalink bases from WooCommerce permalinks is not possible using WordPress alone. It is also not allowed to utilize the same base (/clothing/, for example) for more than one content type.
This implies that product, category, and tag bases should be distinct in order to avoid conflicting. Otherwise, WordPress will be unable to determine whether a product or a product category should be loaded when a given URL is requested.
When it comes to WooCommerce URLs, you will require a plugin like Permalink Manager if you want additional customization options. Permalink Manager, unlike the built-in rewrite functions, allows you to customize WooCommerce permalink formats in nearly any manner you wish.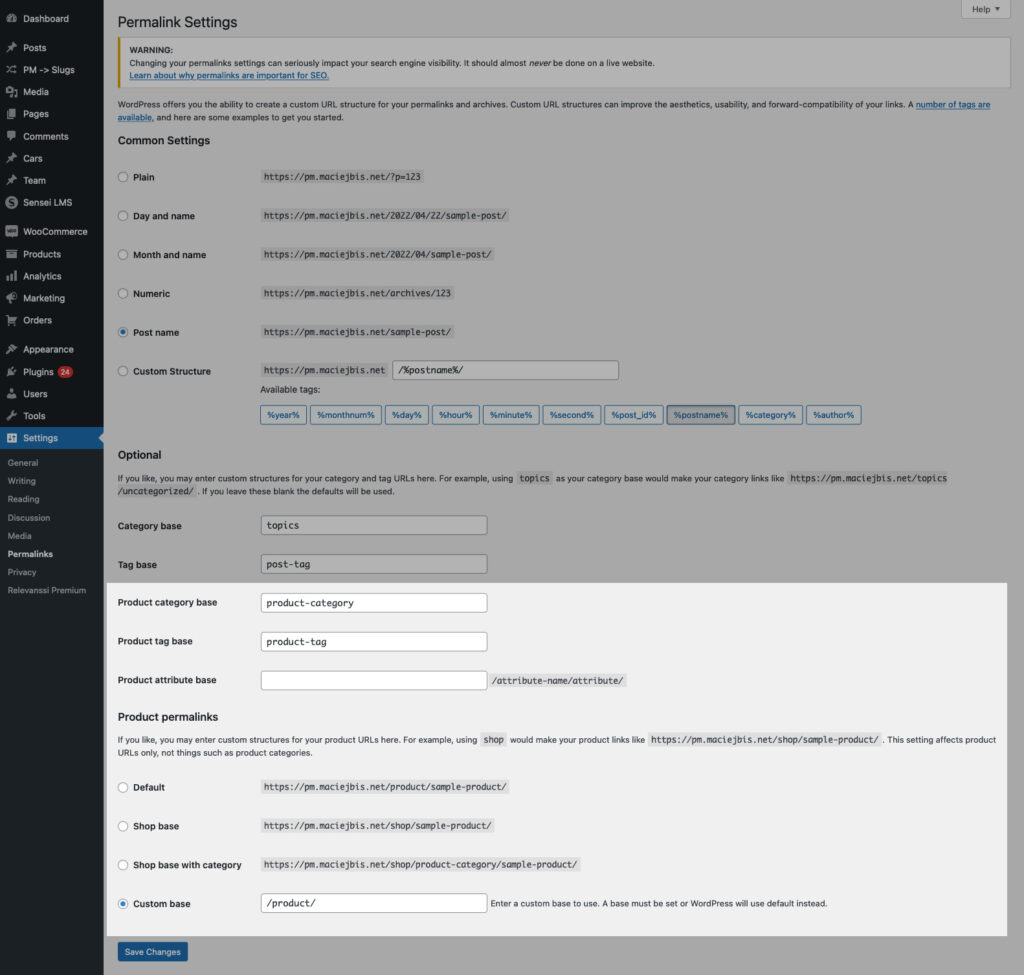 Permalink Manager and product permalinks
WooCommerce URLs may be mass updated using Permalink Manager, which is more flexible and customisable than the default permalink settings. Below is a quick summary of the two primary methods for modifying the WooCommerce addresses accessible with Permalink Manager.
The Permastructures editor is a handy tool for rewriting and reformatting numerous WooCommerce permalinks to any format you like. In brief, the Permastructures will be by default applied to new WooCommerce permalinks. However, by using the "Regenerate/reset" function, you may make the existing URLs follow the newly defined permalink structure.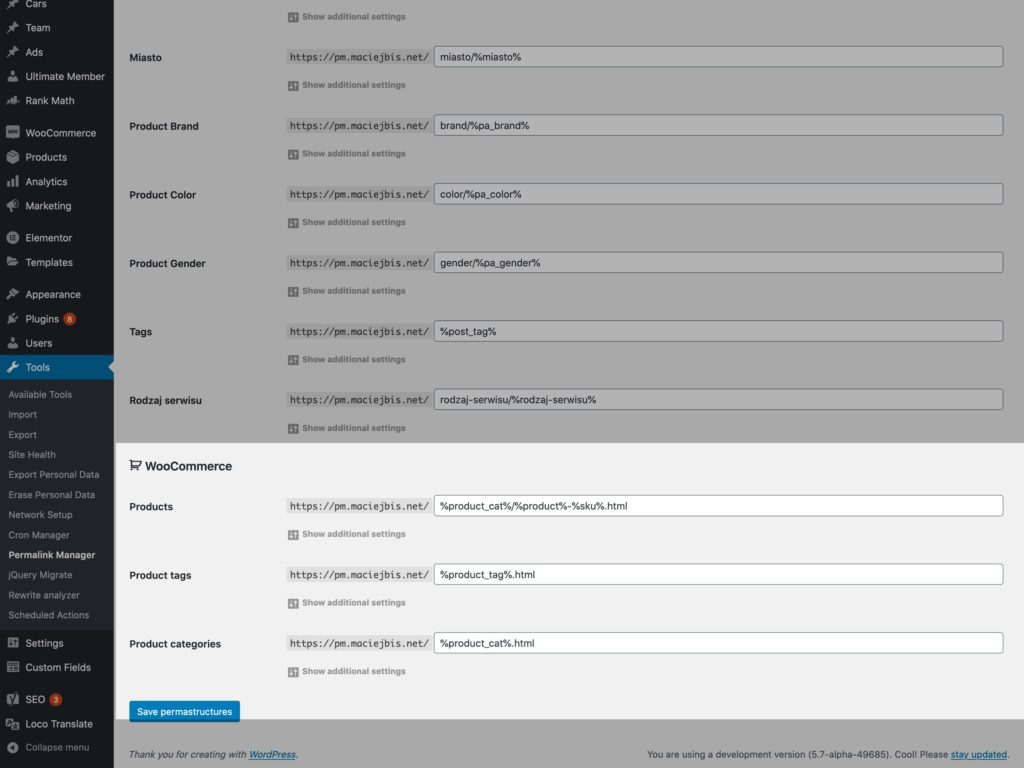 There is yet another alternative. When you only need to update the URL addresses of a few products or product categories, URI Editor is the simplest solution. To do so, you can use either the "Edit product (category)" page when updating the content or the bulk editor in the plugin dashboard.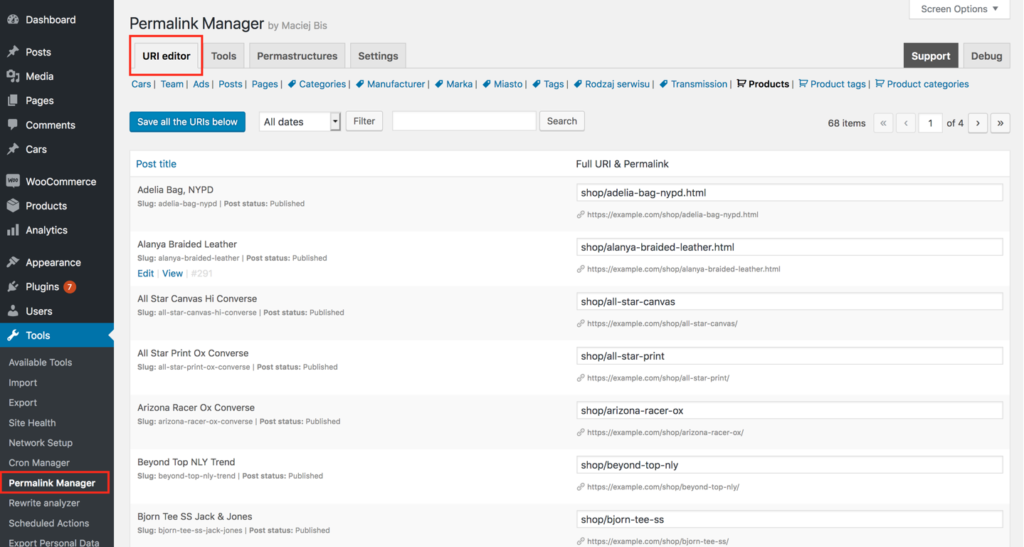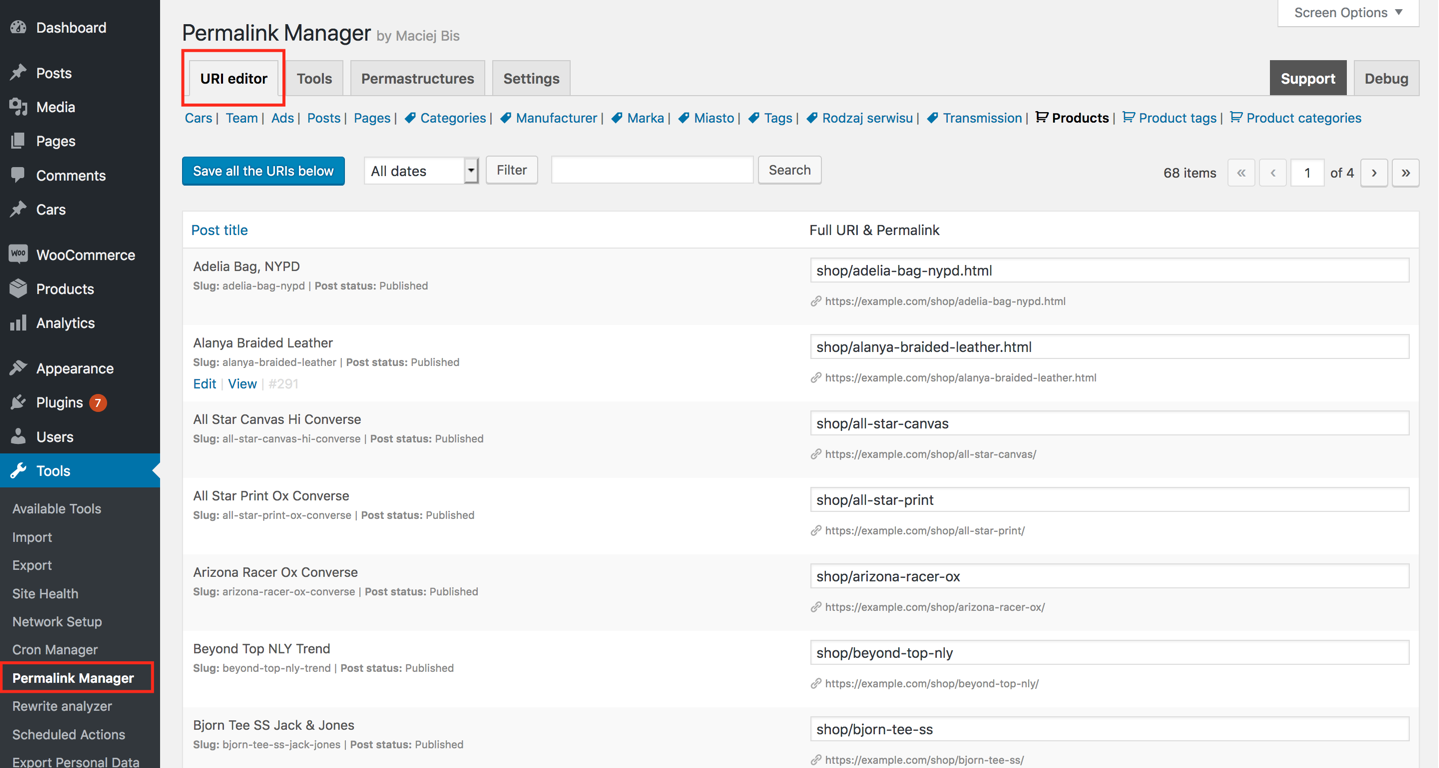 Choosing the Best WooCommerce Permalink Structure
How to remove rewrite slugs from WooCommerce permalinks?
When it comes to SEO optimization of WooCommerce permalinks, this is most likely the most often discussed question. This specific issue has a simple solution, as you will see.
In general, URL bases such as "/product-category/" and "/product/" are unneeded since Google understands the structure of product pages without the need to indicate it in the URL. The reason for this is that XML sitemaps and breadcrumbs are accurately indicating product and category pages on the majority of WooCommerce stores.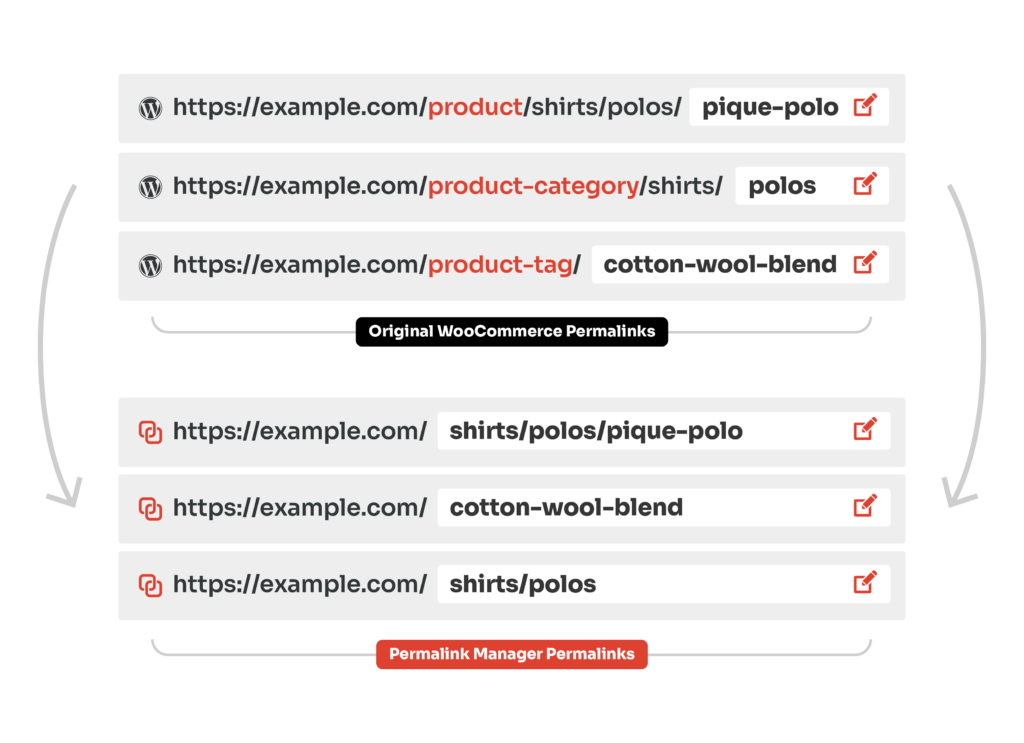 In other words, deleting unnecessary permalink bases helps to shorten the length of URLs for improved readability, but it also reduces the depth and complexity of URLs. The URL structure is significant because search engines value sites that are closer to the main folder (domain).
How to add SKU to product permalinks?
Another useful feature is the ability to add SKU numbers to product permalinks. You can easily edit the product permalink format and add the SKU number anywhere in the URL.
Here is a simple example of how the SKU can be used inside a product permalink.
New product permalink format:
http://example.com/%product%-%__SKU%

Sample product permalinks:
https://example.com/happy-ninja-83742603880/
https://example.com/woo-singles-18578169213/
The steps are identical to those for removing /product/ and /product-category/ from WooCommerce permalinks. First, navigate to the "Tools -> Permalink Manager -> Permastructures" admin page and scroll down to the WooCommerce section.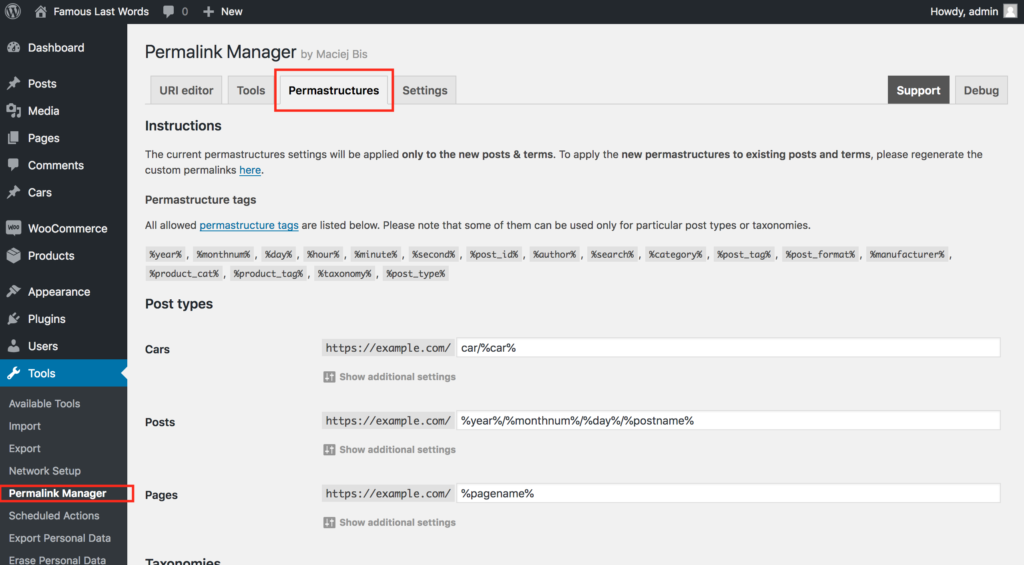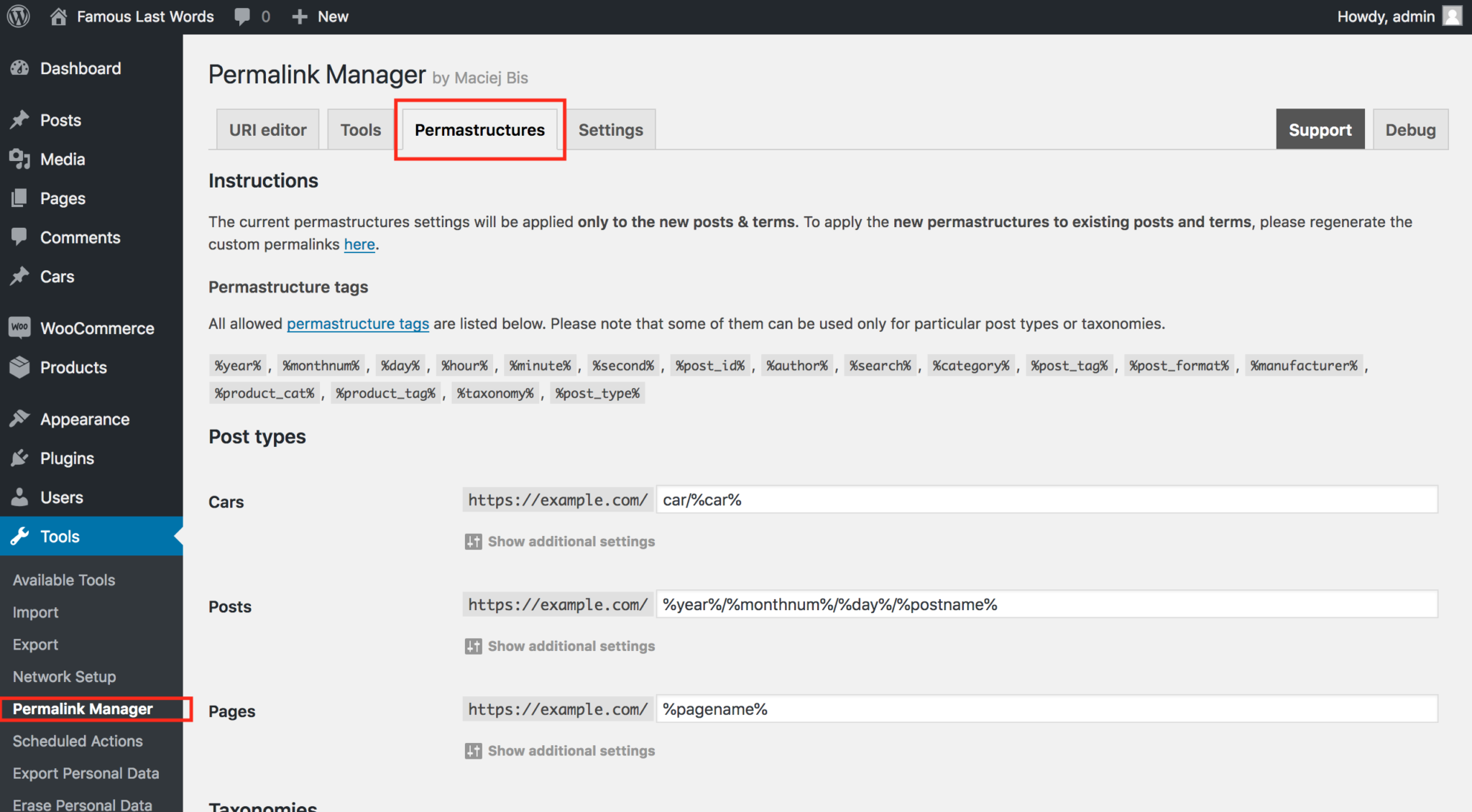 Now, under the permastructure field for the "Product" post type, add the "%__sku%" tag. You can enter SKU tag in any way you like inside the input area.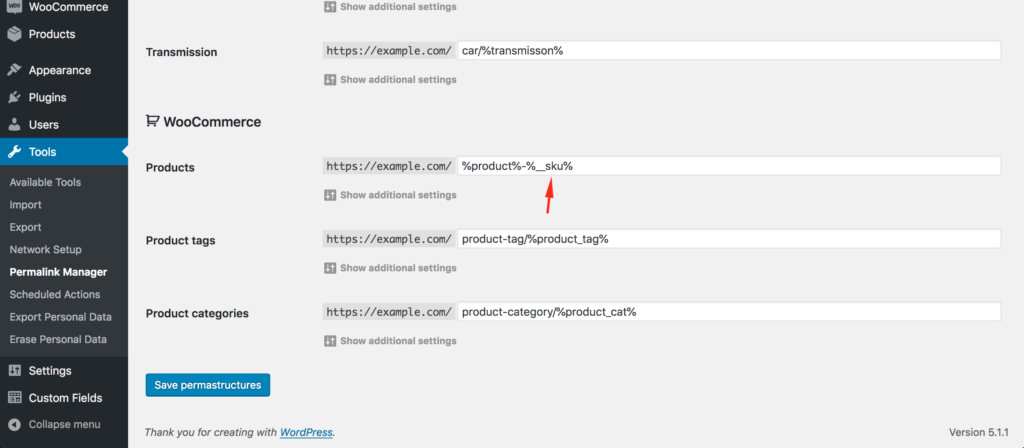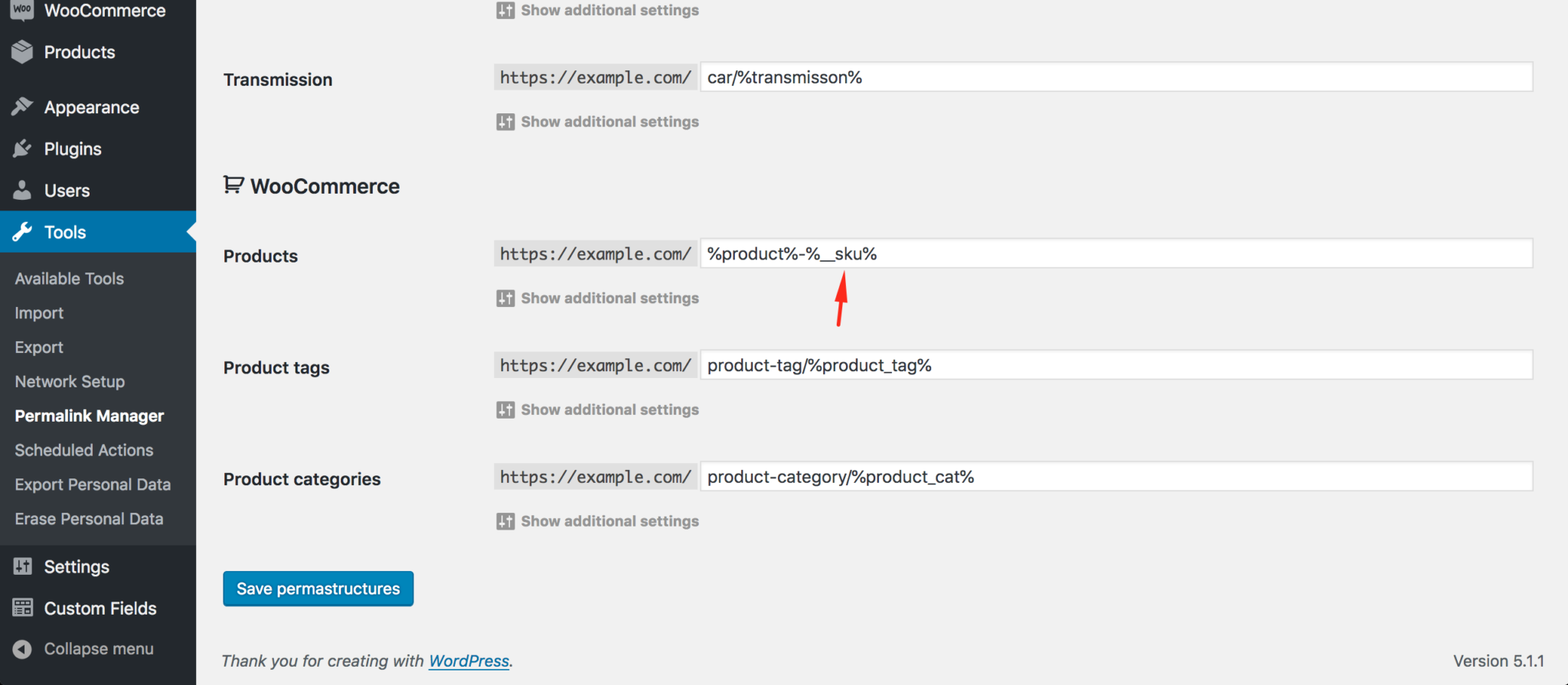 Permalink Manager will now add the SKU number to all new product URLs based on the new permalink format. Please keep in mind that existing product permalinks will not be automatically updated. Therefore, the old product permalinks must be regenerated in "Tools -> Regenerate" section.
How to translate WooCommerce URLs?
You may use Permalink Manager to not only remove needless rewrite bases from WooCommerce URLs. Another common use might be the ability to customize permalink formats based on language.
It is also possible to translate the permastructures and configure multiple permalink formats for each language specified by
WPML
or
Polylang
. More information about this may be found in
this article
.