Logical structuring of page permalinks can make it easier for your visitors to navigate through your site. A consistent URL structure can make your site more SEO-friendly, allowing you to attract more visitors from search engines.
As a website owner, you may have encountered the word "permalink" in discussions regarding content marketing and search engine optimization (SEO). So what exactly is a permalink, and why is it vital for the ranking of your website on search engines like Google? In this article, we will answer these questions and show you how to update the permalink on your website step by step.
Without a doubt, you should consider the permalink structure as part of your SEO strategy. All the same, it is undeniable that WordPress has limited ability to change URLs. In general, you may modify their structure for posts and pages, but not for custom post types and taxonomies.
This article explains how to change permalink in WordPress and what a permalink is. You will also learn the basics of the Permalink Manager and how to leverage the URL system functionality that comes standard with this CMS.
Furthermore, we have given some SEO tips at the conclusion that you should keep in mind while creating new page permalinks. All of this information should help you understand what is a permalink and choose the best WordPress permalink structure for your website.
What Is the Definition of "Permalink"?
The term "permalink" comes from the phrase "permanent link" and it refers to a full URL address that is given to a certain post, page, or category. As the foundation of effective SEO, the URL structure helps search engines understand and appropriately rank your website's content.
You have surely noticed that your browser displays the URL of every page you visit. Every URL is made up of two elements (https://permalinkmanager.pro) and a path (docs/basics/wordpress-permalinks-guide). The idea behind them is to make it easy for people to share or link to a certain place on the website.

It is important to note that "URL" and "permalink" are not interchangeable terms. In spite of this, not all URLs may be considered permalinks. The word "permalink" is typically used to refer to dynamic URLs used by content management systems like WordPress. In contrast, static URL addresses like as those for images, CSS stylesheets, or JavaScript files do not fulfill this permalink definition.
What Is the Difference Between Slugs and Permalinks?
As we have already addressed the distinction between URL and permalink, we will now go over one more complimentary definition. To understand how to change permalinks, we must first define a WordPress slug. Therefore, let us get started with some explanation.
Here, the answer is straightforward. Because a slug is sometimes confused with a permalink, it is useful to highlight that a slug is only a part of it, as indicated in the graphic below. The slug is usually placed at the end of post, page, custom post type, and term (e.g. category) permalinks.

It should be noted, however, that the slug is not always included in WordPress permalinks. For example, the slug is not included in archive page URLs like "https://example.com/2022/02" (which displays all posts published in February 2022).
The sections that follow will show you two distinct ways to change permalink in WordPress. The first option requires you to install the Permalink Manager plugin before making the adjustments. The second one is based on native settings and comes pre-installed, however it lacks versatility.
How to Modify the Default Permalink Settings?
How Does Changing Permalinks Impact SEO?
Permalinks are important in how search engines analyze and rank the information on your website. As a search engine crawls your website, it examines the URLs of each page to identify the topic of the content. If your URLs are ambiguous or illogical, search engines may struggle to interpret and rank your content accurately. Well-structured permalinks, on the other hand, offer search engines with clear and relevant information about the content of your website. As a consequence, your website's exposure on search engine results pages (SERPs) may improve. According to many SEO experts, websites with descriptive and keyword-rich URLs rank higher on Google than those with generic URLs.
Backlinks are a crucial SEO factor, and modifying permalinks might result in their loss. When you modify your permalink structure, it is possible that previously functional URLs will lead to 404 errors when visited. Broken links may degrade the user experience of your website and make it difficult for search engines to crawl and index it.
When other websites link to your content, the permalink is generally used to point to the exact page or post. If you change the permalink, the backlinks referring to the old URL will become invalid, resulting in a loss of potential traffic. Changing permalinks can also have an impact on social sharing. Visitors often share the URLs via social media, and if you change the permalink, the shared links will become invalid, resulting in a loss of potential traffic and social signals.
To prevent 404 errors caused by URL changes, the Permalink Manager plugin includes a fallback mechanism. This feature
automatically redirects
non-canonical URL versions to the canonical URL defined by the plugin. It is especially beneficial once you have changed your permalinks since any previously active URLs will be automatically redirected to the new ones.
Choose a Permalink Structure
The default permalink format in WordPress is not SEO-friendly since it includes numbers and query strings in the URL. For example, the default URL for a page may be like follows:
https://example.com/?page id=123
This URL provides no context or meaning to the user or search engines, making it impossible to grasp the website's content. As a result, it is critical to change the default Permalink format to a more logical and descriptive URL structure.
WordPress provides a number of different permalink structures for users to select from. To access them, navigate to Settings > Permalinks in your WordPress dashboard.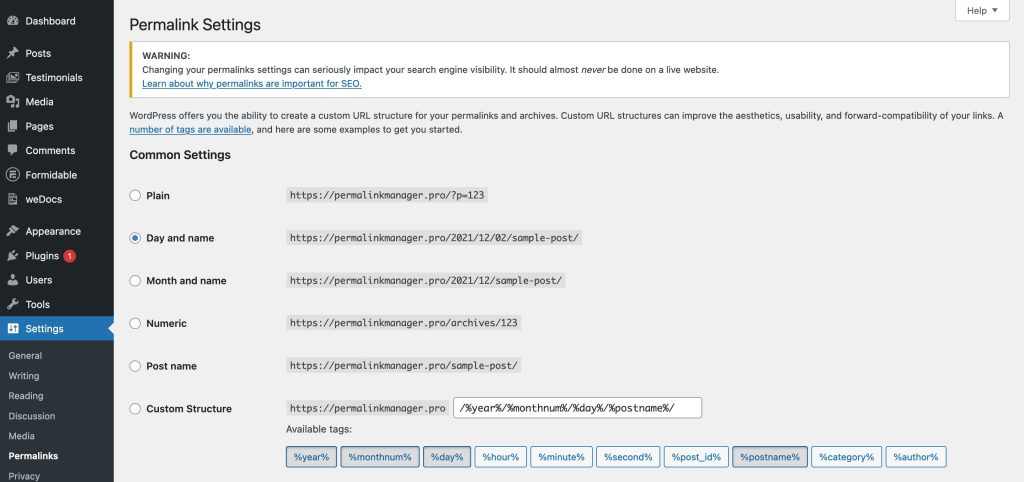 The following are the most common permalink structures. If you are interested, the WordPress documentation contains further information on this feature.
Plain:
This structure use the standard URL syntax, which contains the post ID. That is not good for SEO or user experience.
Day and name:
The date and post title are included in the URL for this structure. It is appropriate for news or magazine websites.
Month and post name:
The month and post name are included in the URL for this structure. It is appropriate for blogs or websites that publish content on a monthly basis.
Numeric:
This structure just contains the post ID. That is not good for SEO or user experience.
Post name:
This structure just contains the post name. It is the best structure for SEO and user experience.
Do you want more control over the permalinks on your website?
Permalink Manager provides extra customization options, allowing you to modify permalink forms to your specific requirements. Discover how to
optimize your permalinks
in the next section of this article.
How to Find Permalink in WordPress?
As a final piece of the puzzle, let us talk about how to locate the area where page permalinks are shown. If you are not sure where to look, follow the directions with screenshots below.
In short, the location of the permalink is determined by the version of WordPress editor you are using. Even if you are absolutely unfamiliar with the WordPress interface, you should have no problem locating it. For example, in Classic Editor, this field should be available as soon as the editing panel is turned on. The URL will appear just beneath the input area where you may change the title.

This may be a little more challenging in the case of Gutenberg, You should be able to review the URL address of your post or page using one of the sections listed in the sidebar.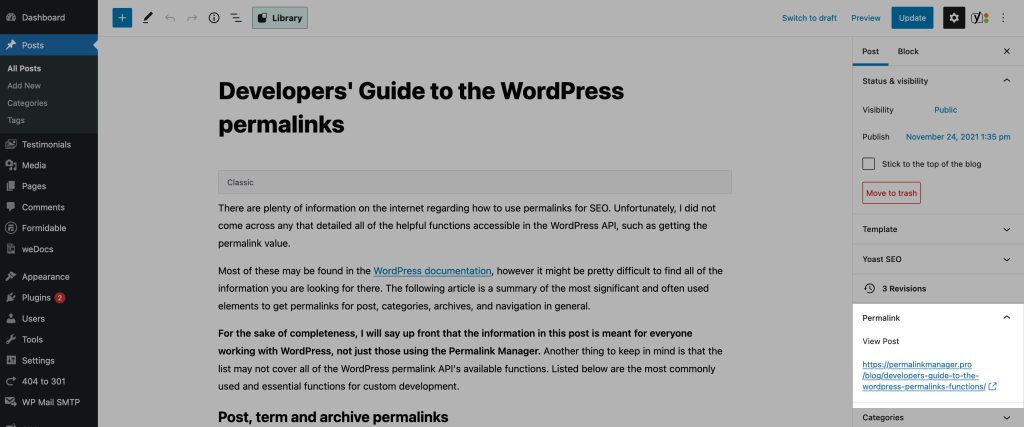 How to Create a Permalink?
By following the instructions above, you can now quickly change the permalink in WordPress. But, understanding how this CMS creates and handles permalinks is essential for gaining a deeper knowledge of the process.
WordPress's built-in permalinks are automatically generated from the slugs we mentioned before. As a result, after you have saved the post or term, you do not need to do anything else to get WordPress to create a permalink.
Permalink Manager's custom permalinks, on the other hand, are handled differently. In general, unless you explicitly exclude a post type or taxonomy in the plugin settings, custom permalinks will be generated automatically.
To clarify, the plugin generates the custom permalink for posts, pages, and custom post type items only after the post is published, using the format provided in your current "Permastructure" settings. However, you may allow the plugin to save custom permalinks for drafts by configuring it in the plugin settings.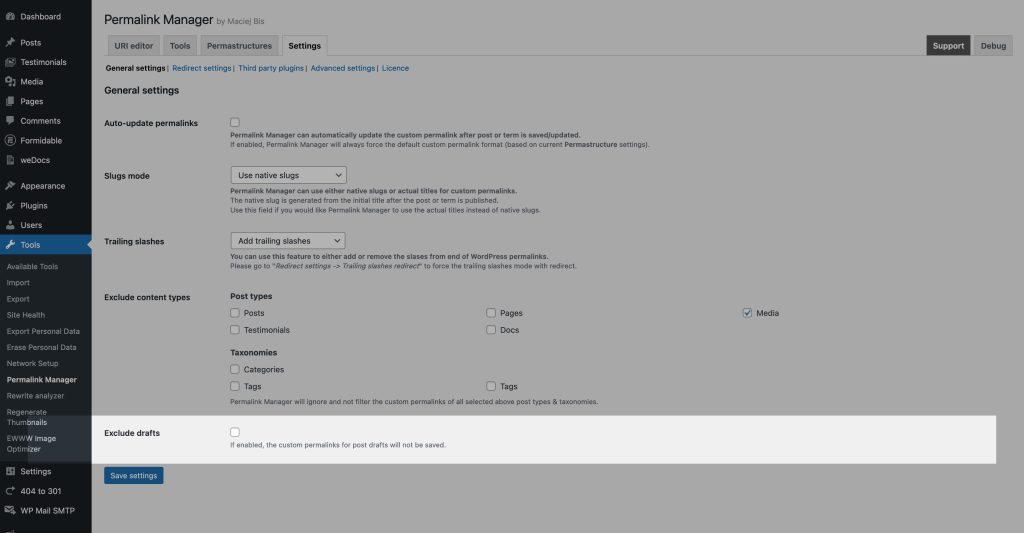 How to Enhance Your WordPress Permalinks with Permalink Manager?
Perhaps the most well-known issue with WordPress is the lack of ability to change permalinks freely. It is because, WordPress provides with a few basic URL structure choices. The guidelines below describe how to use the plugin to replace the URL rewriting system included into the WordPress core.
In contrast to inbuilt rewrite functions, Permalink Manager allows you to customize and change permalink formats in WordPress in almost any way you want. It was developed to overcome this problem and provide users with greater flexibility in terms of URL customization.
If you do not like what WordPress has to offer, you may use the plugin to rewrite your permalinks structure in minutes. It is worth noting that the plugin works with custom post types and taxonomies created with third-party plugins and custom code snippets. Pods, Custom Post Type UI, Toolset Types, and WooCommerce are just a few of the plugins supported by this plugin.
If you are just beginning started with the plugin, the section that follows should provide you with a general overview of how it works.
How Can You Change Permalink For One Page?
If your site does not have a big number of pages it may also be a good idea to manually adjust each URL address individually. To use the URI Editor included in the plugin, click the "Permalink Manager" button shown next to the URL address. It is worth noting that the URI Editor may be used not only to change page permalink, but also to alter the URL addresses of individual posts, categories, custom post types, and taxonomies.
URI Editor
The URI Editor is the plugin's most essential feature, since it allows you to manually adjust each of the rewritten addresses. If you want to learn more about URI Editor
go to a separate article
.


If you are a Gutenberg user, you can locate the URI Editor at the bottom of the sidebar, where you may change permalinks with Permalink Manager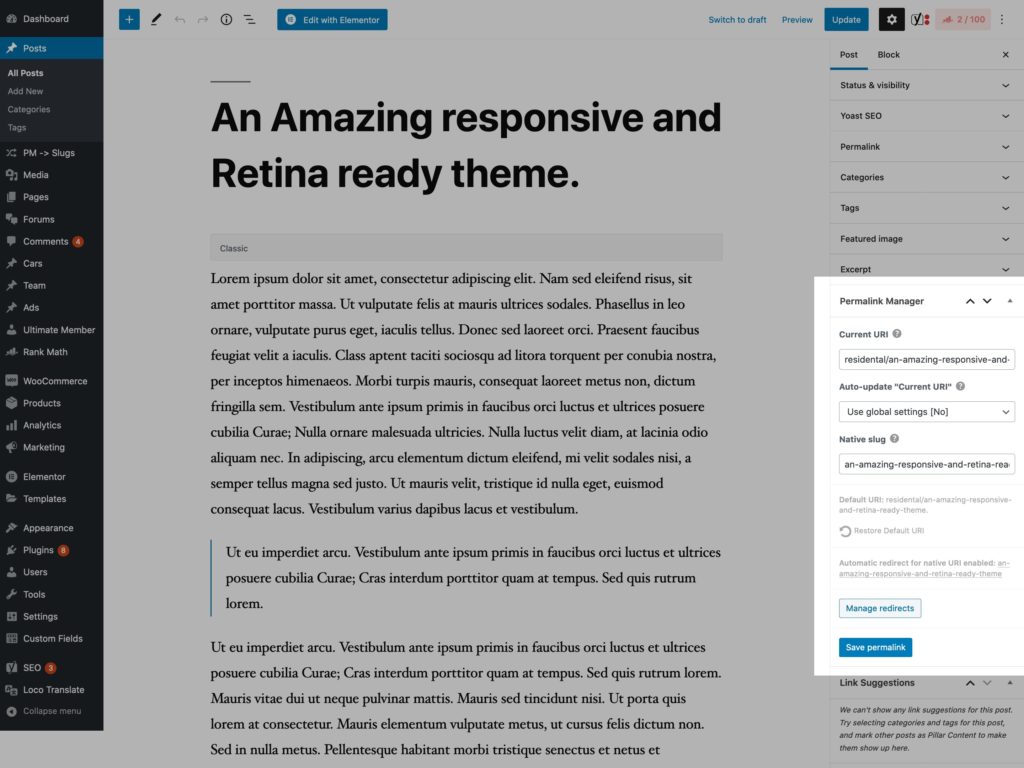 You may both alter them either directly when you modify the text content or quickly review and adjust multiple URLs at once using the Bulk URI Editor.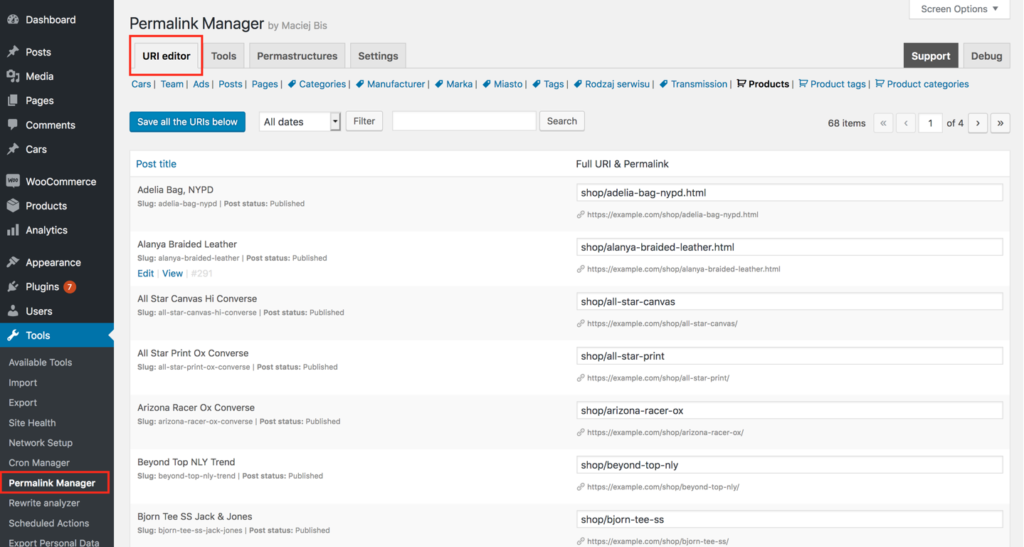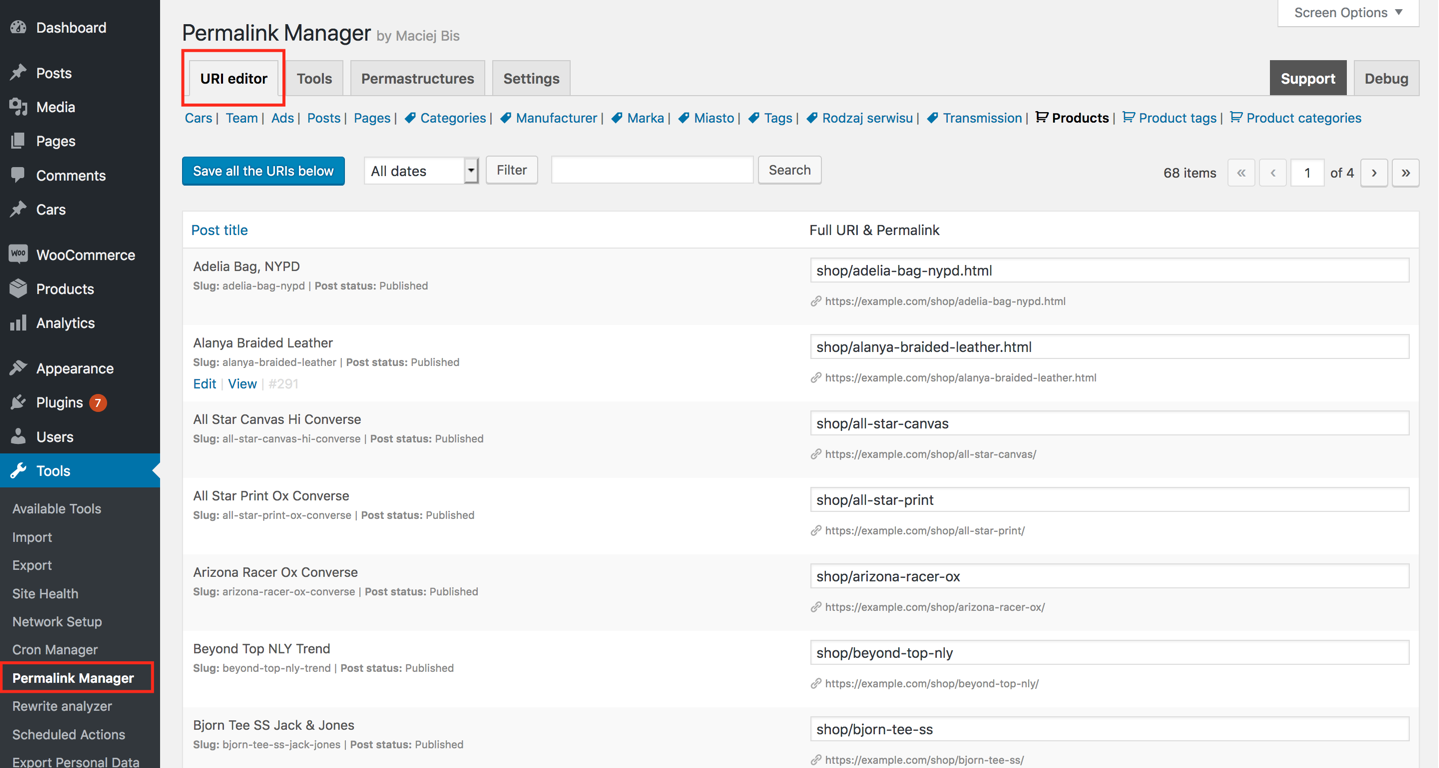 How to Edit Page Permalinks in Bulk?
As illustrated below, you may change the permastructures for each post type and taxonomy separately. You have complete control over how they are modified.
Permastructures
Using "
Permastructures
" editor you can replace original settings with fully customized URL formats individually for each post type and taxonomy. You can remove the permalink bases completely or change them to whatever you like. Here you can find
more info
on how to do it.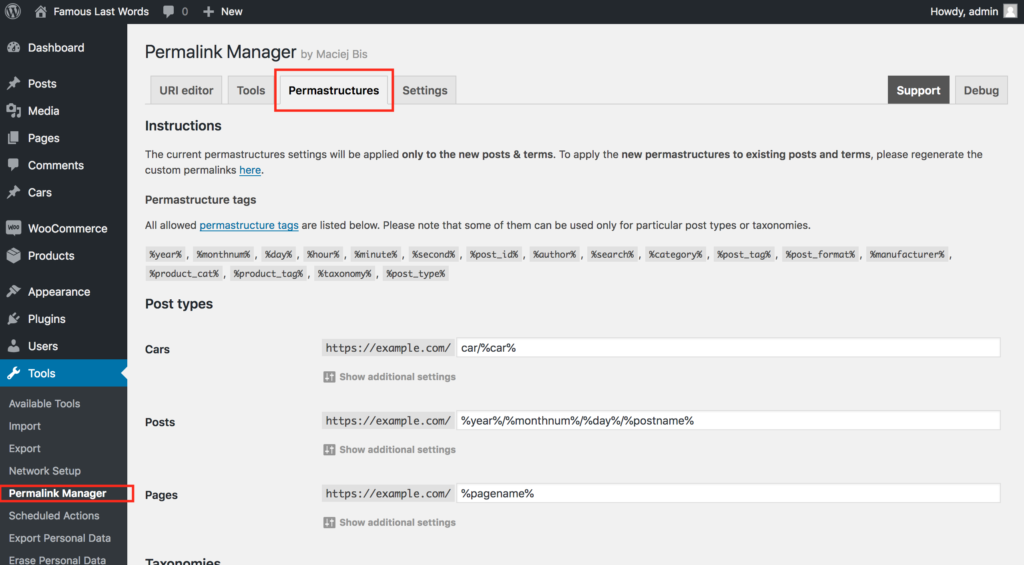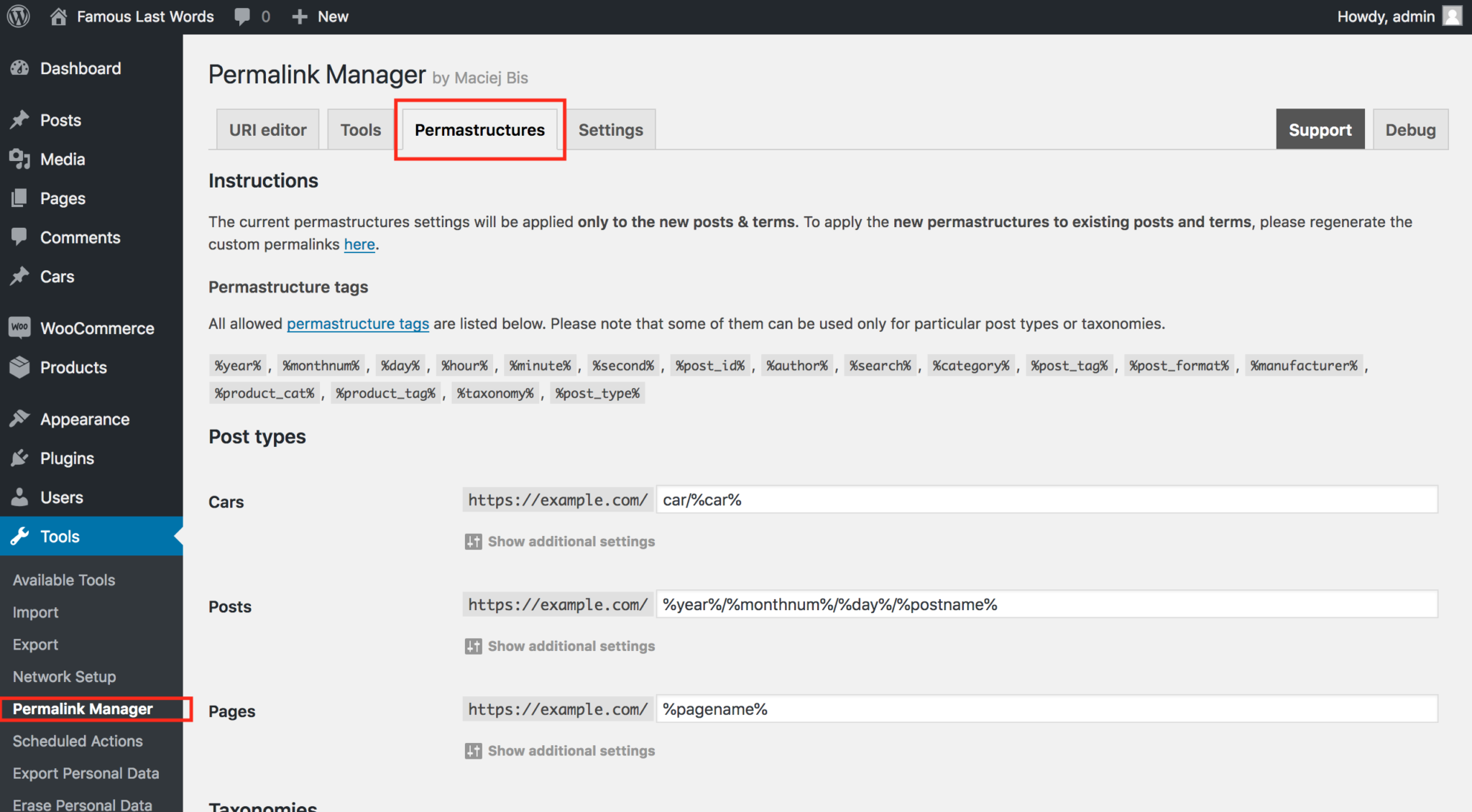 How Long Does It Typically Take for Google to Index URL Changes?
It is hard to say exactly how long it will take for Google to delist the old permalinks and index the new URLs. In general, Google may take a few weeks to a few months to fully crawl and index your website. Nevertheless, various factors, such as the size of your website, the number of pages that have been changed, and how frequently Google crawls your website, might affect the time.You may speed up the process by requesting a re-crawl of your website using Google Search Console. This will cause Google to reindex your website's pages and update its search results faster.
Changing permalinks is safe for SEO as long as you follow recommended practices for URL redirection. Set up a 301 redirect from the old URL to the new URL, which informs search engines that the content has permanently moved. This redirect passes link equity from the old page to the new one, minimizing significant SEO ranking loss.
Changing permalinks is still a risky SEO move, and you must have a plan in place to prevent any negative impact on your search engine position. Verify that the new URLs and redirects have been fully tested, and regularly monitor your website's traffic and ranking after making the change.
Tips for Optimizing Your Permalinks for SEO
Finally, we have prepared a few permalink SEO tips based on information given by Google on their websites and social media channels. Always keep in mind that there is no one-size-fits-all solution, and you should carefully consider what is the best WordPress permalink structure for your website.
The permalinks are addresses used by WordPress to distinct the content pages. The correct permalink structure is important for a number of reasons. First of all, search engines will use your website URLs for search results. Secondly, they should attract the potential visitors to click on your links. The best permalink is one that allows readers to understand what the content is about. In addition, it indicates the reliability of your website.
Listed below are some basic SEO tips and ideas to get you started. Please keep in mind that the following are only suggestions. It is up to you to determine whether or not to adopt them. Changing the URL structure of content that are yet to be published seems like a safe bet. However, existing permalinks are in a different condition. As a rule of thumb, you should do a thorough SEO analysis before changing them.
Avoid Frequent or Careless Permalink Changes
If you must change permalink for whatever reason, make sure to provide a 301 redirect as a fallback. This will signal the search engines that your content has been relocated to a new URL address. Otherwise, some traffic may still be sent to pages that are no longer relevant. As a consequence, visitors will abandon your website if they discover the link is broken, resulting in a high bounce rate. In other words, your website's organic traffic might be slashed if a large number of visitors from search engines arrive at an error page or a blank page.
To summarize, ignoring the broken permalinks will result in a loss of both visitors and revenue from the website. It is also possible that if you have an excessive number of broken links, Google may penalize your site. When it comes to SEO, failing to consider the aforementioned is a typical error.
According to John Mueller, one of Google analysts, it is better to keep the old URLs intact as long as it is possible rather than to change them & redirect to new address. It takes some time for Google to index all the URL changes.
If you necessarily need to change your permalinks, you should remember about 301 legacy redirects. The 301 status code means that a page has permanently moved to a new location.
To avoid 404 ("Not Found") error after the permalink is modified, Permalink Manager will automatically redirect the visitors trying to access the old URL to the new address. You can also define
additional custom 301 redirects
for each post/term using.
Keep Your WordPress Permalinks Short and Straightforward
First and foremost, keep your permalinks understandable and short. Having a solid URL address that describes what is inside the content will improve your search engine ranking. In general, the complete URL address should be no more than 100 characters long. In theory, the shorter the URL address, the simpler it should be to rank higher in Google search results.
Custom post types like "portfolio" are often registered by WordPress plugins that create permalinks that contain hard-coded generic bases. Unfortunately, these do not appear to be understandable or beneficial from an SEO standpoint. Replace them with new bases (for example, "our-work" "products" and "team") that clearly reflect the structure of your website.
https://example.com/portfolio-cpt/foo-bar-com
https://example.com/our-work/foo-bar-com
Organizing your permalinks into a logical structure is a great way to improve their readability. The structure of your website should have a naturally flowing page hierarchy to make it easier for users to navigate and for search engines to crawl.
However, keep in mind that while an ordered structure is good, keeping your permalink as short as possible should also be your priority. So, in your permalinks, avoid using any redundant folders or other long naming structures.
For custom post types and taxonomies, WordPress offers very few permalink customization options. Permalink Manager can be useful in this regard since it allows you to use the same URL structure for multiple content types.
As seen in the example below, the plugin allows you to use the same URL structure for custom post type ("Band") items while also adding custom taxonomy slugs ("Genre") to their permalinks.
https://example.com/genres/80s/heavy-metal/ (Custom taxonomy: "Genre")
https://example.com/bands/ozzy-osbourne/ (Custom post type: "Band")
https://example.com/bands/80s/heavy-metal/ (Custom taxonomy: "Genre")
https://example.com/bands/80s/heavy-metal/ozzy-osbourne/ (Custom post type: "Band")
Do Not Repeat Keywords and Avoid "Stop Words"
There is no need to repeat the single keyword more than once. If your permalinks uses multi-level categories, you should also consider make their structure flatter.
https://www.example.com/animals-in-europe/birds-in-europe/big-birds/stark/
https://example.com/shop/apparel/women-shoes/high-leather-boots/
https://example.com/european-animals/birds/stark/
https://example.com/shop/women/apparel/footwear/leather/shoes/high-boots/
Getting rid of so-called "stop words" is a good way of making your permalink shorter. Examples of "stop words" include "the", "a", and "an"". There is little question that using them in your URLs is a waste of valuable space, since they do not help search engines grasp what your content is about.
https://example.com/blog/how-to-start-a-big-business-in-a-few-months
https://example.com/blog/start-business-in-few-months
Use Hyphens Rather Than Underscores and Avoid Special Characters
Google in one of the articles published on their websites straightforwardly recommends to use hyphens instead of underscores. In other words, the hyphens are preferred over the underscores.
You should not only avoid the underscores, but also remember to use the hyphens to separate the words.
https://example.com/kitchenappliances/digitalmicrowaveoven
https://example.com/kitchen_appliances/digital_microwave_oven
https://example.com/kitchen-appliances/digital-microwave-oven
When it comes to WordPress, this is not a problem because it automatically removes all special characters. Similarly, underscores are substituted with dashes
Although Google will be able to index your URL even if it contains spaces, commas, underscores & special characters. Remove them or replace them with dashes or Latin letters for improved reading.
https://example.com/countries,regions/balkan|southeastern-europe/Ελλάδα
https://example.com/countries-regions/balkan-southeastern-europe/ellada
Translate Your WordPress Permalink Format to Match the Language of the Content
Google is able to translate URLs on its own, so it can figure out what a page is about. However, URL translation may somewhat increase your user metrics and experience, both of which are ranking criteria.
Given that you are already localizing the content, why not translate the URLs as well? The disparity between content and URL language is not only inconvenient for users, but it also impacts SEO because keywords are dependent on the language of translated page. One of the videos on Youtube's official Google Search Central channel discusses multilingual URLs.
How to translate WordPress URLs?
Unfortunately, WordPress itself does not support language-specific URL formats. However, you can quickly
translate the URL addresses
for custom post types and taxonomies by using Permalink Manager in combination with either the WPML or Polylang language plugins.
To sum it up, if your website is multilingual, you should translate the permalink bases. This might be extremely beneficial if your target market consists of customers from all around the world. Making your WooCommerce URL addresses have a distinct structure for each language will also aid your clients in navigating around your store.
https://example.com/en/books/history/herodotus
https://example.com/pl/books/science-fiction/stanislaw-lew
https://example.com/de/books/philosophy/friedrich-nietzsche
https://example.com/en/books/history/herodotus
https://example.com/pl/ksiazki/fantastyka/stanislaw-lew
https://example.com/de/bucher/philosophie/friedrich-nietzsche
Do Not Add .html Extension to the End of URL
There is one more thing to think about if you want to improve your website's permalink for SEO. This suggestion is sometimes misinterpreted, yet it highlights a common blunder made by some website owners. It is a common practice to add the .htm, .html, .php or another suffix to the end of URL.
The issue is the common practice of appending unnecessary file extensions to URLs, such as.htm,.html, and.php. This is a mistake that some website owners continue to make, even with new websites.
https://example.com/music/hard-rock.html
https://example.com/music/hard-rock
Adding extensions to your permalinks, contrary to popular opinion, has no effect on your Google rating. Many people still believe it, but it is time to debunk it. Google does not consider it a ranking factor. If you are still not convinced, Google Search Central has a detailed video that addresses this SEO myth.
There is one exception to this, however. If you migrated from different content management system where the extensions were appended to the URLs (eg. Magento) yous should also keep them in WordPress.
Permalink Manager can help you if you switched from a different CMS to WordPress and wish to add .html to your new URLs to reconstruct the previous permalink structure.