Overhaul WordPress Permalinks and Improve SEO Performance
Having a well-designed permalink structure will make it simpler for users to browse your website, hence boosting your SEO. Permalink Manager is the ultimate solution for editing your URLs without modifying any core files.
The plugin contains several features that no other solution offers.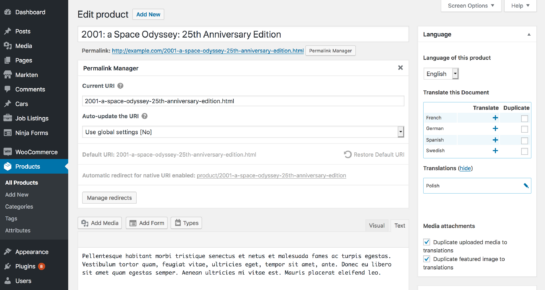 The most versatile WordPress plugin for editing permalinks
Why settle for the limited built-in permalinks solution when you can have complete control over your URLs with Permalink Manager? It gives you complete control over your URL structure and makes it easy to change your permalinks anytime you want.
It works not only with the built-in posts, pages, and categories, but also with WooCommerce, ACF, Toolset, and all other custom post types and taxonomies.
Manage and customize your permalinks with ease
The inability to freely customize URLs is one of the most well-known concerns with SEO optimization in WordPress. The native settings provide only a few basic choices, leaving you with limited control over the URL structure design.
If you want to customize any permalink beyond what the built-in tools allow, Permalink Manager can help you achieve so in just a few clicks.
Adjust each individual URL as you see fit
If you need to fine-tune and control each of your WordPress URLs, the URI Editor could come in handy. It may be used not just for posts and pages, but also for categories, custom post types, and taxonomies.
The plugin supports both built-in and user-defined post types and taxonomies, including WooCommerce products and categories.
Rearrange your permalink structure with a few clicks
One of the most ignored parts of SEO strategy is correctly optimizing URL structure. With 'Permastructure' editor you can easily adjust custom permalinks, while 'Bulk URI Editor' allows you to edit multiple addresses at once.
The plugin is designed to make editing page links quick and easy. It may help you save time so you can focus on other things.
Change URLs without losing visitors and traffic
The canonical redirect feature helps address old, outdated links. After updating a permalink structure, your old URL is automatically redirected, bolstering your site's rankings and avoiding link rot.
In addition to this, you can define extra redirect URLs if needed. This feature may be used to create alias URLs that point to a new location.
Improve your WooCommerce URL structure
The SEO strategy of a successful e-commerce site is built on a well-designed URL structure. Unfortunately, when it comes to customizing your store's URLs, WooCommerce does not offer a lot of options.
With the help of this plugin, you will be able to construct the URLs of your WooCommerce store exactly as you want them to be.
Only plugin that supports custom fields in URLs
At the moment, this tool is the only solution that lets you to add custom fields to WordPress URLs without requiring any coding knowledge. The process has been intended to be painless and quick.
The custom field feature works with native custom fields, as well as 3rd-party plugins like ACF, Pods, JetEngine and Toolset Types.
The easiest way to translate your WordPress permalinks
Unlike the built-in WordPress URL rewrite functions, which are quite restricted, this tool allows you to create customized URL structures depending on the language of your posts, pages, or terms.
This functionality is compatible with the most common WordPress language plugins: WPML and Polylang.
Why should you use this plugin?
The initial version of the plugin was launched in 2016, and since then it has undergone continual development and expansion. Many of its features were developed in response to user requests and suggestions.
As of now, over 60,000 websites use the plugin to improve their WordPress URLs. Below are some of the most common ways users extend the original system with this tool.
The customer support is provided by the same developer who built and is upgrading the plugin. There are no middlemen and nothing is made more complicated than it needs to be. Because of this, each request is handled individually, and the majority of them are resolved within 24 hours.
The plugin documentation provides numerous articles that explain how to use it in the most common scenarios. If you have not found what you are searching for, please use the contact form, which you may access using the link provided below.