Most advanced yet user-friendly Wordpress permalink editor
Permalink Manager Pro allows you to easily customize posts, pages, custom post types, categories, tags, custom taxonomies and WooCommerce shops individual URL addresses. You can also use it to translate or bulk change the permalinks formats.
Current rating in Wordpress Plugin Directory
Edit your Wordpress permalinks any way you want!
Take full control of your permalinks and and boost your SEO score!
With Permalink Manager you can bypass Wordpress rewrite rules and edit the whole URL addresses, not only the slug!
WooCommmerce Permalink Manager
Remove /product-category/, /product-tag/ from your WooCommerce permalinks in less than 2 minutes or customize your URLs to look exactly the way you want.
You can manaully adjust each of products, product categories or tags permalinks using "URI Editor". Furthermore, the plugin allows to set-up public URLs for WooCommerce coupon codes to apply the discount automatically when the link is used.
Full support for all post types & taxonomies
Permalink Manager supports all native content types: pages, posts, categories and tags. It can be used also to edit all public custom post types & taxonomies permalinks.
It will work out-of-the-box with content types controlled by 3rd party plugins including WooCommerce, Toolset Types or Pods. Permalink Manager will be a perfect choice if you need to add taxonomy slugs to custom post type permalinks!
Edit full permalinks, not only the slugs
Permalink Manager allows to change the permalinks in two methods. You can manually adjust each of Wordpress permalinks using URI Editor.
Besides that you can also bulk change them using Permastructures and apply the new completely customized format to them.
Automatically redirect the old permalinks
Worried about 404 errors? Permalink Manager Pro would automatically (if enabled in settings) create the redirects for ALL previously used custom permalinks.
You can also decide if you would like to redirect your visitors from native permalinks and set-up extra URL redirects or aliases for each post, page or term.
Extra SEO tools
Permalink Manager is the only supported plugin that is compatible with Advanced Custom Fields and Toolset Types and allows to easily add the custom fields to your permalinks. Read more about this feature here.
You can control native canonical redirect functionality and decide if trailing slashes should or should not be appended to the end of your permalinks.
Duplicate permalinks slugs
Due to technical limitations WordPress does not allow to use same permalink base for more than one content type. Permalink Manager allows to overcome this problem and keep the same permalink format for multiple post types and taxonomies.
As long as you keep the permalinks unique as a whole, you can also use exactly the same slug in multiple custom permalinks!
Translate WordPress permalinks easily!
Permalink Manager is the only WordPress plugin that allows to easily translate the permalinks or define the custom URL structure per language.
The permalinks for each post type & taxonomy can be adjusted and set individually for each language added via WPML or Polylang plugins!
Read more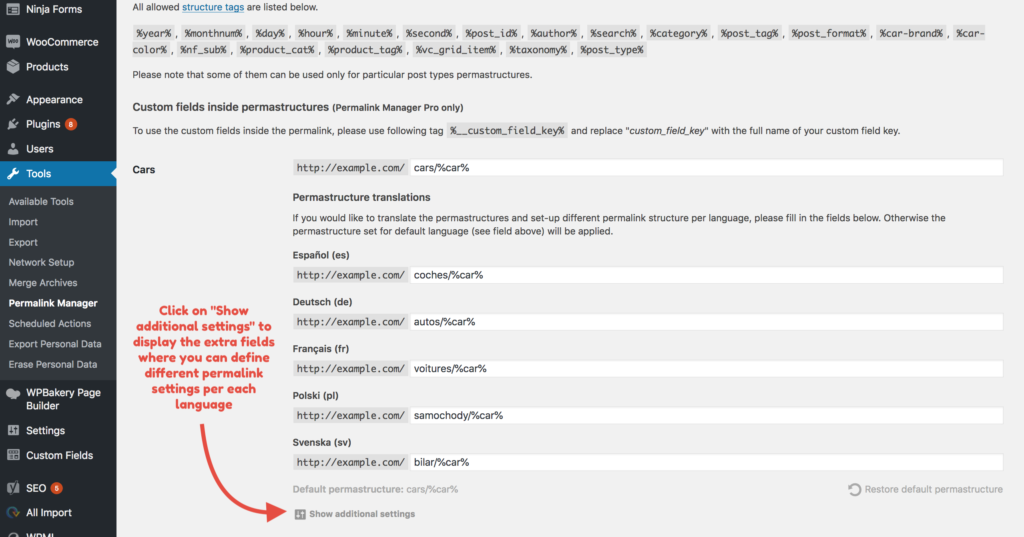 Screenshots
The main sections & features of Permalink Manager Pro are displayed below.
After the purchase you will receive an email with invoice, license key and the download link.
Have VAT number? Get the tax deducted from the final price.
Permalink Manager Pro One year support & updates
Permalink Manager Pro Lifetime support & updates
Looking for reasonably priced, fast and reliable WordPress hosting?
We highly recommend Kinsta, the best managed WordPress hosting provider powered by Google Cloud Platform. Your site can scale up to your needs, does not matter how many visitors you drive to your website. Check all the features here!
Testimonials
Best customer support, Amazing plugin

This plugin helps you to have a pretty permalink structure with a user-friendly and simple UI and the support is amazing.

nwm2006
Excellent. Makes WordPress a proper CMS.

To anyone interested in adding or removing category base or post type base, etc etc, *without* having to tinker with raw PHP code, I highly recommend this plugin. It's a life saver.With all the pain involved in simple URL structuring with custom post types, we were about to give up on WP and move to another CMS. But this plugin in conjunction with ACF and CPTUI or Pods makes WordPress fairly professional.

morespinach
Top plugin, super support

I used the plugin to migrate a site to WordPress and keep the previous permalinks. It worked great and was a real life saver. Once I had a small question and the developer replied immediately. He answered my questions and even fixed an issue I wasn't aware of. A great experience. I immediately purchased the pro version.

sleepy007
Fantastic!

Have to say both the plugin as well as the dev is amazing, it just works and does the job very well.Had an issue that the dev solved very fast (email response is as good as it gets).Bought the pro version easily.

andremik90
Awesome plugin + dev

The plugin delivers a lot of options for customising your URLs. You can do anything you can imagine with it. Custom taxonomies are supported and there are a lot of tools to change URLs in bulk or troubleshoot any problems. The best thing about the plugin is the support. The dev usually answers in a matter of minutes (rarely hours) and is super helpful.

sonnendieb
Read all the reviews
Frequently Asked Questions
Below you can find the answers to frequently asked questions.
The full plugin documentation is available here:
Go to the plugin documenation
Contact & support
If you still did not find the answer to your question or need any further assistance, please use the contact form below or following email address contact@permalinkmanager.pro.
Tailor-made WordPress services
Need a custom WordPress permalink solution?
If you are not certain if Permalink Manager will be able to fix your problem with WordPress permalinks, please use the contact form above to request a price quote for custom development services.
Need a skilled developer for another WordPress project?
I spend most of my time on development of Permalink Manager & customer support, so unfortunately I am not able to handle all WordPress freelance work.
Still, if you are looking for a WordPress expert, I can highly recommend Codeable, a Danish company who employs top-notch, handpicked WordPress developers that could help you with any WordPress problem.