Overhaul WordPress Permalinks and Improve SEO Performance
Having a well-designed permalink structure will make it simpler for users to browse your website, hence boosting your SEO. Permalink Manager is the ultimate solution for editing your URLs without modifying any core files.
Get Permalink Manager Pro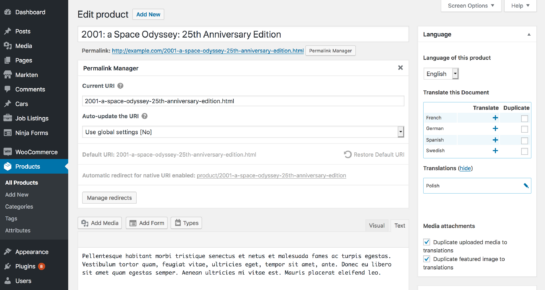 The most versatile WordPress plugin for editing permalinks
The inability to customize WordPress inbuilt permalinks is one of its biggest drawbacks. With only a few basic options, you do not have enough control over how your website's URLs are structured.
Permalink Manager extends native settings with more customization options. Discover what makes it the most powerful and user-friendly permalink plugin available.
URI Editor Adjust each individual URL as you see fit
If you need to take full control of your WordPress URLs and customize the structure, add custom slugs, or remove unwanted characters from URL strings, then the URI Editor is a great tool for you. It can be used not only for posts and pages but also for categories, custom post types, and taxonomies.
What sets it apart from the built-in permalink system? Unlike the existing feature that only allows you to edit the final portion of URLs (i.e. slugs), this plugin gives you control over editing the entire URL.
The plugin supports both built-in and user-defined custom post types & taxonomies, as well as WooCommerce products and categories. With this powerful tool at your disposal, you can easily fine-tune each of your URLs with just a few clicks!
Permastructures Rearrange your permalink structure with a few clicks
Permalink Manager is a useful tool for every WordPress user that wants to optimize their SEO strategy. It is intended to make changing page links quick and simple, allowing you to focus on other areas of your website. The plugin provides you with a Permastructure editor, which lets you make bulk changes to your custom permalinks and choose a default format for them.
Additionally, the plugin comes with a Bulk URI Editor that allows you to edit certain URLs that may need to vary from the typical structure established by the Permastructures. This offers you even more control over your URLs, allowing you to guarantee that they are SEO-friendly.
Redirects Change URLs without losing visitors and traffic
Any change in URL structure can have a significant impact on your website's search engine ranking and user experience. This is due to the fact that initially search engines and some visitors may still be using the old URL, resulting in broken links and a drop in traffic. The Permalink Manager plugin addresses this issue by integrating a canonical redirect feature.
By automatically redirecting old links to the new permalink structure, the Permalink Manager plugin keeps your website's links up to date. This guarantees that broken links have no effect on your website's search engine results.
Furthermore, the plugin allows you to create extra redirect URLs if necessary. This functionality may be used to define alias URLs that lead to a new place, making it easier for visitors to locate the information they seek.
WooCommerce support Improve your WooCommerce URL structure
A well-designed URL structure is the foundation of a successful e-commerce site's SEO strategy. The success of your online store depends on this, since it will help customers locate what they are looking for and browse your site with ease.
Unfortunately, WooCommerce does not provide many choices for modifying the URLs of your WooCommerce store. This may be a huge setback for businesses wanting to enhance their SEO and customer experience. This is where Permalink Manager comes into play. You may use it to design the URLs for your WooCommerce store in exactly the manner in which you want them to appear.
This means you will have complete control over the structure of your URLs, which may make a significant impact in terms of SEO and UX
Custom fields support Only plugin that supports custom fields in URLs
This is the only plugin that gives you the ability to add custom fields directly to your WordPress URLs, without needing any coding experience! The procedure is intended to be easy and uncomplicated, and the documentation includes step-by-step instructions to get you started.
Permalink Manager makes it easy to use the built-in custom fields as well as the ones controlled by popular third-party plugins, including ACF, Pods, JetEngine and Toolset Types. This means you can create permalinks with any of these custom fields. No matter whatever plugin you are using, you can quickly add custom fields to your URLs.
WPML/Polylang support The easiest way to translate your WordPress permalinks
This plugin has been designed to work with two most popular language plugins for WP: WPML and Polylang. It allows you to create customized URLs based on language of posts, pages, or terms so that your website is accessible for people all around the world.
This means that the URL for content may vary depending on its language. In other words, you can create a unique link format for each language available on your website!
Whether you have a multilingual website or just want people from different countries to understand your content better, our tool will serve the purpose perfectly! By using it, you will be able to generate custom URL structures which will help both visitors and search engines comprehend your contect more effectively.
Testimonials
Read what the users have to say about their experience with this powerful tool. Discover how it has helped them improve their website and get more out of their websites.
I've used Permalink Manager on a number of websites and haven't ever had any issues until today. Really impressed with the support given – a patch within an hour of reporting a conflict following a plugin update. Excellent.
Well developed plugin with no extra bloat. Promise and do what you expect it to do, including multilingual support (WPML and Polylang etc) and everything else you need to adjust permalinks for. Great support and well knowledgeable developer!
Used this plugin for a long time and I have to say that this developer is literally the best I have ever encountered, super responsive and goes the extra mile. AMAZING!!!
4.7/5 rating in WordPress Plugin Directory
Over 1.5 million downloads of free version
Unlock the Power of Permalinks
Permalink Manager Pro is the ultimate WordPress tool for managing your URLs. With regular updates and enhancements since 2016, this highly rated plugin is a reliable choice for optimizing your website's URLs.
Explore the various license options and select the one that works best for you. Choose from an affordable license with one year support & plugin updates, or a more cost-effective option with lifetime plugin updates.
The customer support is provided by the same developer who built and is upgrading the plugin. There are no middlemen and nothing is made more complicated than it needs to be. Because of this, each request is handled individually, and the majority of them are resolved within 24 hours.
The plugin documentation provides numerous articles that explain how to use it in the most common scenarios. If you have not found what you are searching for, please use the contact form, which you may access using the link provided below.