Permalink Manager works flawlessly in majority of user scenarios. However, there are several common plugin issues that are outlined below.
Plugin performance
The Permalink Manager codebase was optimized to avoid the performance issues. To reduce the number of SQL queries, the plugin saves all the custom permalinks in a single serialized array. The main reason for this is that the operations on arrays are generally quicker if they are made directly via PHP.
The plugin works perfectly fine with small and medium sized websites and WooCommerce stores. It means that you can use it to rewrite hundreds and even dozens of thousands of custom permalinks without any hassle.
However, there is one potential drawback of this approach. If you would like to use it to rewrite more than 60.000-80.000 permalinks, you might experience a slight slowdown. Another problem that can arise is a MySQL error (Got packet bigger than "max_allowed_packet" bytes…) generated when the total size of the custom permalinks array is bigger than the value of the "max_allowed_packet" variable.
Some hosting providers automatically remove the large database records stored in the 'wp_options' table. For instance, WPEngine could erase the custom permalinks array if its size is
larger than 1MB
(approx. 10.000-15.000 custom permalinks).
In such a situation, the first recommendation would be to simply exclude the content types that do not need to be filtered by the plugin (eg. attachments).
Common plugin issues
Can I turn off the plugin after the new custom permalinks have been set?
Please keep in mind that if you used Permalink Manager to create custom permalinks that vary from the default ones, they will no longer be used after the plugin is removed. It is because Permalink Manager overwrites one of the core WordPress features to bypass the rewrite limitations. In general, rewrite rules, also known as "regular expressions," are used to recognize content elements and other parameters from URLs. The plugin uses a sophisticated algorithm and stores the custom permalinks in a serialized array in DB to make the content detection process more flexible.
The URI Editor is not displayed
There are two basic reasons why the URI Editor does not appear in the UI. This can happen if your article is saved as a draft and the plugin's "Exclude drafts" option is active.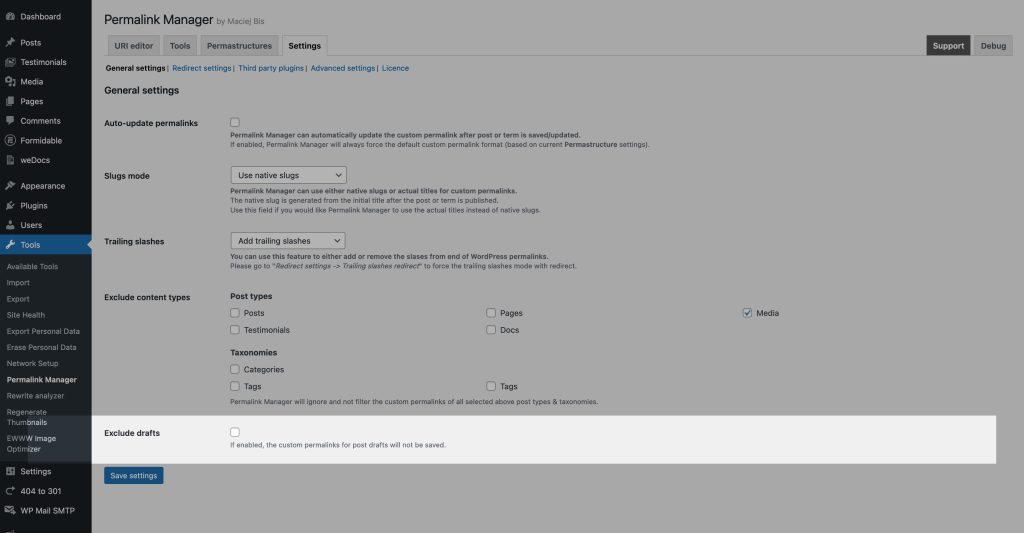 Another possibility is that the post type or taxonomy of the item is disabled in the plugin settings. Similarly to the previous example with "drafts" deselect the impacted post type or taxonomy to allow Permalink Manager to edit their permalinks.


The permalink is not updated after the title is changed
By default WordPress for permalinks uses the native slugs (post names) that are generated when the post is published. When the title is changed, the native slug is not updated, therefore the permalink remains unchanged. This is also exactly the case with Permalink Manager that likewise uses the native slugs for custom permalinks.
How to use titles instead of slugs and automatically update custom permalinks?
In the plugin setting ("Slugs mode" field) you may decide whether either
native slugs or actual post titles
should be included when new permalinks are generated. If you want to update the custom permalinks automatically, for example, when the post/term title changes,
turn on "Auto-update permalinks" mode
.
Why the custom permalinks disappeared?
Based on your Permalink Manager options ("Automatically fix broken URIs"), the plugin may automatically remove obsolete and custom permalinks associated to posts and terms you've deleted. This specific function runs in the background and is executed when a visitor attempts to access a custom permalink that is no longer needed.
If you have noticed that any of your custom permalinks were unitentionally deleted, please make sure that "Automatically fix broken URIs" option is deactivated in Permalink Manager settings.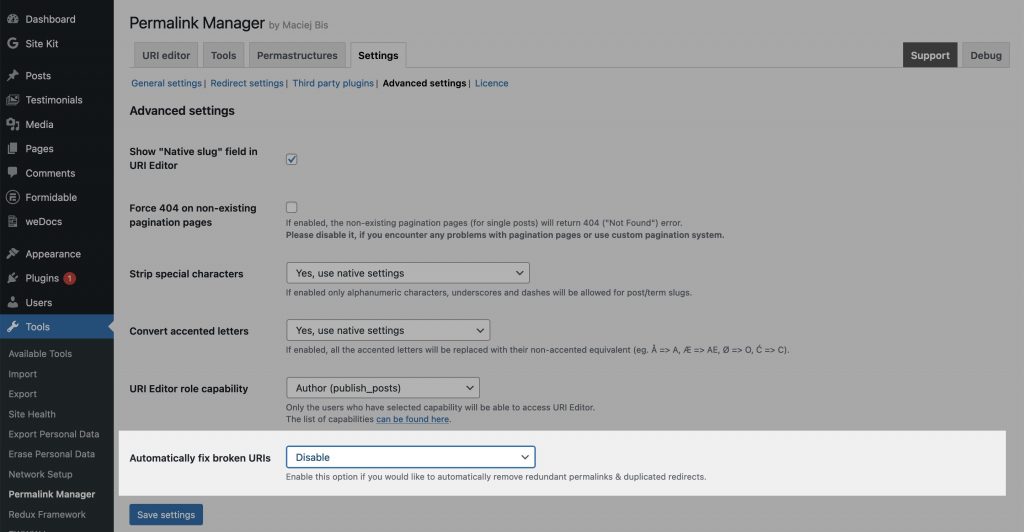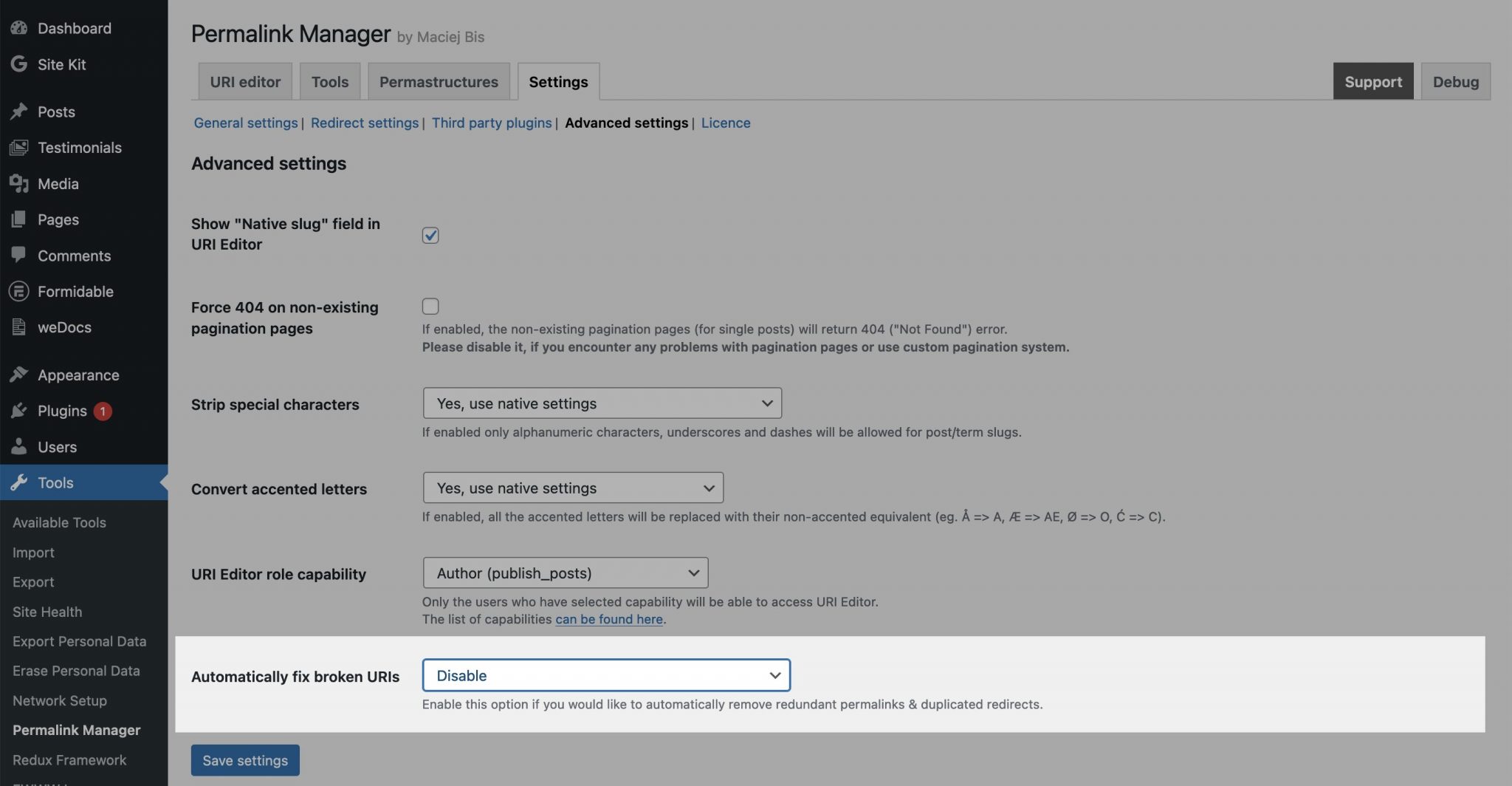 WP Rocket compatibility plugin issues
The functionality linked to "Automatically fix broken URIs" setting may not function correctly with WP Rocket. Because of the cache optimization, that plugin disrupts one of Permalink Manager functionalities responsible for auto-removal of broken URIs. As a consequence, the cache might corrupt the data array where custom permalinks are stored.
If your custom permalinks were malformed you will need to rebuild them using "
Regenerate/reset
" tool. Unfortunately, all the manual changes to the permalinks cannot be recovered unless you have a backup of your MySQL database.
Pagination pages return 404 error
Such problem may arise when you are using a custom pagination system that is not based on WordPress native query variables ("paged" or "page"). To repair it, please go to Permalink Manager settings and make sure that "Force 404 on non-existing pagination pages" option is deactivated.