Having a valid license key for the Pro edition of the plugin gives you access to dedicated customer support services. This license key serves as confirmation of your contribution to the plugin's maintenance and development.
Your contribution enables us to cover all costs associated with developing and constantly enhancing the plugin. A license key verifies that you are a valid user and entitles you to the latest plugin updates and upgrades.
This website (permalinkmanager.pro) is the only authorized source for
purchasing the license key
and downloading the official plugin files.
Due to the risk of receiving compromised or faulty plugin files and lack of support, we strongly advise against purchasing the plugin from any unofficial third-party sources (eg. GPL marketplaces).
License variants
When you buy Permalink Manager Pro, you will get a license key to use to activate the plugin on your website.
There are 4 different variants available, depending on whether you want lifetime updates and/or to use the plugin on one or more domains.
We do not have a subscription model like other plugins. Therefore, whichever option you choose, you will never be automatically charged without your consent.
Access time for the plugin's updates
The plugin updates access is determined by whether you choose the "1 year" or "lifetime" option. Regardless of which variant you choose you will have access to all plugin functionalities.
Lifetime variants
You pay once for the license and get lifetime access to plugin files and all future versions. Then, you will not have to do anything else or pay any extra money.
1 year variants
You get access to plugin updates for one year (you will not be automatically charged again after this period). It is up to you whether you prolong it or upgrade to the lifetime variant. If you choose not to renew your license key, the plugin will continue to function as usual.
Number of websites/domains
Additionally, the plugin comes in two different variants depending on how many domains you wish to use it for.
Single domain
The cheapest variant of license allows you to use the plugin only a single domain. There are no restrictions on the staging and test domains. You may also use it for multisite/network WordPress websites.
Multi domain
With this version, you may install the plugin on an unlimited number of domains. This is the best choice if you want to use the plugin on a clients' websites or if you have many websites.
License system
How to Buy a Permalink Manager License Key?
Obtaining a license key is a simple procedure that does not require any complicated steps such as creating a user account. Simply go to the "Pricing" page and select the license variant that best meets your needs. Once you have decided, click on "Buy license" button to start to the checkout process, which is simple and straightforward.
Upon successful payment, a confirmation page with your license key will appear. Once your payment has been validated, you will be sent to a thank you page where you can access your license key and download the plugin files. In addition, you will get a separate email sent by Paddle.com with a link to the invoice.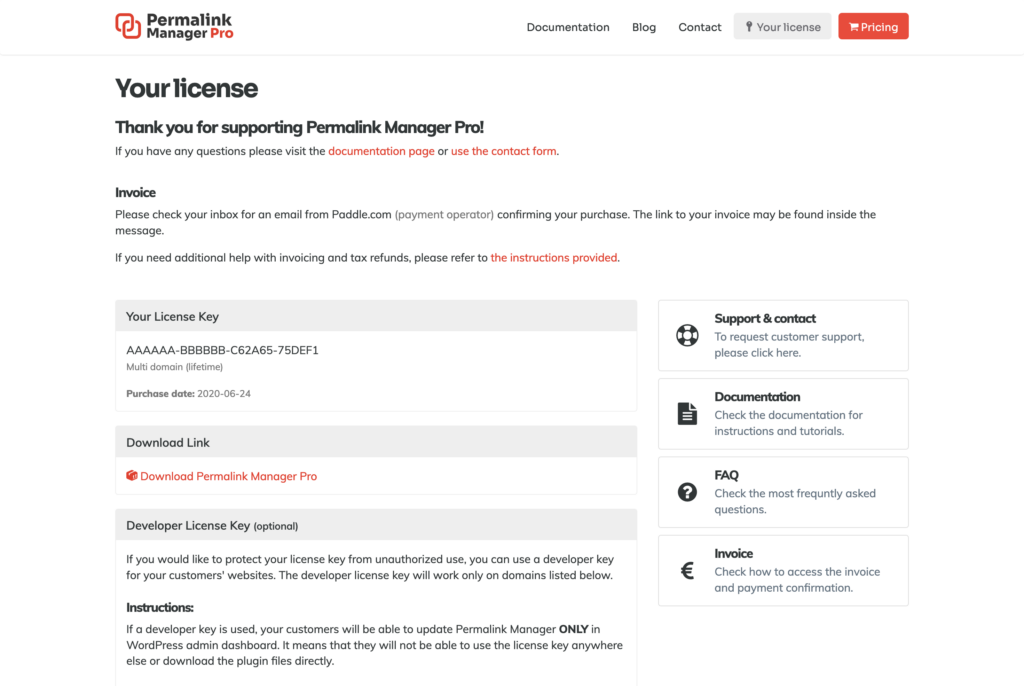 If you made a purchase through
this page
, an email confirmation with your unique license key should arrive in your inbox shortly after your payment is processed. If you did not receive the email, please check your SPAM inbox or
use the contact form
How to Renew/Upgrade Your License Key?
Please use the form below or go to the dedicated "License info" page to identify the type of license you have and its expiration date. After doing so, you should be able to view all information related to your license key.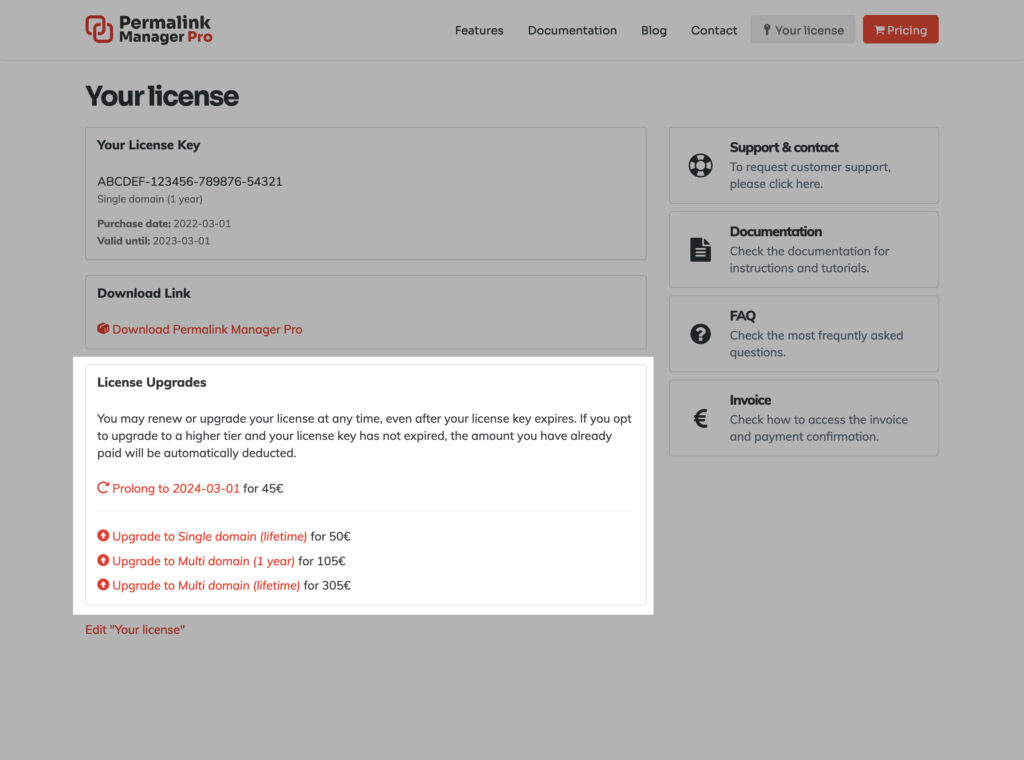 Expiry date
You can renew your license key before or after it expires to ensure continuous access to plugin updates.
The new expiry date will be determined by when you renew your license. For for your convenience, the new expiration date will be always clearly indicated.
Renewing before the expiry date will prolong the expiry date by one year from the original expiry date.
For instance, if you renew it on November 10, 2023 and it is valid until December 15, 2023, the new expiry date will be December 15, 2023.
If the license has already expired, renewing it will set the new expiry date one year from the present date.
For instance, if you renew it on June 22, 2023 and it was valid until April 19, 2023, the new expiry date will be June 22, 2024.
Upgrade cost
We understand that purchasing a new plugin might be concerning, so we offer a low-risk option for those who want to try out our solution before committing to the more expensive variant. You can switch to a higher-tier variant at any time, with the initial license cost deducted from the upgrade cost. This guarantees that you do not have to pay twice for the same thing. Please note however that the cost of your original license will be deducted from the cost of the upgrade as long as it is still valid.
For example, if you first purchased a "single domain" license for 49 USD and then decided to upgrade, the upgrade will cost 70 USD instead of the full 119 USD.
If you acquired a license key for a single year or one domain (ex. to test the plugin) you can still upgrade the license to any higher plan in a few clicks and you will pay just the difference in the price.
Developer (Multi Domain) License Key
If you would like to use Permalink Manager Pro on your clients' websites without providing them your license key, there is a safe option to provide them access to the newest version of the plugin. If you have a "multi domain" license key, you may use a shorter version that will only work for the domains you enter on the "License info" page: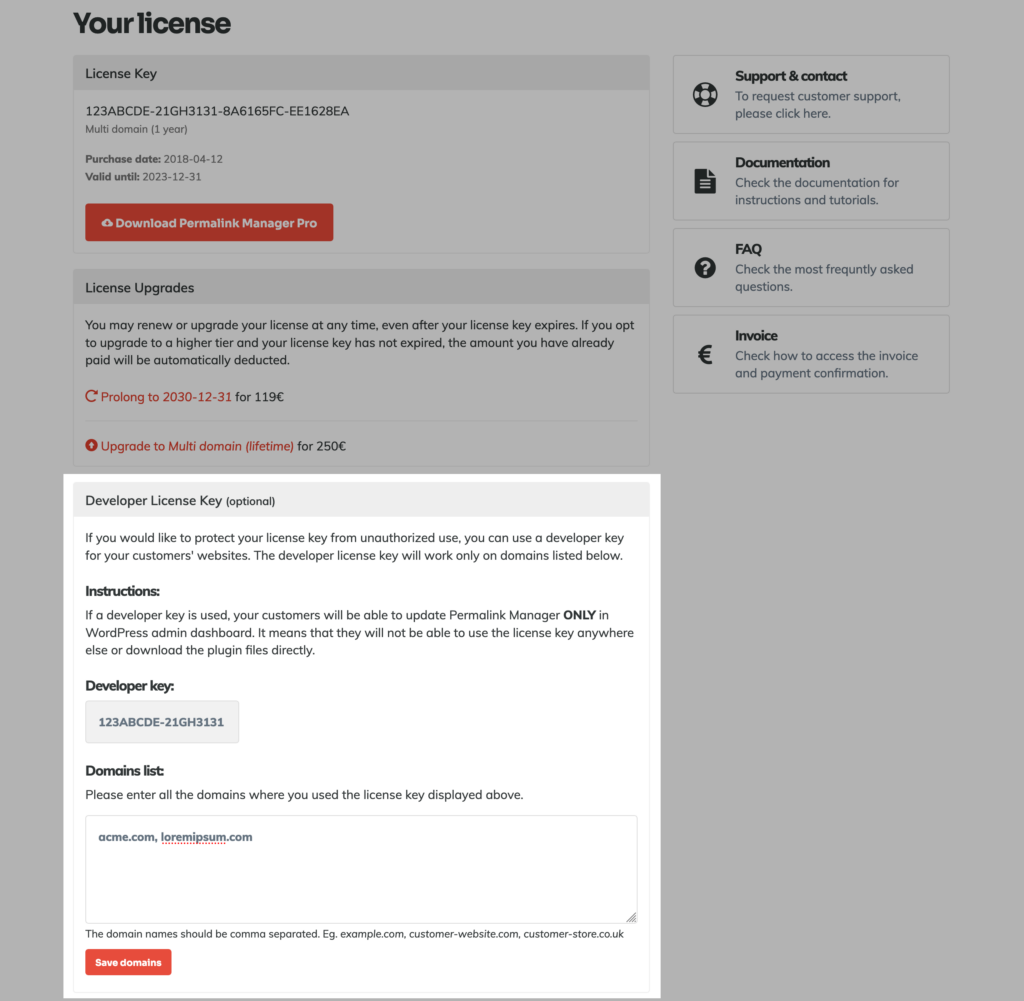 In other words, your customers will only be able to update the plugin from the specific WordPress website if you explicitly indicate their domains. What this implies is that they cannot use this short license key on any other website, nor can they use it to download the plugin files directly.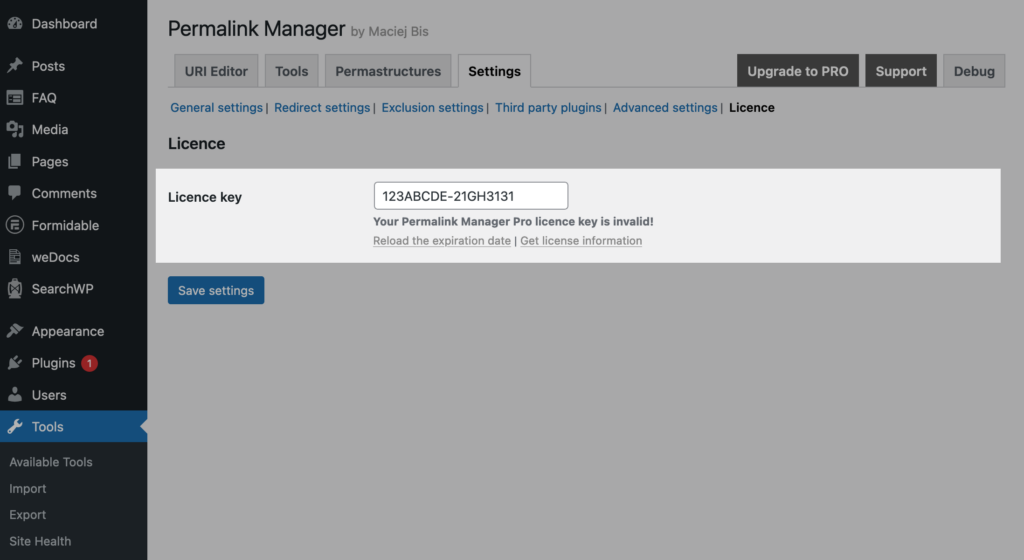 Development/Staging Websites
If you own a multi-domain variant, you can use the same license on all your websites, including both production/live and staging/development domains. In any other case, you may use the same license key on two separate domains.
Furthermore, subdomains and domain names that contain the words "dev", "staging" and "test" are not taken into account when considering the two-domain limit. This is because the update server's license validation system has been designed to ignore these types of domain names.
If you have more than two domains, you can use the same license key on all of them for a transitional period of up to 48 hours. During this time, you can switch the domains associated with the license key as often as needed (for example, when moving from a staging site to a production domain).
There is no need to re-activate or deactivate the domain because the old domain will automatically disappear from logs. The update server request logs are carefully inspected and analyzed in order to identify any potential abuse. Should any be found, your license key may be restricted, which will prevent you from using the automatic update feature of the plugin from within your WordPress admin dashboard.
Payments and Invoices
Rather of developing a tailored checkout system, we decided to use merchant-of-record solution for payment processing. We chose Paddle.com because we are serious about ensuring the reliability and security of our customers' payment transactions.
The checkout process is powered by Paddle.com and is really straightforward. All that is required is that you provide your email address before making a payment.
How To Generate The Invoice?
After purchasing a new license key or upgrading/renewing an existing one, Paddle.com will send you a separate email. This email contains an order confirmation as well as a link to create the invoice for your transaction.
To generate your invoice, please open it email and click the "View invoice" button in the bottom area.
After clicking it, you will be sent to a dedicated billing page, as seen below. From there, you may add your business information and print your invoice (or print it to PDF).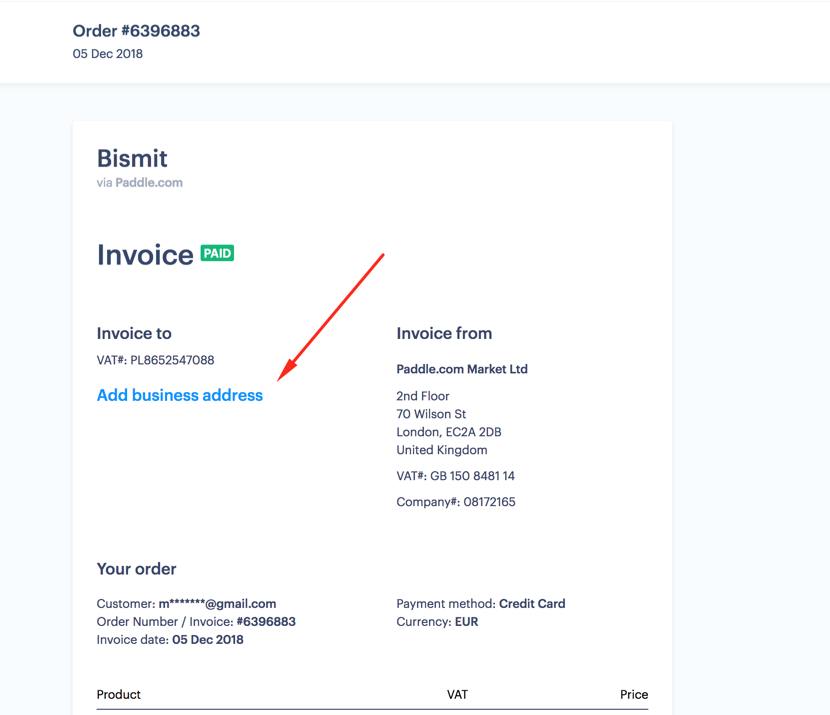 Customers with a VAT (Sales Tax) number
Paddle automatically will apply VAT (value added tax) rate applicable in your country. However, if you have a valid VAT number, you may have it deducted from the final price before you pay.
To see the list of countries where Paddle charges sales tax or VAT, please visit
Paddle's website
.
If you require an invoice and have a valid VAT number, please enter it during the checkout procedure. After entering your email address in the checkout form, you will see a "Add VAT Number" button on the final screen where you may select a payment method.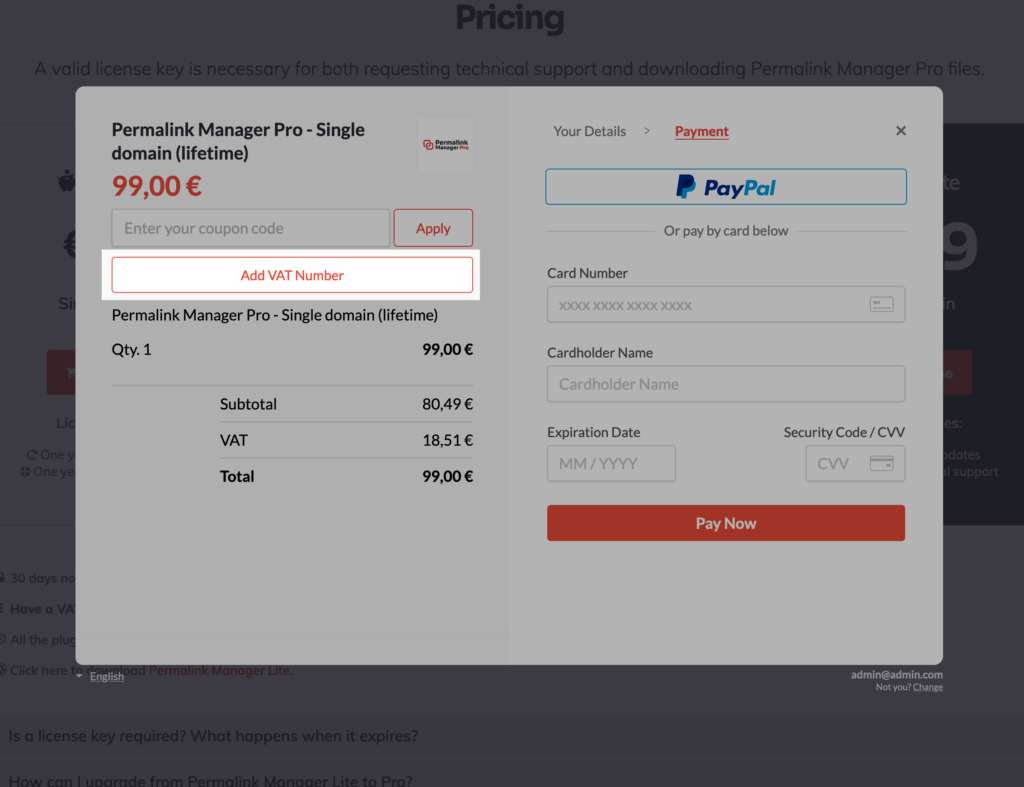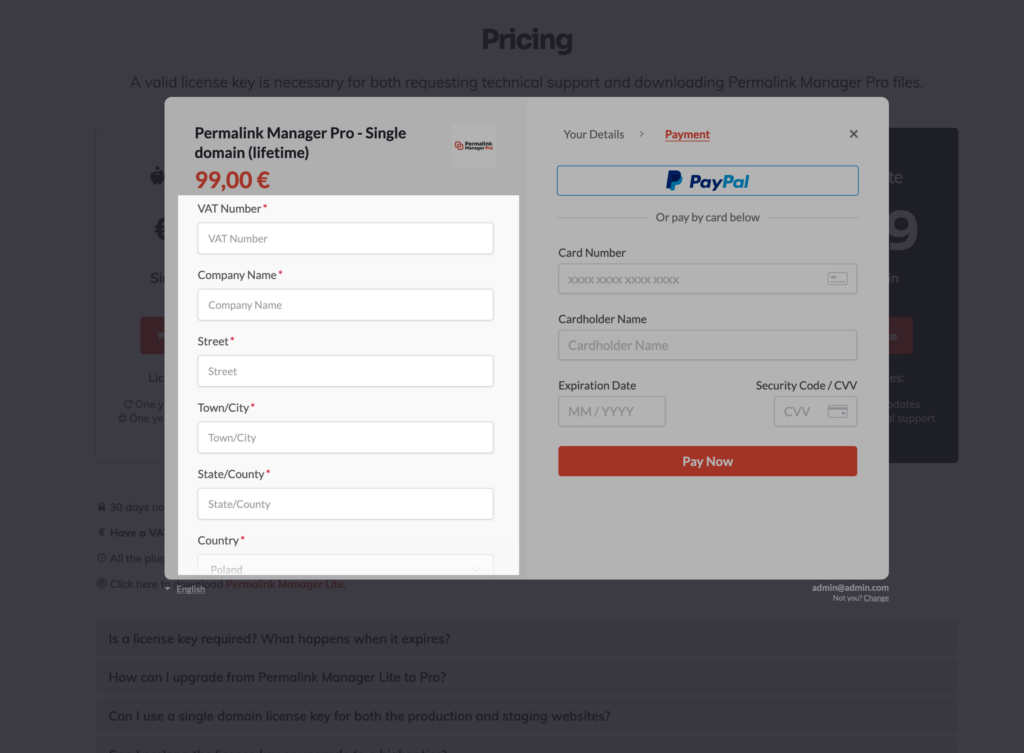 Post-Transaction Sales Tax Refund
You can ask for a sales tax refund within 60 days after making your purchase, as long as you submit a valid sales tax number for your country. If you did it not provide it at the checkout, you may add it along with the business details using the link delivered in the purchase confirmation email by Paddle.com.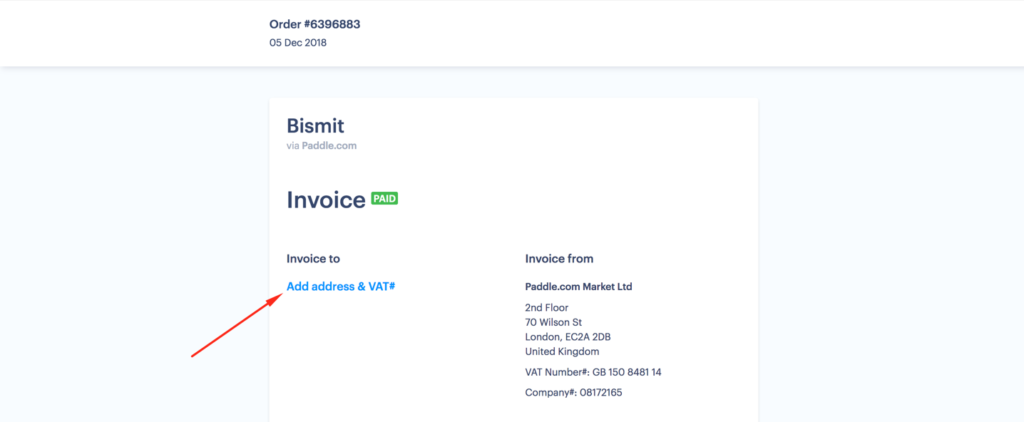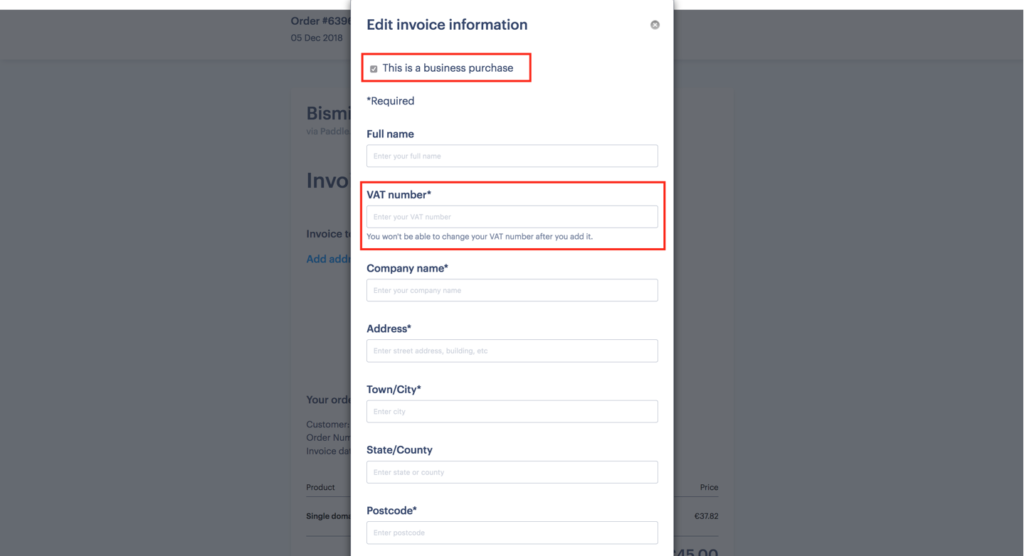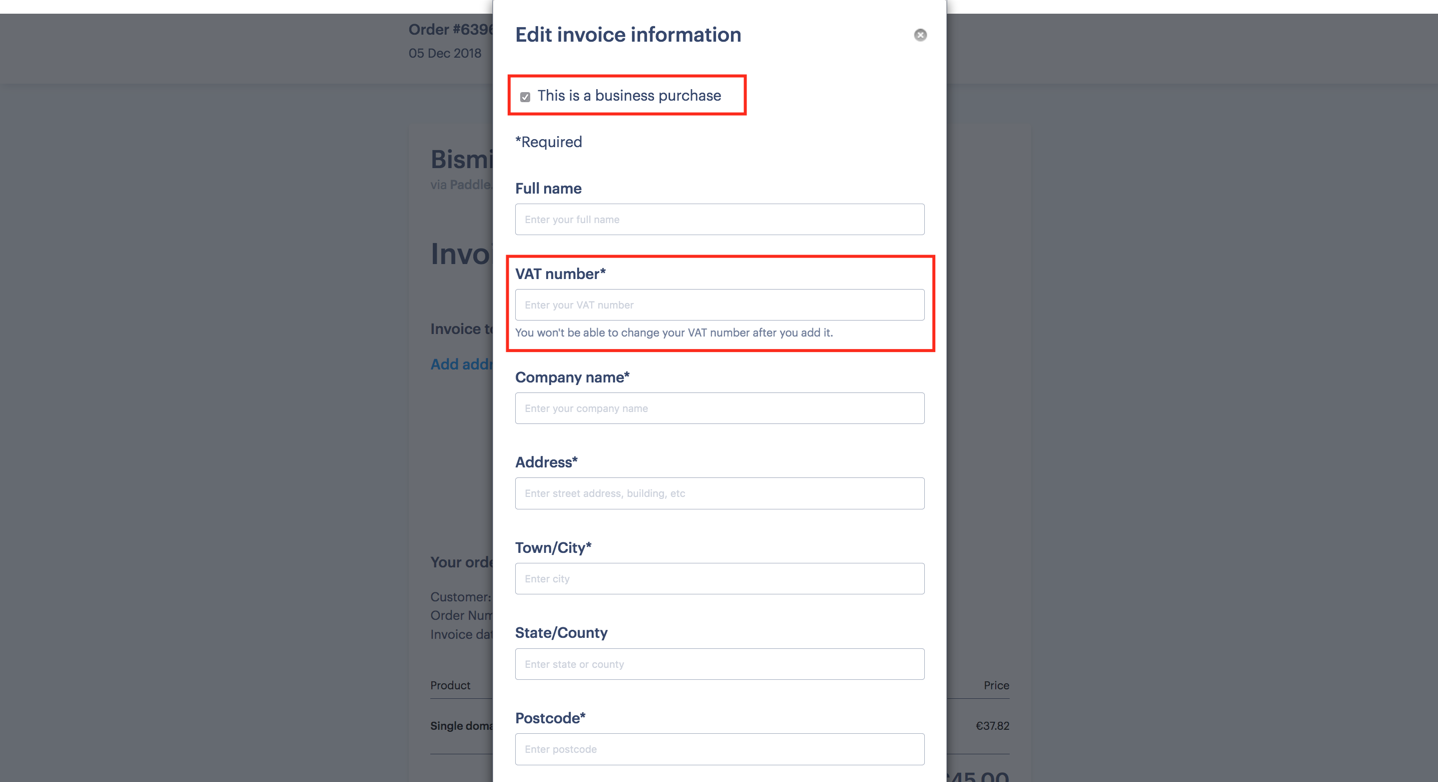 After Paddle verifies the refund request, the tax amount will be returned within 12 hours.
Refunds
If you are dissatisfied with Permalink Manager Pro for any reason, you may request a refund within 30 days after purchase. If you would like a refund, please use this link to submit your request.
Frequently Asked Questions
Do I Need To Cancel A Subscription For Permalink Manager?
Permalink Manager is a one-time purchase product that does not require a subscription. The license system ensures that you will not be charged automatically. To acquire the license key, you simply need to make a single payment. There are no strings attached, and you may enjoy the benefits of Permalink Manager without paying any recurring fees.
If you do not have the lifetime variant and want to continue getting plugin updates, you can pay to extend your license key. However, it is entirely up to you to decide whether or not you would like to renew it. If you choose to do so, simply follow the steps outlined above.
What Will Happen After the License Key Expires?
After the license key expires, you will still be able to utilize all Permalink Manager features without limitation. All custom permalinks, redirects, and plugin settings will remain unaffected. However, until you renew your license key, you will be unable to update the plugin to the most current version or request support.
With a lifetime license key, you will have lifetime access to all plugin updates. If you choose the "1 year" option, you can add another year of updates or upgrade to lifetime at any time.
How Do I Know If I Need A "Multi domain" License Key?
If you have a WordPress website that uses a multisite configuration and has multiple domain names, it is still considered one environment. his is true, for example, when you use separate domain addresses for each language version. As a result, you just need to purchase the cheaper license, and the "multi domain" variant is not required.
How Do I Reload the Expiry Date From the License Server?
The Permalink Manager license expiry date is checked by your WordPress website every 12 hours. After renewing your license key, it may take some time for the new expiration date to be updated from the server. During this period, an old expiry date could still be displayed in its admin section.
To speed up this process, you can manually flush and refresh the license info on your site by clicking "Check for updates" button located in "Plugins" admin section of WordPress.

What Is A "Merchant Of Record"?
A merchant of record is a financial entity that processes all payments on behalf of a company. It is in charge of collecting payments from consumers, processing chargebacks and refunds, and ensuring that all transactions conform with all applicable legislation. Businesses may streamline their payment procedures and decrease compliance risk by using a merchant of record, such as Paddle.
Paddle is an all-inclusive platform that functions as the merchant of record. As a result, they perform tax-related obligations such as collecting VAT from customers of our plugin, Permalink Manager. Compliance with current tax regulations in many countries, such as the EU and the US, may be difficult and costly for small businesses.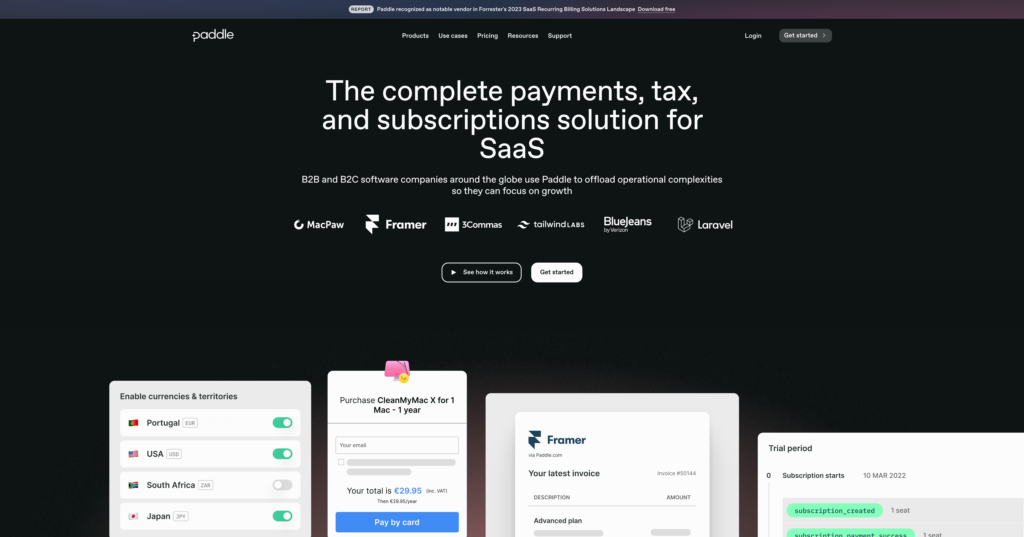 Is The Plugin GDPR Compliant?
Permalink Manager Pro does not collect or transfer any sensitive data from your website. When active, it sends queries to the update server with the necessary (non-sensitive) information for licensing key authentication and automatic updates.
A sample request includes information such as the date, masked IP address, activity, plugin version, website URL, and license key. Here's an illustration:
[2023-05-10 11:15:02 +0000] 92.222.**.***       GET     get_metadata    permalink-manager-pro   2.0.5.9 4.9.5   http://www.example.com  action=get_metadata&slug=permalink-manager-pro&license_key=XYZ-123-456-789&installed_version=2.0.5.9&php=5.4.45&locale=en_US&checking_for_updates=1