With an included URI Editor, Permalink Manager allows you to customize each custom permalink separately. This feature may be handy if you want to change the format of some of your permalinks from the default "Permastructures" settings.
As far as we know, Permalink Manager is the only WordPress plugin that gives you complete control over permalinks! Using the built-in permalink system, you can only edit the so-called "rewrite" slug and custom taxonomy slugs.
Without a question, permalinks are a crucial component of SEO. Ignoring this factor will likely have a negative impact on your search ranking. Permalink Manager may be of great assistance in this regard, as it can be used to boost your SEO score by optimizing your site's URL address structure.
Permalink Manager also allows you to fine-tune and browse multiple post types and custom taxonomy permalinks all at the same time using one screen. Detailed information regarding this feature may be found further in this article.
How to edit individual post and taxonomy URL addresses in URI Editor?
Until you manually adjust it using the "URI Editor" the initial URL will be based on the generic permalink format (given in the "Permastructures" section). Fortunately, it is quite simple to manually alter each individual URL directly in the WordPress content editor.
To display the URI Editor simply click on the "Permalink Manager" button (just below the post's title). Essentially, the individual permalink may be entirely customized in any manner you like.


Extra redirects
You may not only fully edit the single WordPress permalink, but you can also create custom redirects for each post or page using the same panel. More information about this feature is posted in
a separate article
.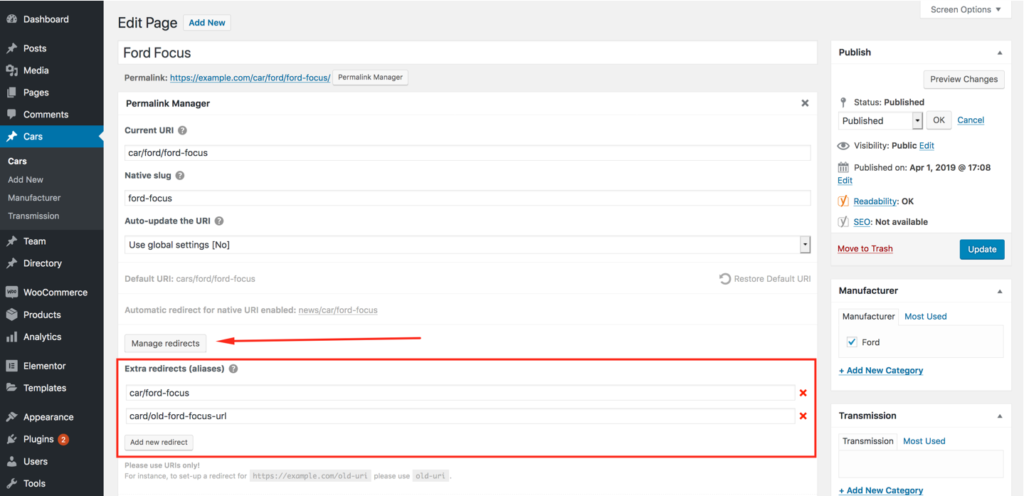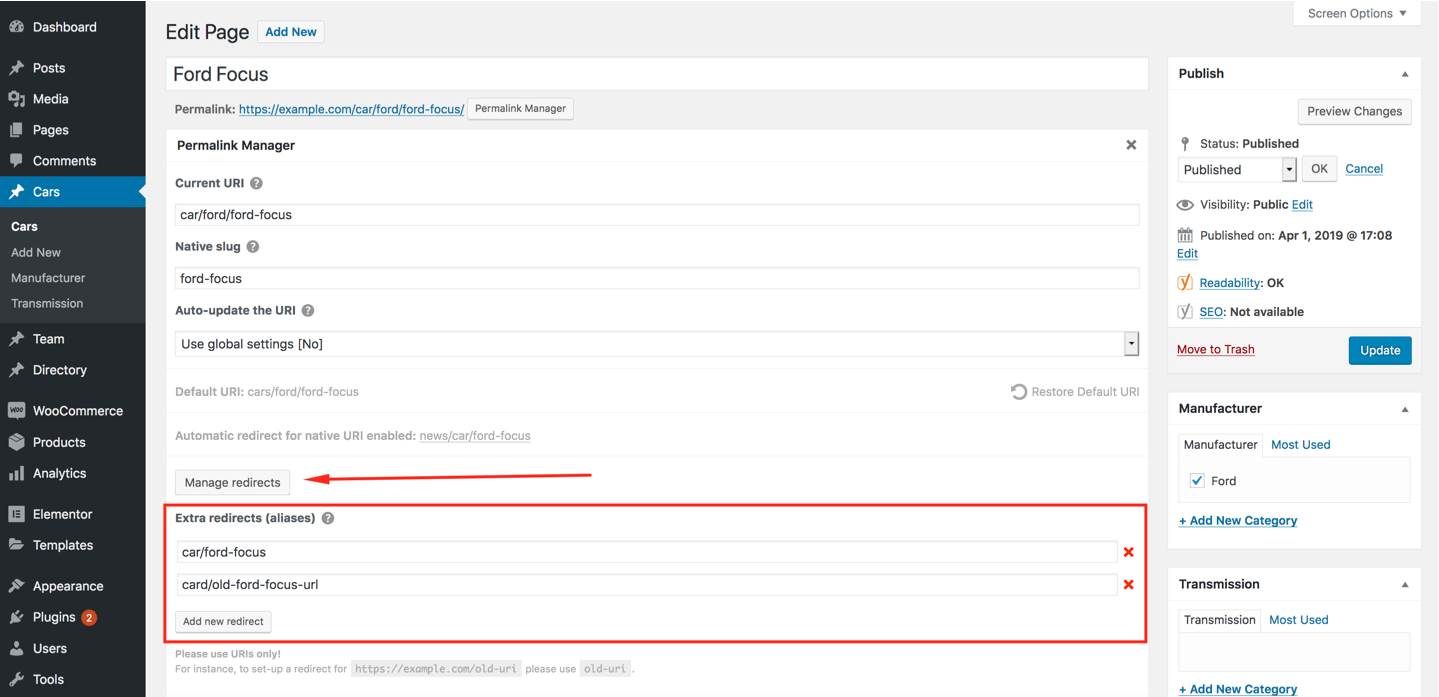 How to edit custom permalinks in Gutenberg editor?
If you are using the Gutenberg editor, you will notice that the URI Editor is located in a different area in the UI. The URI Editor, in particular, may be accessed on the admin sidebar, as illustrated in the picture below.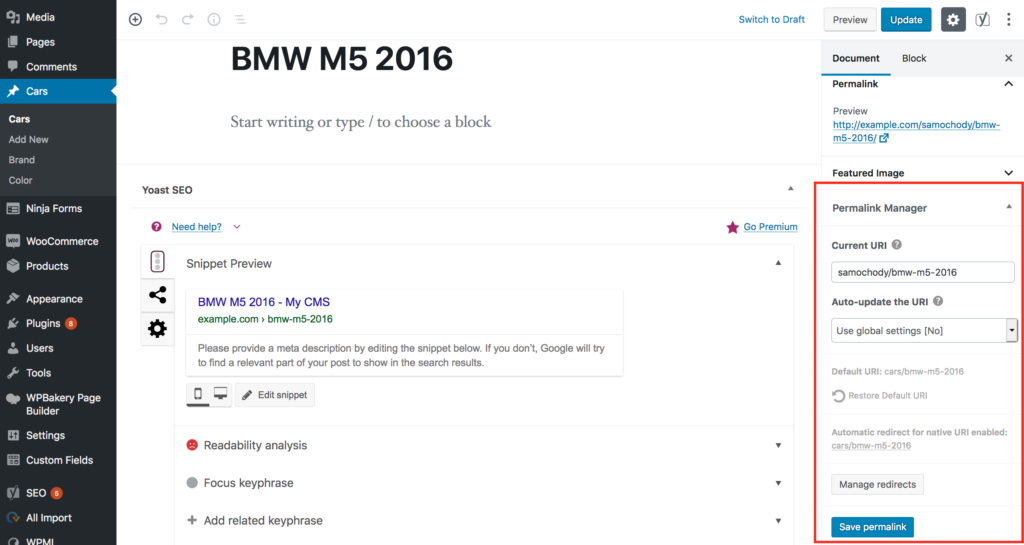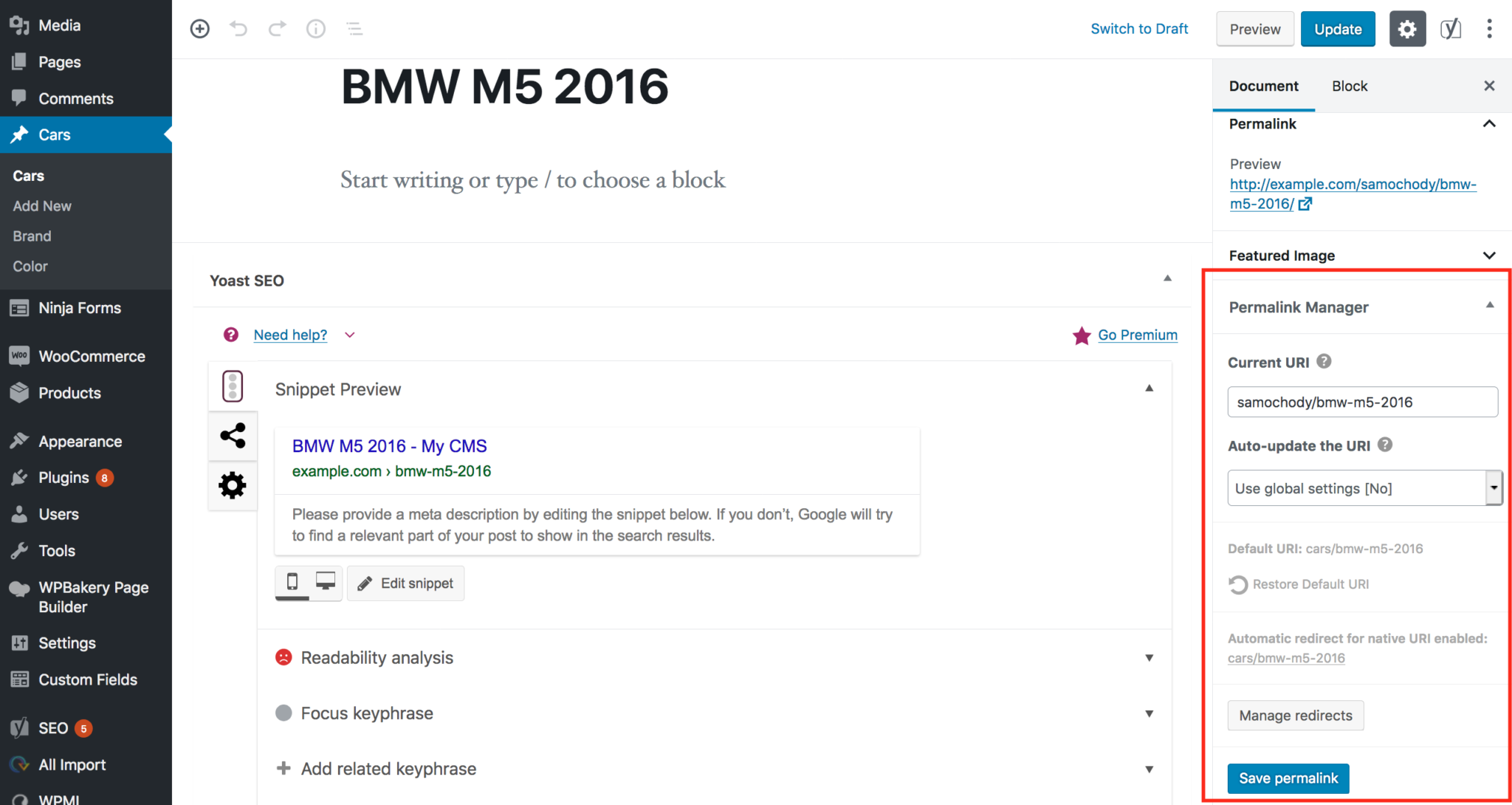 How to edit the category & custom taxonomy permalink?
The ability to update individual category and custom taxonomy permalinks is another unique and highly useful feature of Permalink Manager. To be clear, the plugin not only supports built-in taxonomies (category and post tags), but it also allows you to change the permalinks of custom taxonomies.
Category and custom taxonomy permalinks should be as simple to modify as post permalinks. Similarly to the "Edit post" page, you may easily access the URI Editor for categories, tags, and custom taxonomy terms from the "Edit term" page.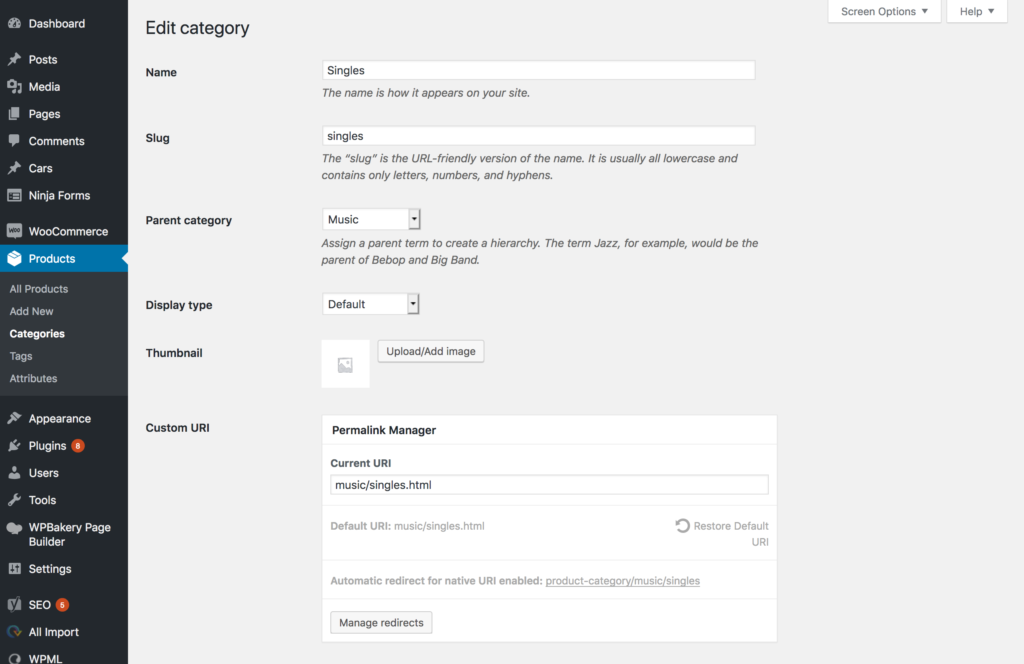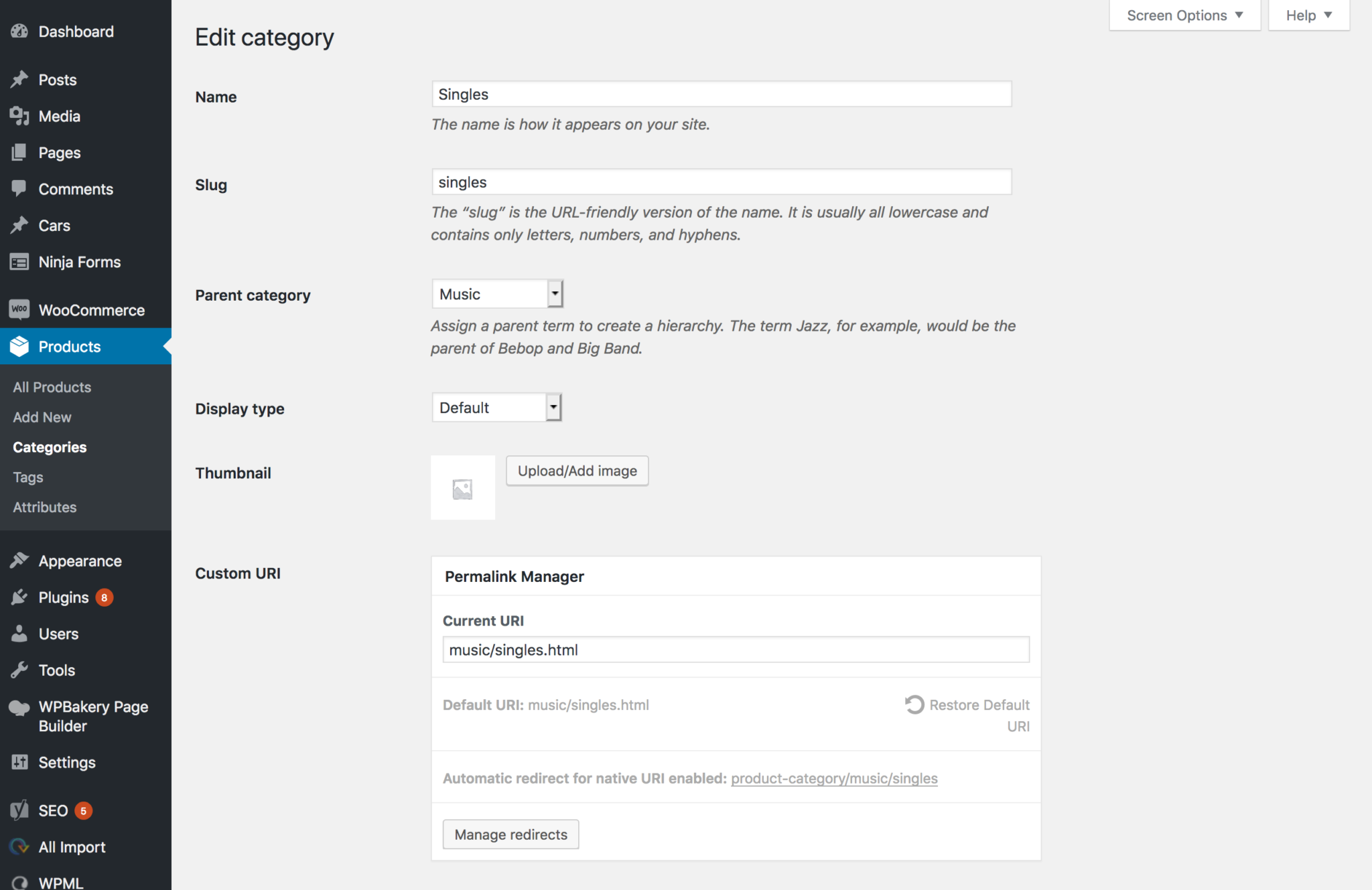 How to edit multiple URLs at once?
In order to speed up the URL changing process, the Bulk URI Editor allows you to alter several permalinks at once. As you can see in the screenshot below, you can examine and bulk modify permalinks for each of your post types and taxonomies independently.
In the admin dashboard, the Bulk URI Editor is quite straightforward to access. You may get to it by going to the admin dashboard and clicking on "Tools -> Permalink Manager" sidebar link.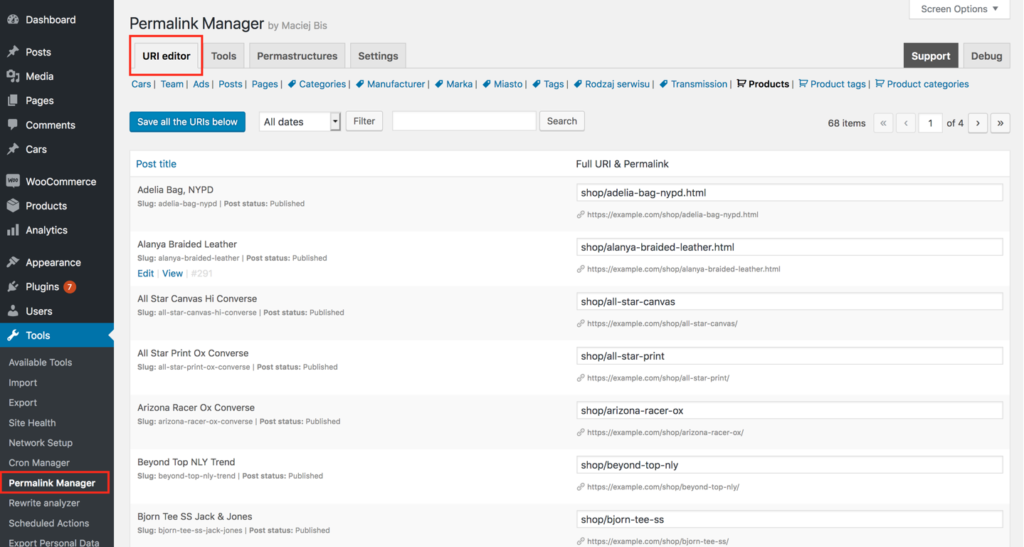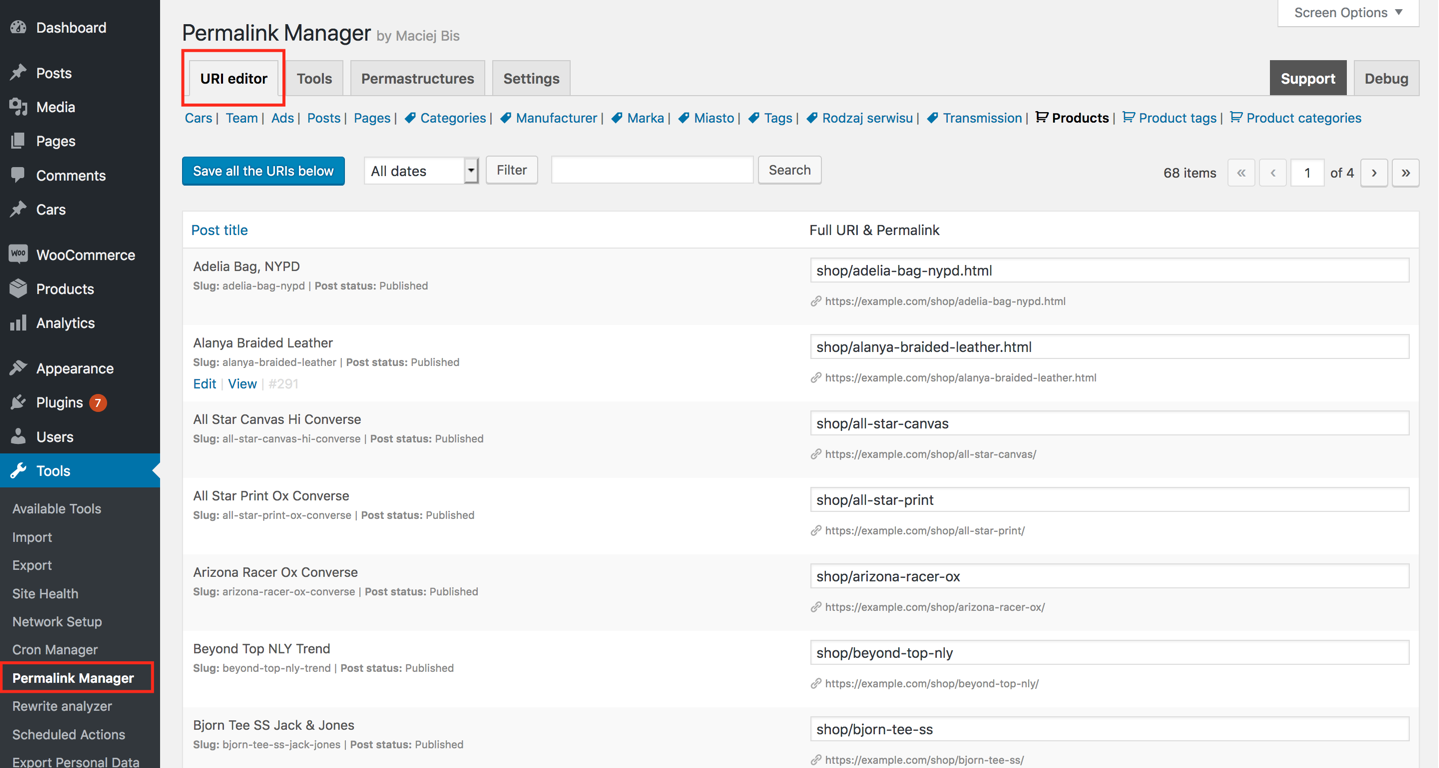 Frequently asked questions
Why can not I see the URI Editor?
If the URI Editor does not appear in the interface, there are two main reasons for this. This can occur if your post is saved as a draft and the "Exclude drafts" option in the plugin settings (in "Exclusion settings" section) is enabled.
Another possibility is that the item's post type or taxonomy is excluded from editing in the settings. Similarly to the first example with "drafts" deselect the post type to allow Permalink Manager to control their permalinks.
How can I exclude particular post types and/or taxonomies?
By default, Permalink Manager saves custom permalinks for all public post types and taxonomies. There is no need for this in many cases, for example, if you only want to change permalinks of one single post type (e.g. products).
It is a good idea to think about this if your website has more than a few thousand pages. In this case, it is a good idea to exclude post types and taxonomies, which do not require URL changes.

Will the old WordPress permalinks redirect to the new custom ones?
Permalink Manager will automatically redirect the native permalinks to the new URL addresses to prevent 404 errors. You may also specify extra URL redirects in the "Manage redirects" section. More thorough information on how to set up custom redirects can be found here.
Why is the "Custom permalink" field deactivated?
If you use "Auto-update permalinks" mode in the plugin settings, your custom permalinks will be updated every time you change or save the post or article. As a consequence, any manual adjustments will be replaced with the default format of custom permalink depending on Permastructures settings.

Editing the URLs makes no sense because any manual changes will be overwritten by the default address provided in the "Default custom permalink" row As a result, the "Custom permalink" field will be grayed out and set to "read-only" mode to minimize user misunderstanding.
An in-depth explanation of the "Auto-update permalinks" function may be found in a separate article.