Permalink Manager mimics the core WordPress permalink system and does not automatically modify custom permalinks by default. Some of this has to do with search engine optimization (SEO). In general, the reasons for changing your URLs should be carefully considered.
Is there a good reason to keep your URLs intact?
To begin with, it may take some time for Google to rediscover your site's pages through the new URLs once you modify them. All of your new URLs will need to be re-crawled by Google to assess their authority and quality. This might cause variations in search result ranks, so be aware.
There are several more reasons why you should aim to keep your URL structure intact. Changing the URLs effectively eliminates the user's direct link contact with your site. A change, for example, might disable user-saved bookmarks or backlinks on other websites.
Setting up a fallback redirect is one of the most crucial things to remember when changing URLs. In summary, redirects enable you to maintain the majority of your "SEO juice" by informing search engines and visitors that you are permanently shifting one page from one URL to another.
How to save the old permalinks as redirects?
Every time a URL is updated, Permalink Manager Pro may automatically save a fallback redirect for the previous address. For more information on this feature, please see
the dedicated page
.
How to automatically update custom permalinks?
Regardless of above, many users often question how to automatically update a custom URL once the post's title is modified. You may also choose to alter them in a variety of other circumstances. You may request Permalink Manager to automatically update the URI if a different primary term is assigned to the post or the permastructure settings are changed.
There are two primary methods for updating the permalinks automatically. First and foremost, you may reset them in bulk by using the "Regenerate/reset" feature. You may also manually update the permalinks or have them changed automatically when a post or term is saved or updated. The latter can be enabled in the Permalink Manager settings. To automatically update the custom permalink, please enable "Auto-update permalinks" mode.


What precisely does this functionality do? When you save or edit a post, Permalink Manager will automatically change the value of "Current URI" to the default permalink ("Default URI") depending on your permastructure settings. The "Current URI" column has been set to "read-only" mode as a result of this.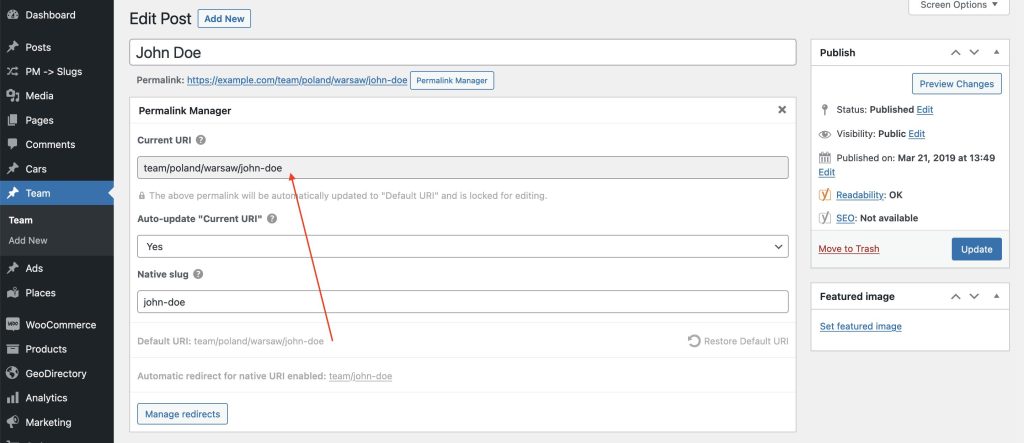 Why the "Current URI" field is disabled?
If you decide to update the custom permalinks automatically, you will not be able to edit them using the "Current URI" field. Because any manual changes will be overridden by the default address shown in the "Default URI" column, editing them makes no sense. As a result, if "auto-update" mode is enabled, the input field will be grayed out and disabled.
How can I exclude certain elements from global settings?
Still, you can override the general settings for each post/term in URI Editor. If you would like to exclude certain items, please select "No" in the "Auto-update the URI" field when "URI Editor" is opened.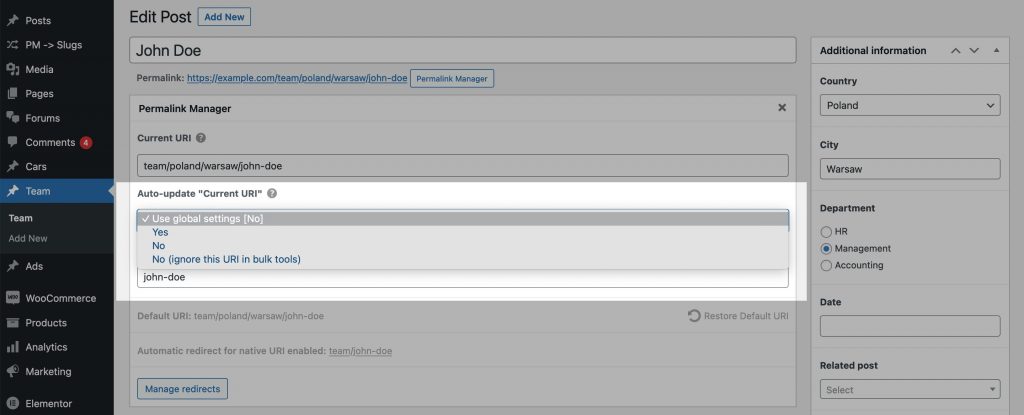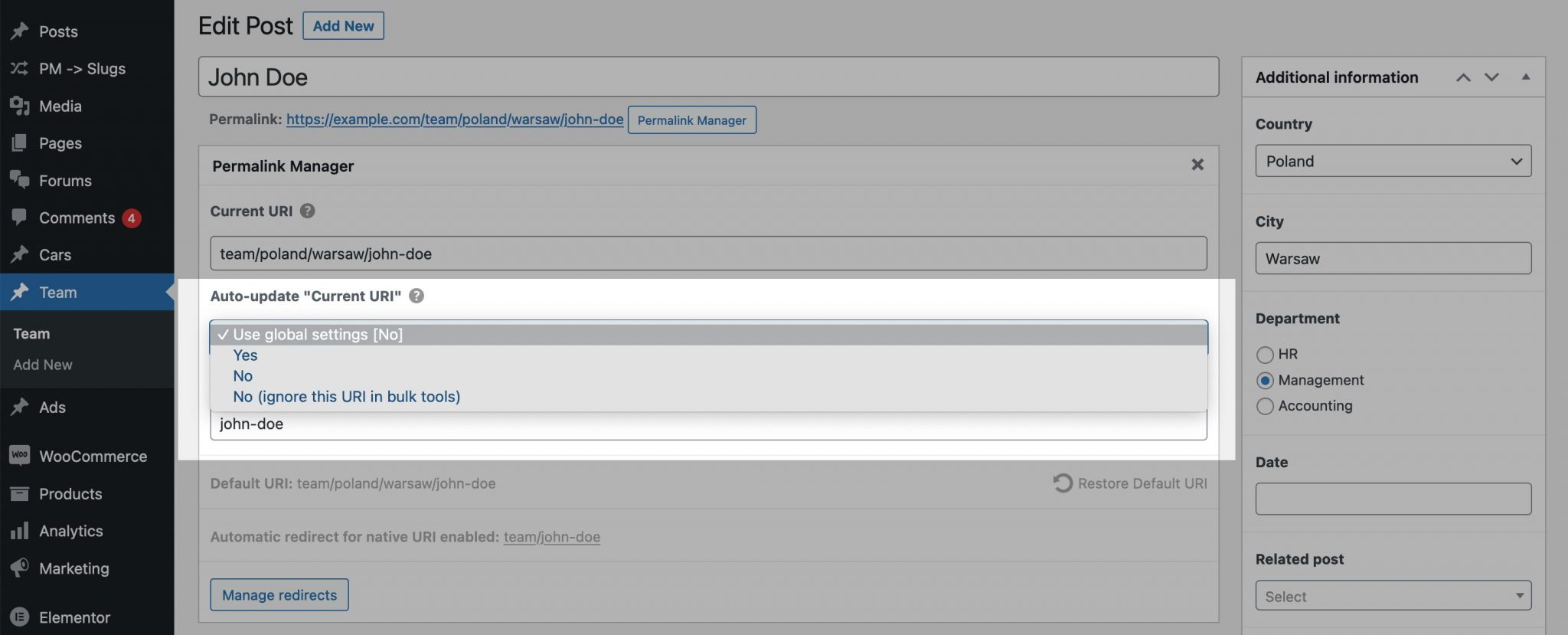 If it is enabled, Permalink Manager will always use the default custom permalink whenever the post or page is saved. You can check the default permalink in URI Editor ("Default URI").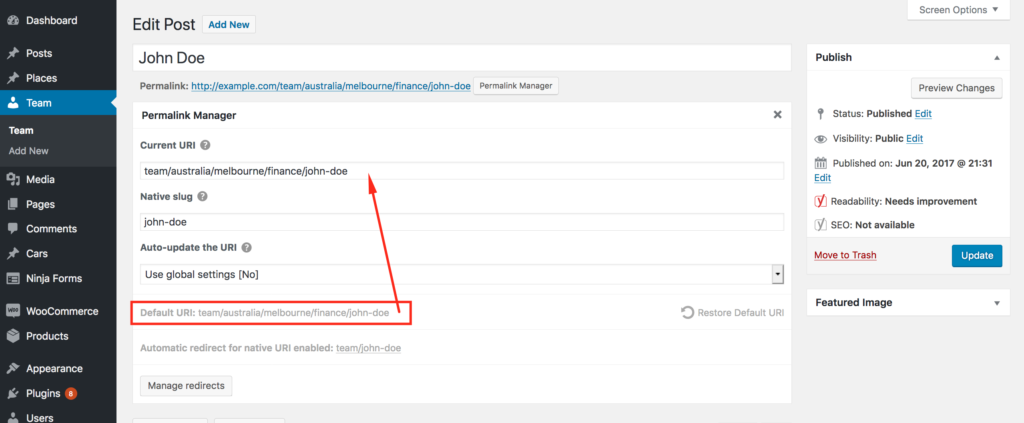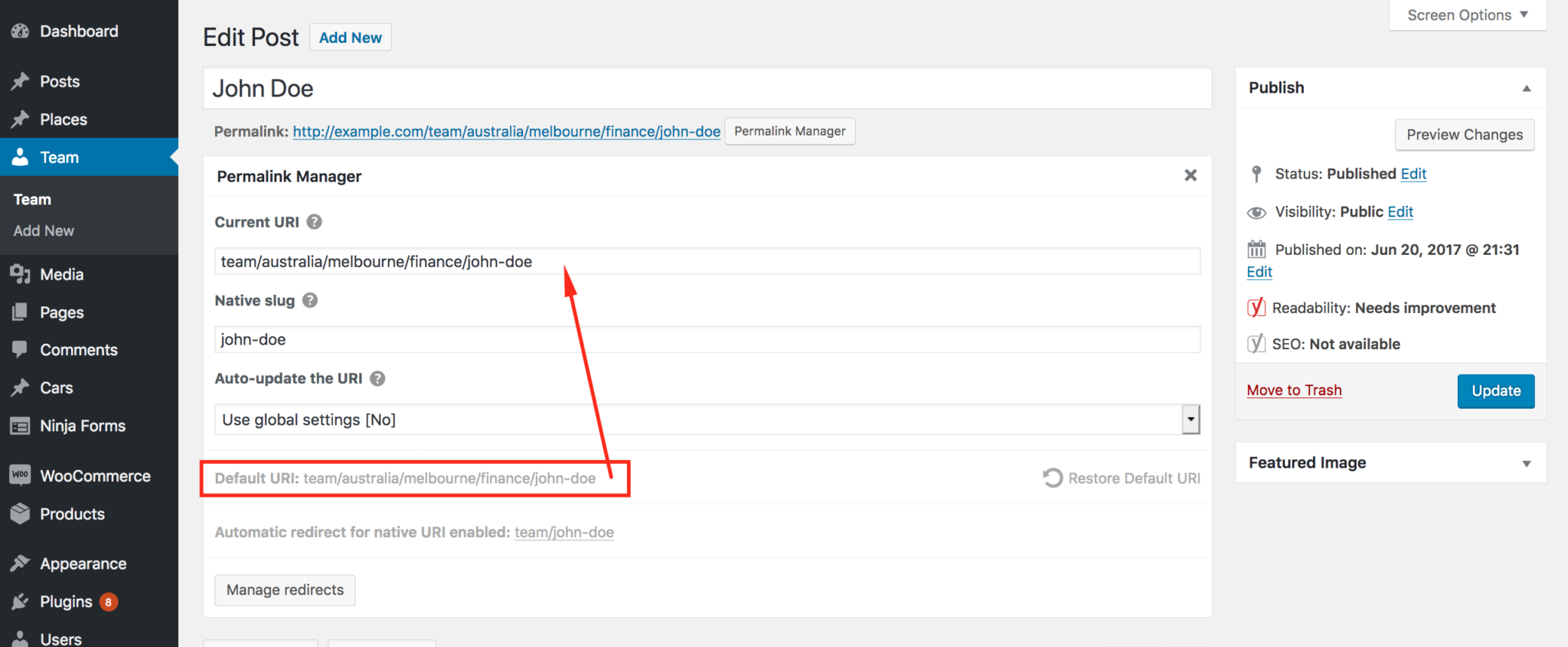 How to update WordPress permalink after the title is changed?
Permalink Manager, like WordPress Permalink, uses the native slug for custom permalinks by default. Because the native slug is not automatically changed if you decide to rename a single post later, this might lead to some misconceptions. In other words, if you modify the post title, the URL address will remain same. This is due to the fact that the native slug is generated from the original title after the post or term has been published.
Slugs mode
Permalink Manager can use either native slugs or actual titles for custom permalinks. You can switch between two modes using the "
Force custom slugs
" field in the plugin settings.


See the example below, where "Auto-update permalinks" is enabled and "Force custom slugs" is set to "Use actual titles as slugs." Permalink Manager will automatically use "Johnny Doe" (johnny-doe) in the "Current URI" instead of the original slug (john-doe). At the same time, if you alter the title, the custom permalink will be automatically updated.