Every time a new post, page, product, category or custom taxonomy term is published, Permalink Manager would use the default custom permalink that would follow your current permastructure settings defined in "Tools -> Permalink Manager -> Permastructures" admin page.
Still, you can edit/overwrite manually each custom permalink using URI editor. It is also possible to auto-update the permalink after the post or term is saved by enabling "Auto-update the URI" mode in Permalink Manager settings. You can find more detailed instruction on this here.
After you change your permastructure settings, the new rules will not affect the old custom permalinks assigned to posts and terms that have already been saved before. In such a situation you will need to regenerate the custom URIs to apply the new settings to them. If 'Auto-create "Extra Redirects" for old permalinks' option is enabled in Permalink Manager options, the plugin will automatically create the redirects for old versions of custom permalinks.
How to reset/regenerate the post type permalinks?
Please go to "Tools -> Permalink Manager -> Tools" and select section titled "Regenerate/reset".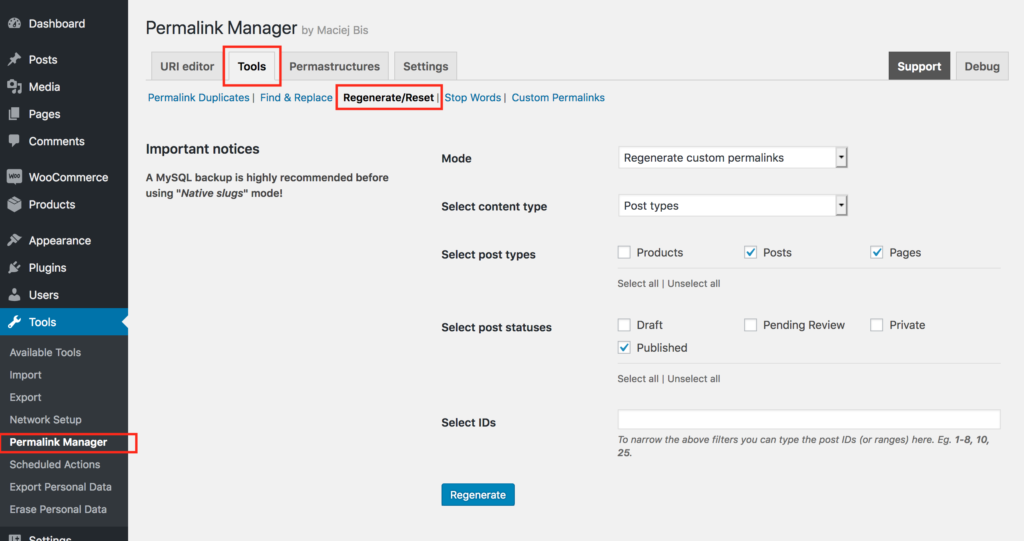 Therefore, please set in the form:
"Mode" to: "Regenerate custom permalinks"
"Select content type" to: "Post types"
"Select post types" to specific post types eg. "Products".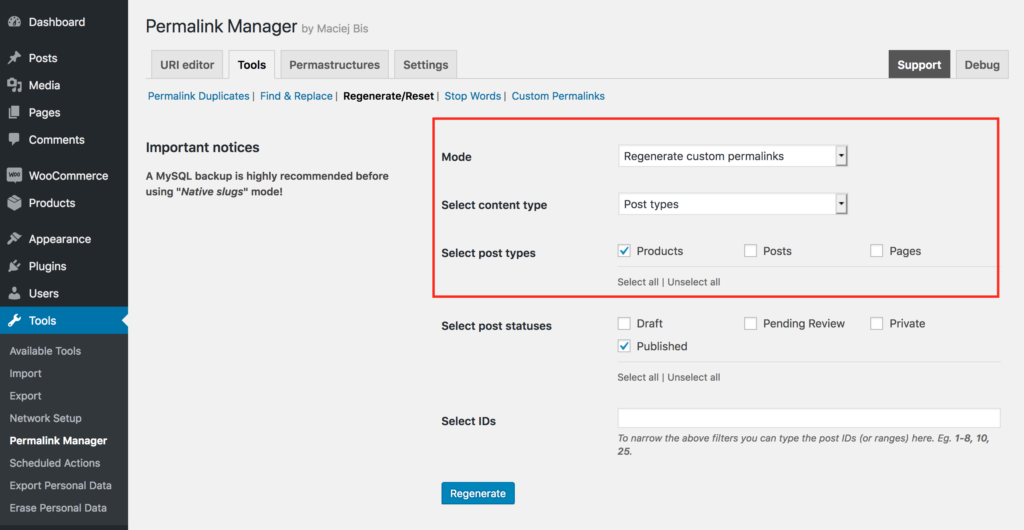 After "Regenerate" button is clicked, a list of updated/changed custom URIs will be displayed below.
How to reset/regenerate the terms permalinks?
Similar to the previous case, please select:
"Mode" to: "Custom URIs"
"Select content type" to: "Taxonomies"
"Select taxonomies" to specific taxonomies, eg. "Product tags" or "Product categories"