The breadcrumbs may not only boost your visibility in search results, but also the whole user experience. To fully utilize them, ensure that they mirror the current structure of your WordPress permalinks.
As previously stated, Google uses breadcrumbs to classify information obtained from a website in search results. A well-designed breadcrumb trail on a page displays the site structure, allowing users to comprehend and effectively explore your website.
Permalink Manager is a powerful tool that allows users to filter breadcrumbs generated by some of the most popular WordPress SEO plugins, including WooCommerce, Yoast SEO, RankMath, and SEOPress. If your website uses a different solution or a different plugin to generate breadcrumbs, the Permalink Manager will be unable to change the breadcrumbs trail.
Although Permalink Manager's breadcrumbs feature can meet the needs of most users, it has certain limitations. This is due to the fact that the various SEO plugins mentioned above all have distinct schemas for their breadcrumbs trails, thus making it impossible to create a dependable and all-encompassing solution that would work seamlessly with all breadcrumbs plugins.
It is important to note that the breadcrumbs integration offered by Permalink Manager is available as is. As a result, if the built-in functionality of Permalink Manager is not able to meet your needs, we are unable to provide a customized solution for the breadcrumbs feature as part of our customer support.
How to make Permalink Manager filter the breadcrumbs?
For more consistency, Permalink Manager allows you to filter them and make them fit your new custom permalinks structure. This might happen if you have changed the permalinks to include or exclude your parents' URL slugs. Please keep in mind that the breadcrumbs are not modified by default. If you want them to be changed automatically, activate "Breadcrumbs support" in the plugin's options.

To explain how this feature works in detail, here's a comparison of the breadcrumbs output before and after the custom permalinks are modified.
Before the change
Prior to changing the custom permalink, the original URL is quite straightforward and contains only the slug of the actual page. As you can see, there are no parent slugs in either the URL or the breadcrumbs.
https://example.com/meet-the-team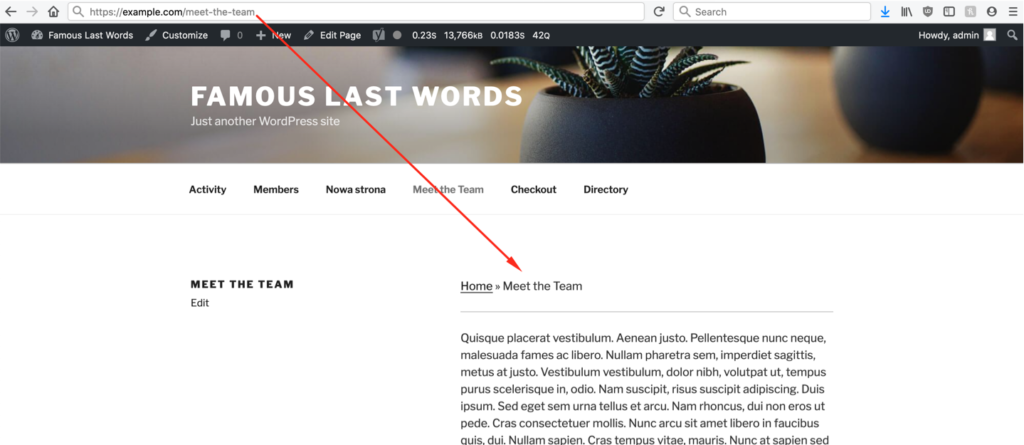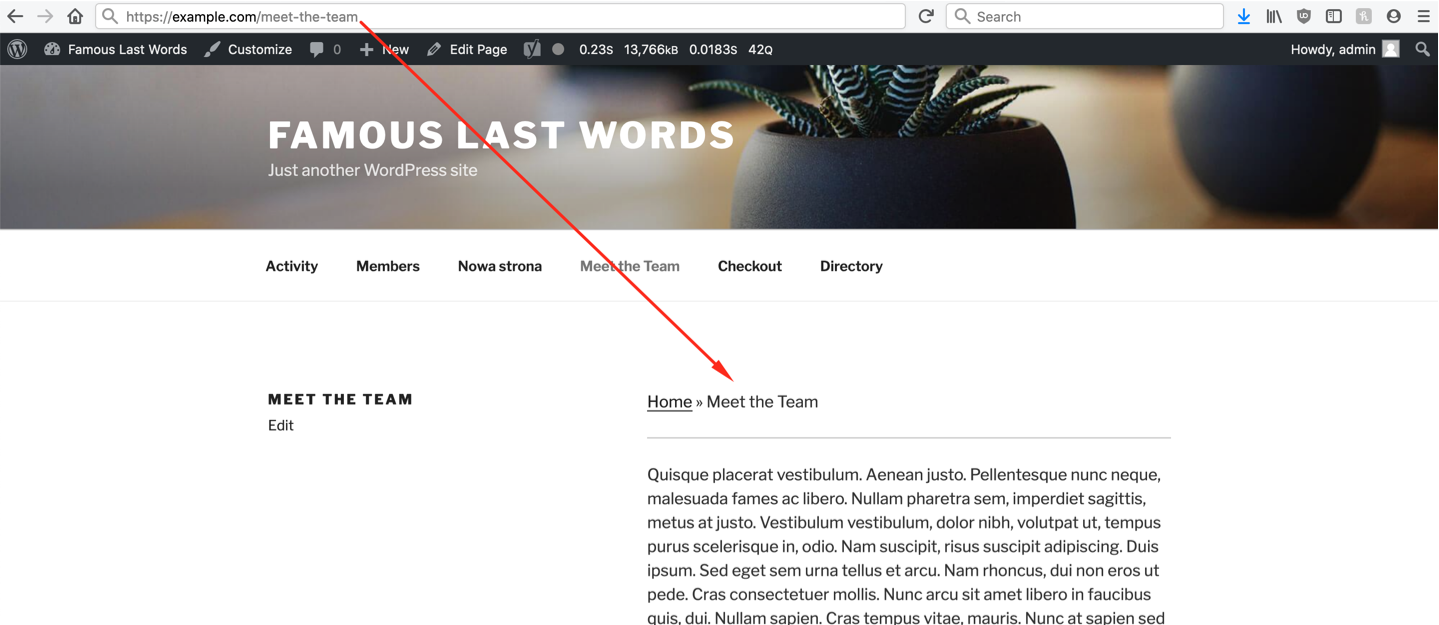 After the change
When the parents' slugs (members/directory) are added to the custom permalink, the situation changes.
https://example.com/members/directory/meet-the-team
The function will work correctly only if the intermediate slugs are connected to any existing post, page or term.
"Members" will be included only, if https://example.com/members URL exists.
"Directory" will be included only, if https://example.com/members/directory URL exists.
As a result, links to parent pages are added to the breadcrumbs list automatically: