---
The most powerful URL editor for WordPress
A problem that every WordPress site owner is likely to face is how to deal with messy or unprofessional looking permalinks. This plugin will help you keep them clean and tidy, giving you complete control over the URL of each individual post. You can also bulk delete the permalink bases completely or change them to anything you need.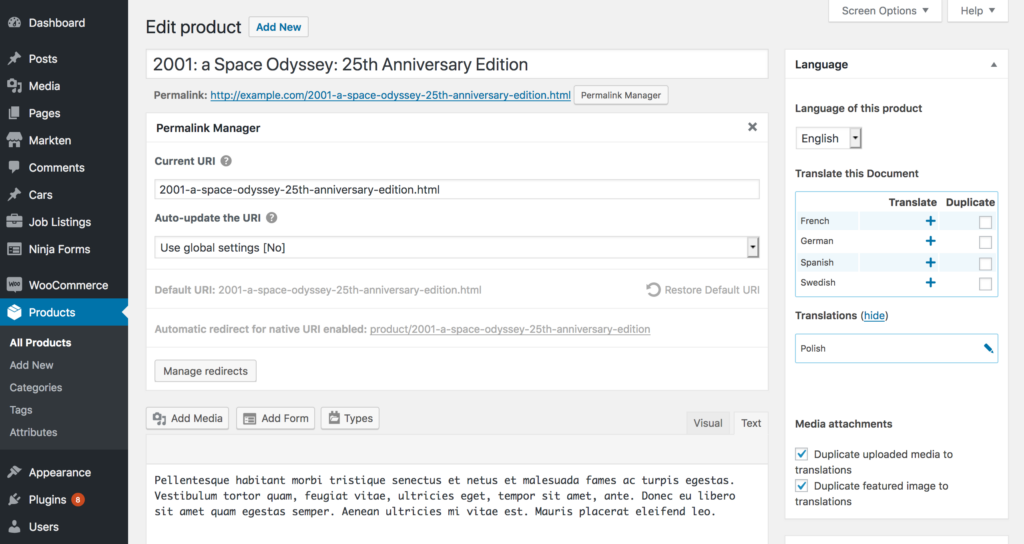 WordPress URL editor is very limited when it comes to adjusting the URL addresses. This plugin extends the power of WordPress by adding many new options for URL generation. Permalink Manager also offers a number of other features including canonical redirects, extra 301 redirects, and bulk editing.
The plugin supports all custom post types & custom taxonomies and major 3rd party plugins including WooCommerce, Yoast SEO, WPML, and Polylang. To avoid 404 or duplicated content issues when the permalink is updated, the users trying to access the old address will be instantly forwarded to the new custom URL. Furthermore, it allows to easily add custom fields to the URLs. It works out of the box with native custom fields and Advanced Custom Fields.
Explore the plugin documentation that has all the tips you need to get started with the necessary tools.
Permalink Manager's URL editor and other features
If you are still hesitant, try out the free version of plugin accessible on WordPress.org that as well provides valuable features. Check the following table for comprehensive list of features included in free and premium version of Permalink Manager.
Permalink Manager Lite
Permalink Manager Pro
Core functionalities
Edit posts, pages & custom post types permalinks

✔

Edit terms, categories & custom taxonomies permalinks

✖

✔

Edit custom permalinks one by one

✔

Customize/predefine permalinks formats
Mass edit WordPress URLs using permastructures (permalink formats) editor

✔

Translate the custom permalinks
Use different URL formats based on content language (WPML, Polylang)

✔

Add custom fields to WordPress permalinks

✖

✔

Add taxonomy slugs to the custom post type permalinks

✔

Auto-update the custom permalinks after the title update

✔

Automatic plugin updates

✔

WooCommerce permalinks
Edit base shop URL

✔

Remove /product/ from product permalinks

✔

Remove /product-category/ from product category permalinks

✖

✔

Remove /product-tag/ from product tag permalinks

✖

✔

Edit single products, product categories, tags and attribues permalinks (one by one)

✖

✔

Add SKU number to WooCommerce product permalinks

✖

✔

WooCommerce coupon permalinks
Automatically apply the cart discount with the coupon custom URL

✖

✔

Redirects
Automatic redirects
Redirect native permalinks to the custom permalinks

✔

Add additional redirects for any post/page/product/term/category

✖

✔

Add external URL redirects for any post/page/product/term/category

✖

✔

Advanced functionalities
Adjust trailing slashes settings

✔

Add .html, .php, .html extension/suffixes to WordPress permalinks

✔

Programmatically change the custom permalinks

✔

Conditional permalink formats

✔

Remove "stop-words" from custom permalinks

✖

✔

Third party plugins support
Yoast SEO

✔

RankMath

✔

SEOPress

✔

WPML

✔

Polylang

✔

Advanced Custom Fields

✖

✔

Toolset Types

✖

✔

Pods

✖

✔