A WordPress URL Manager With Game-Changing Versatility
Permalink Manager is the ultimate solution for editing your posts & category URLs without modifying any core files. It works seamlessly with WooCommerce, ACF, Toolset and all other custom post types and taxonomies.
Permalink Manager contains several features that no other solution offers.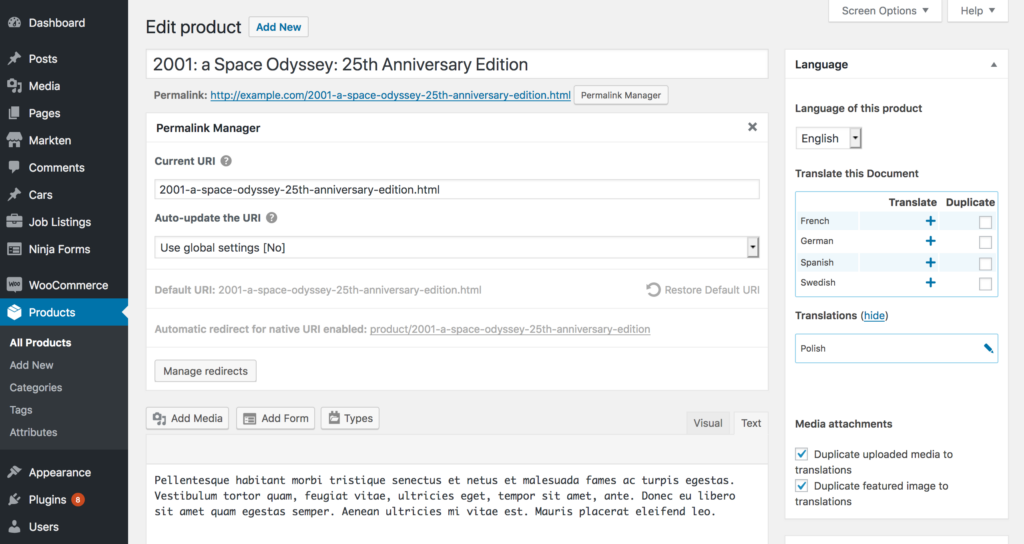 Overhaul WordPress Permalinks and Transform SEO Performance
URL structure is the bedrock of good SEO performance. It lets search engines actually understand the content of your site and rank it where it deserves to be. Our plugin makes the process of permalink editing refreshingly simple.
Add keywords, remove "stop-words" and even rearrange the link structure of your website. Find the best WordPress permalink setting for your site and start climbing the ranks.
Permalink Manager contains several features that no other solution offers.
Pretty Permalinks Structure Tailored to Work For You
Native WordPress tools for URL editing are notoriously limited. Permalink Manager dramatically expands your control and works out-of-the-box for both native and custom content types. Create a custom permalink structure for your pages, posts, categories, and taxonomies.
Our tools are built with flexibility in mind. Permalink Manager works very well with plugins like WooCommerce, WPML, Polylang, Yoast SEO, RankMath, SEOPress, ACF, Toolset, Pods, and many more.
Learn how to add taxonomy slugs to post permalinks
Learn how to remove the default permalink base
Learn how to duplicate the permalink base for multiple post types/taxonomies
Edit WordPress Permalinks
Any Way You'd Like
Change permalink WordPress formats in a way that works for you. The 'Permastructure' editor makes it easy to adjust URLs with the fully-customizable settings. Correctly optimizing permalink structure is one of the most overlooked aspects of SEO strategy.
The plugin is built to streamline and maximize your approach. Edit links individually, or save hours with our bulk editing feature. On larger projects, this can free up tons of work time and help you redouble your efforts elsewhere. Break out of the limited native WordPress permalink structure settings!
Learn how to edit individual permalinks
Make 404 Errors a Thing of The Past!
Link rot and broken URLs can cripple your SEO performance over time. Our editor gives you the tools to repair dead links and regain control of your SEO.
Our canonical redirect feature helps address old, outdated links. After updating a permalink structure, your old URL is automatically redirected, bolstering your site's rankings and avoiding link rot.
For even more versatility, extra URL redirects can be built for each post, page, or term. This powerful SEO feature gives you increased control over where to direct your visitors.
Learn how the canonical redirect works
WooCommerce Integration
Maintain a strong e-commerce presence by customizing your WooCommerce pretty permalinks. Effortlessly remove '/product/' and '/product-category/' from your store's URLs. With Permalink Manager, this process takes less than 2 minutes.
Multiple URL can be updated in just a few clicks. Individual edits are just as simple. Interestingly, you can use Permalink Manager to add SKU numbers to your addresses.
Good e-commerce is built on a foundation of clean, tidy URL structures. Our editor makes this easy to achieve.
Learn how to remove WooCommerce permalink bases
The Only Way to Add Custom Fields to WordPress Permalinks
Permalink Manager is currently the only solution available for custom field insertion. The process is designed to be painless and remarkably quick. Click on the button below for the detailed instructions.
Our custom field feature works for native custom fields, as well as 3rd-party plugins like Advanced Custom Fields, Pods, Toolset Types and WooCommerce. Permalink Manager is built to play nice with the rest of the web.
Translate WordPress permalinks easily!
Permalink Manager is the only WordPress plugin that lets users set up different permalink formats for multiple languages. International visitors can navigate your URLs in their native language, vastly improving the site experience for your customers.
Use the default settings, or define custom permalink structure on a language-by-language basis. This feature is compatible with both the WPML and Polylang plugins for individual adjustments to link formats and taxonomies.
This isn't just about rewriting slugs; it's about getting full control over the entire permalink.
Looking for reasonably priced, fast and reliable WordPress hosting?
We highly recommend Kinsta, the best-managed WordPress hosting provider powered by Google Cloud Platform. Your site can scale up to your needs no matter how many visitors you drive to your website. Check all the features here!
Contact & support
If you still did not find the answer to your question or need any further assistance please check below sections.