Overhaul WordPress Permalinks and Improve SEO Performance
Permalink Manager is the ultimate solution for editing your posts & category URLs without modifying any core files. It works seamlessly with WooCommerce, ACF, Toolset and all other custom post types and taxonomies.
The plugin contains several features that no other solution offers.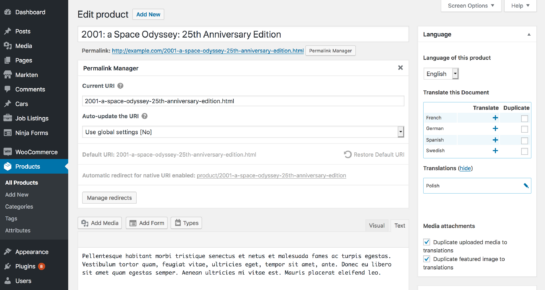 A WordPress Permalink Editor With Game-Changing Versatility
A consistent URL structure will help your site rank higher in search engines and attract more visitors. You can now make adjusting WordPress URLs a breeze. The plugin allows you to fine-tune and change permalinks as well as rebuild your website's structure in bulk.
Make the most of WordPress SEO and start ranking high on Google!
Update WordPress URL addresses as you like
Looking for an easy way to completely customize and change your WordPress URLs to fit your needs? Using the included "URI Editor" you can change any WordPress URL address.
The plugin supports both built-in and user-defined post types and taxonomies, including WooCommerce.
Custom permalinks suited to your needs
One of the most ignored parts of SEO strategy is correctly optimizing URL structure. With 'Permastructure' editor you can easily adjust custom permalinks, while 'Bulk URI Editor' allows you to edit multiple addresses at once.
The plugin is designed to make editing page links quick and easy. It may help you save time so you can focus on other things.
404 errors will no longer be a problem
The canonical redirect feature helps address old, outdated links. After updating a permalink structure, your old URL is automatically redirected, bolstering your site's rankings and avoiding link rot.
In addition to this, you can define extra redirect URLs if needed. This feature may be used to create alias URLs that point to a new location.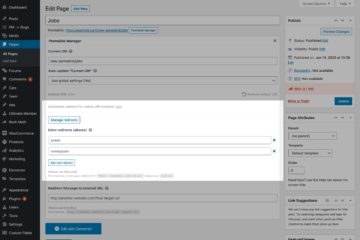 Improve your WooCommerce permalinks structure
Clean, orderly URL architectures are the backbone of good e-commerce store. Not only can you quickly apply any WooCommerce URL structure with the plugin, but you can also edit each WooCommerce permalink as you see fit.
Individual adjustments to your product and product category URLs are just as simple as bulk custom permalinks changes.
Only plugin that supports custom fields in URLs
At the moment, this tool is the only solution that lets you to add custom fields to WordPress URLs without requiring any coding knowledge. The process has been intended to be painless and quick.
The custom field feature works with native custom fields, as well as 3rd-party plugins like ACF, Pods, JetEngine and Toolset Types.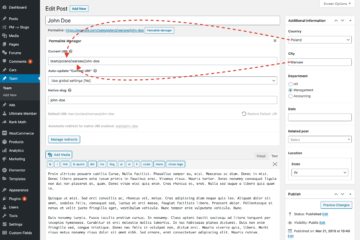 The easiest way to translate your WordPress permalinks
Unlike the built-in WordPress URL rewrite functions, which are quite restricted, this tool allows you to create customized URL structures depending on the language of your posts, pages, or terms.
This functionality is compatible with the most common WordPress language plugins: WPML and Polylang.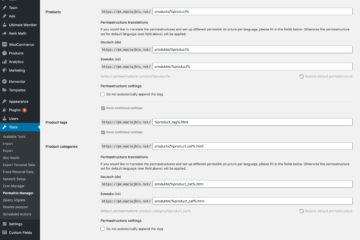 What you can do with Permalink Manager?
If you are seeking to boost your website's SEO, you should understand not just what a permalink is, but also how critical it is to make your WordPress URLs user-friendly.
The lack of flexibility in modifying WordPress permalinks and slugs is arguably one of the most well-known drawbacks of this CMS. The plugin overcomes this problem by using a unique algorithm to process and detect URLs.
Here are some of the most popular ways to make use of the plugin:
Get started
A license key grants you access to plugin updates and technical support. There are two main types of licenses, depending on how long you want to have access to plugin updates and customer support.
Buy Permalink Manager Pro30 days no-questions-asked money back guarantee!
You may either buy a lifetime or a one-year license that you can manually renew. Even after it has expired and you choose not to renew it or forget to do so, you will still be able to use all of the plugin's features.
FAQ
Customers who purchased Permalink Manager Pro via this website and have a valid license key are the only ones eligible for plugin updates and technical support. Even if your Permalink Manager license expires, you will still be able to access all of its functions. All custom permalinks and redirects will continue to work as usual, and all settings will be retained.
It is not possible to purchase Permalink Manager Pro under a subscription model, thus the license keys are not automatically renewed. Therefore, you will not be charged for anything else after your license expires. However, unless you purchase a "lifetime" license or renew your key for another year, you will no longer be able to access customer support and access the plugin files.
You have the option of extending your key at any time, both before and after it expires. Please enter your license key on the "License info" page to find out how long it is valid.
No, plugin files and customer support are both available exclusively through this website (permalinkmanager.pro), and it is the only place where you can get them from an official source. This website belongs to the developer of the Permalink Manager Pro plugin, who also provides direct technical support to all customers who have a valid key.
Be wary of GPL websites that distribute copies of popular WordPress plugins. The plugin files published on other suspicious-looking websites may include malicious or outdated code that might infect your website.
If you are dissatisfied with Permalink Manager Pro for any reason, you may request a refund within 30 days after purchase. If you would like a refund, please use this link to submit your request.
Unfortunately, a trial version of the plugin is not currently available. However, a free version is available, that includes many of the core functionalities to give you an idea of Permalink Manager's possibilities.