One of the main features of Permalink Manager is to help to bulk edit permalinks and to improve your WordPress SEO score. The plugin supports all public post types (posts, pages, products, and other custom post type items) and taxonomies (categories, terms, product categories, or other custom taxonomy terms).
Where to find the permalink format editor?
To access the current permastructure settings, please click on "Tools -> Permalink Manager" in the admin sidebar. Then go to the "Permastructures" section.
After that, you should be able to see and adjust the permastructure settings for each post type and taxonomy.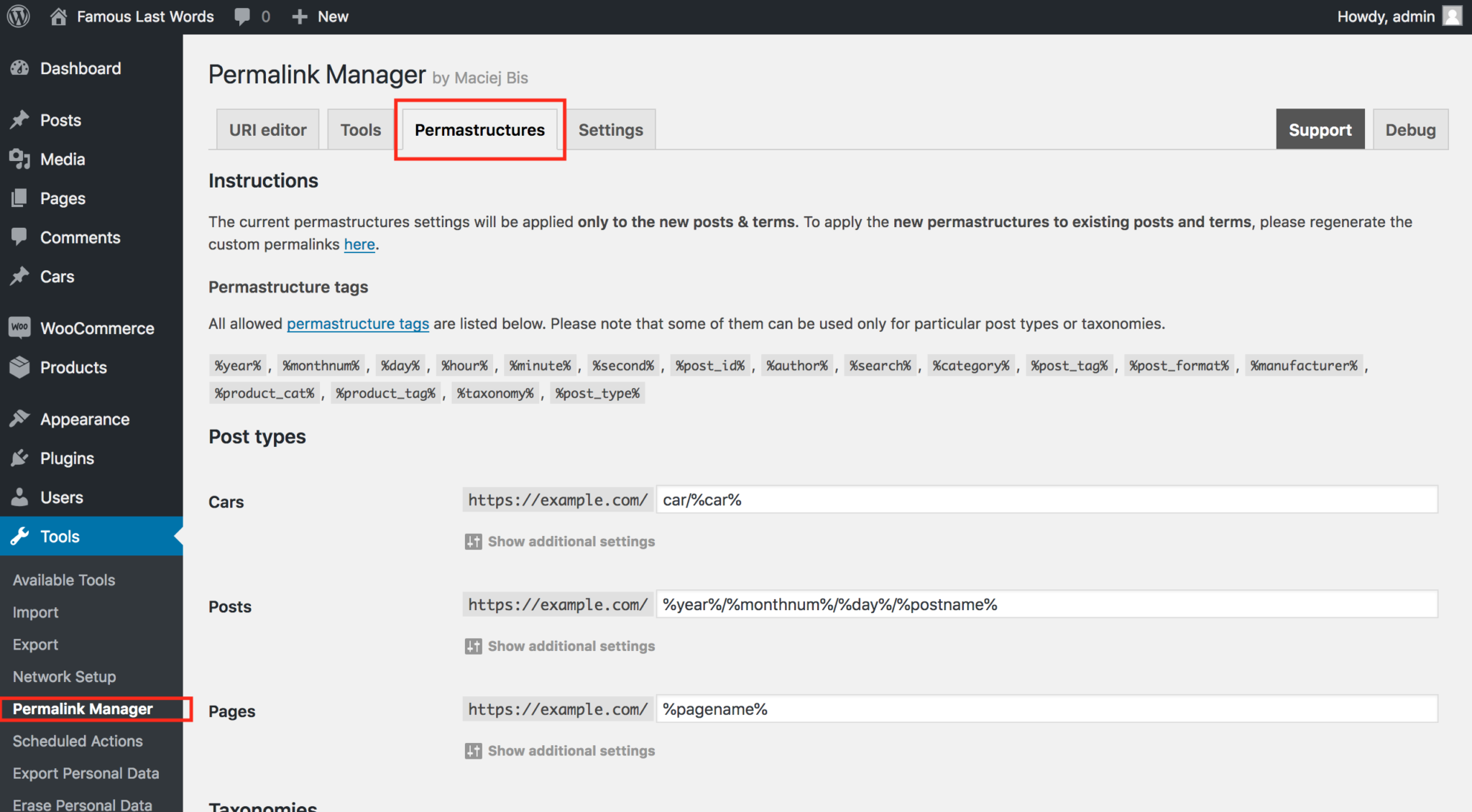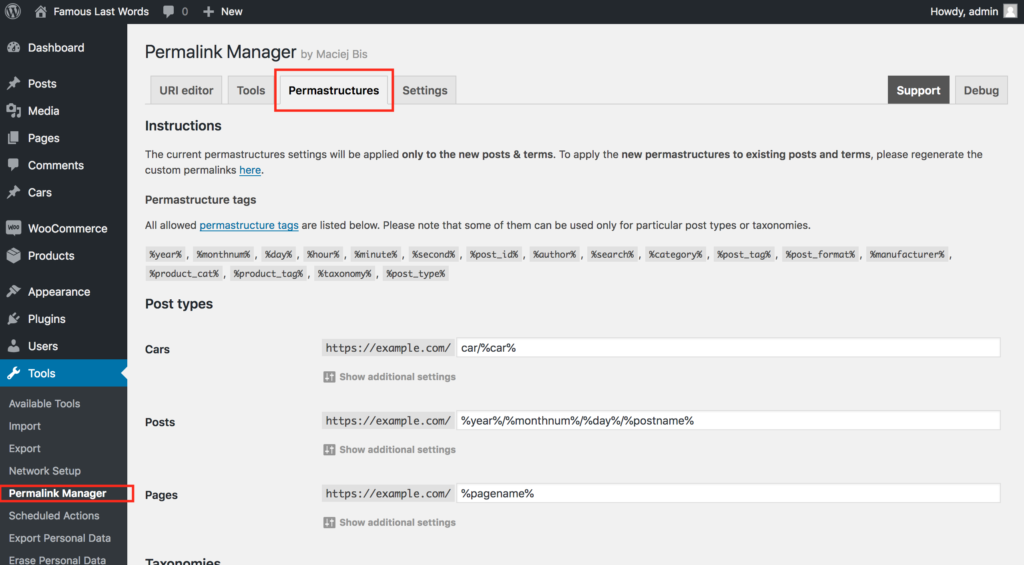 How can I bulk edit WordPress permalinks?
Initially, the fields will feature the native permalinks formats. You can easily adjust them by removing or changing the permalink base. The permalink base (AKA, rewrite base) is unique to each post type (e.g., "cars" for Cars). With Permalink Manager, you may use the same permalink base for multiple post types & taxonomies.
Subsequently, you can also set completely customized structures. For instance, you may want to add custom taxonomy terms to custom post type permalinks. In this article, you can find more instructions on this topic.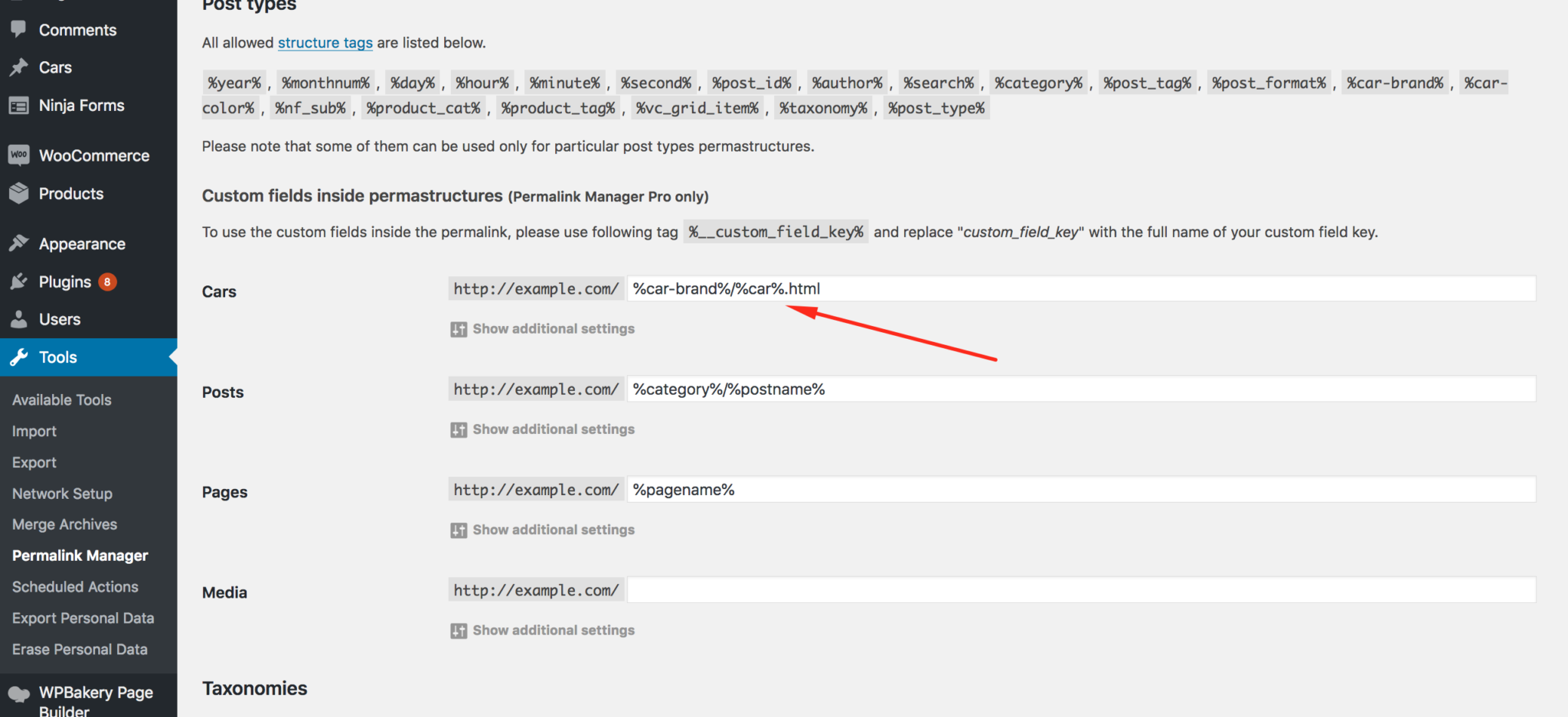 How to use the new permalink formats for existing posts/terms?
Permalink Manager will automatically apply the newly changed permastructure settings only to the new post & terms. To apply the new URL structure to the existing content elements, you will need
to regenerate the old permalinks
correspondingly.
What are the permastructures?
WordPress in its "vanilla" version does not allow fully customizing the permalinks because of the rewrite rules. In short, rewrite rules help WordPress detect the content type and slug from the current URL. Permalink Manager bypasses this limitation and uses a custom algorithm to detect posts and terms.
The plugin uses permalink structures (permastructures) to generate default permalinks. They are automatically applied to new posts and term permalinks (see: "Default URI" in URI Editor).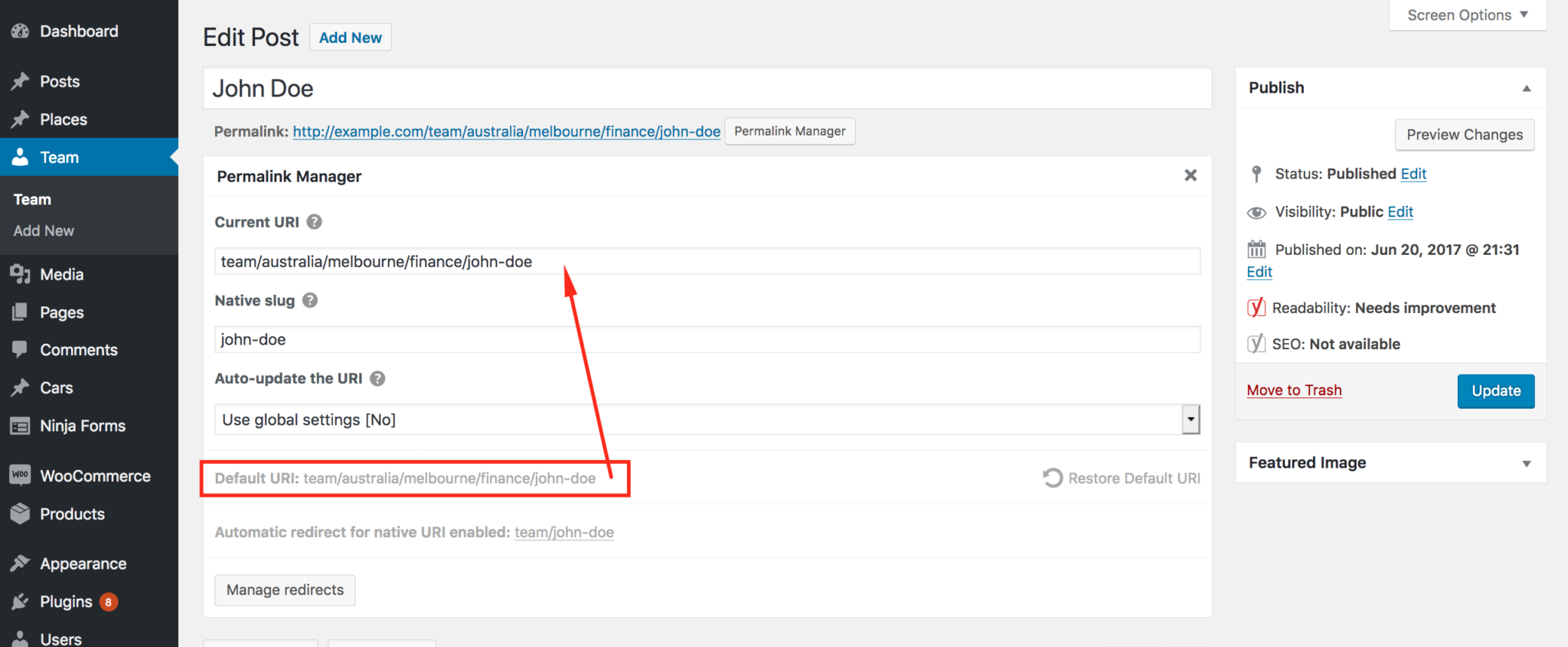 Appendix
How to use the same permalink base for multiple content types?
Unlike WordPress's original settings, Permalink Manager allows using the same permalink/rewrite base for more than one post type and/or taxonomy. Here you can find more information on hhow to duplicate the rewrite slug.
How to add taxonomies to custom post type permalinks?
Permalink Manager is the easiest solution if you would like to add custom taxonomy slugs to custom post type permalinks. In this article, you can find detailed instructions on how to add the taxonomies to WordPress permalinks.


How to translate WordPress permalinks?
It is also possible to translate the permalink bases or define custom permastructure settings per language. With Permalink Manager, you can easily translate not only WooCommerce products and categories permalinks; it also works perfectly with posts, pages, and custom post type items.
Here you can find more information on how to translate the permalinks.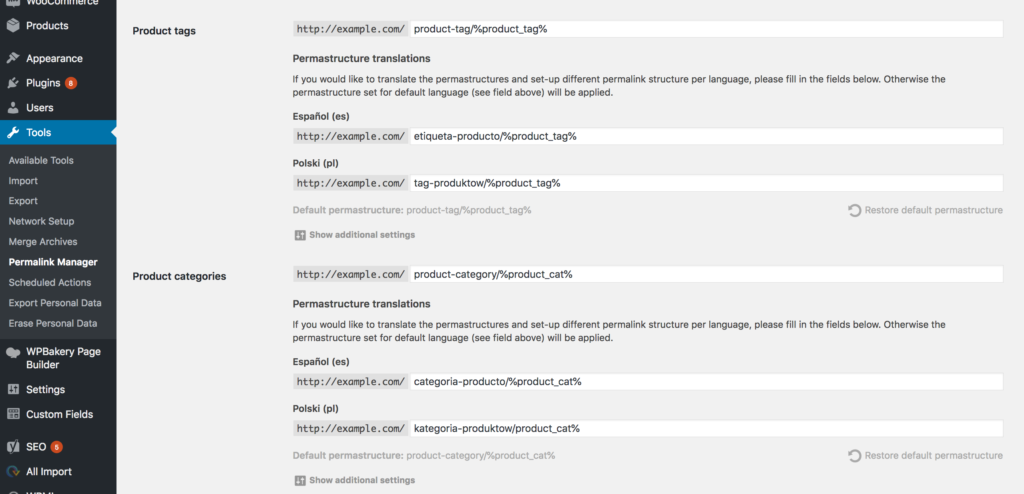 How to adjust multiple WordPress permalinks at once?
If you would like to manually tweak the custom permalinks, you can use the Bulk URI Editor.