Permalinks are an important part of WordPress that can really impact your site's SEO. Search engines and potential visitors mainly interact with your site through URLs.
The structure of your website's permalinks is something you should not overlook, especially if you are building a new website. User-friendly URLs help potential visitors comprehend what a page is about at a glance.
This article gives some permalink SEO tips to help optimize your permalink structure. They should work in most cases, though keep in mind there's no one-size-fits-all solution. Consider this a general guide on permalink configuration.
To correctly use permalinks in WordPress, you must first grasp what they are in practice. If you need more information on what permalinks are and how WordPress generates and handles them, please see the linked article.
The Importance of Permalink Structure for SEO
The permalinks are simply URL addresses used by WordPress to distinct the content pages. The correct permalink structure is important for a number of reasons. First of all, search engines will use your website URLs for search results. Secondly, they should attract the potential visitors to click on your links. The best permalink is one that allows readers to understand what the content is about.
By large, it is crucial to take into account the effect that the structure of your website's permalinks will have on the website hierarchy while developing the structure. A well-structured permalink structure may help search engines and visitors in understanding the relationships between pages on your website.
What Happens if You Modify Urls That Google Has Already Indexed?
It is generally safe to change the URL of pages that have not yet been published. There is not a lot of wasted SEO potential here. These links have not yet been indexed or given backlinks by other websites.
However, modifying already indexed URLs may have an influence on your website's SEO rankings:
Changing URLs can lead to broken links and the loss of valuable backlinks causing a poor user experience and negatively impacting search engine rankings.
If 301 redirects are not implemented, search engines may penalize and devalue the new URLs because they see them as having duplicate content.
If the potential advantages of changing existing URLs are greater than the associated hazards, it is advisable to proceed with the modifications. For example, if you are changing URLs to improve user experience, rearrange your website, the possible risk to your website's SEO may be acceptable.
While altering URLs may improve the user experience, it may jeopardize your website's SEO. However, the long-term advantages of SEO may outweigh those dangers. The idea is to consider all elements to identify the best course of action for your individual site and goals.
How To Set Up Permalinks In WordPress?
In order to modify your WordPress permalinks, you need just know the basics. Luckily, changing your permalink structure is a simple process. Just log into your admin dashboard and go to "Settings > Permalinks". From there, select one of the predefined permalink options.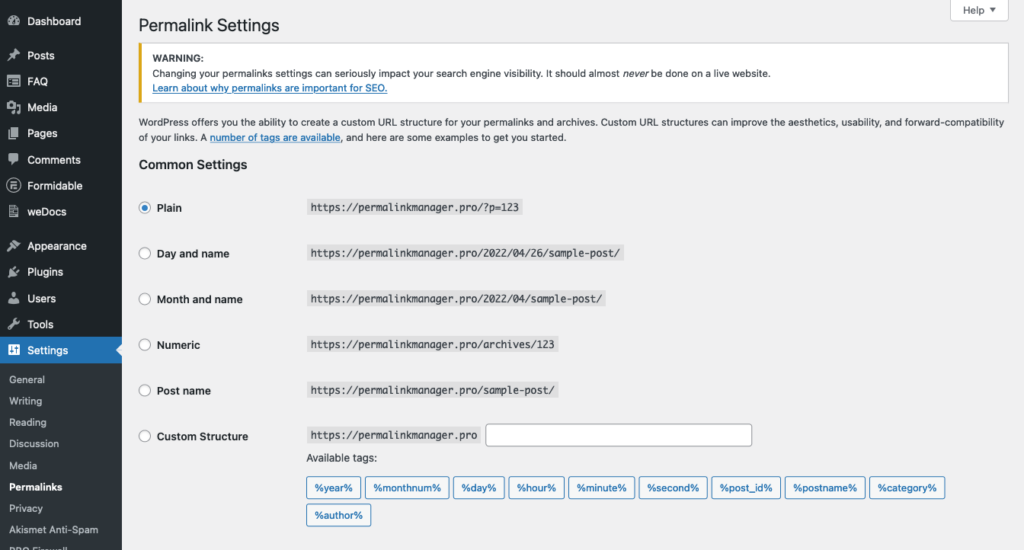 Customizing WordPress Permalinks
Although WordPress is an excellent tool for building websites, it provides few choices for controlling permalinks. Permalink Manager is a great option if you want more granular control over your permalinks, such as the ability to modify the URLs for specific content types and taxonomies.
To learn more, check out the dedicated article on changing permalinks with this plugin.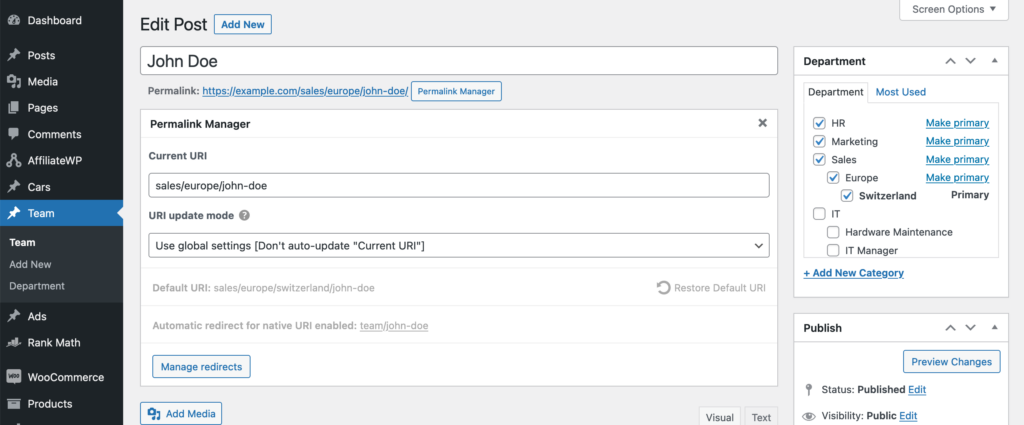 Best Practices for WordPress Permalinks
Listed below are some basic SEO tips and ideas to get you started. Google's official guidelines and popular SEO websites like Search Engine Journal stress the significance of adhering to these recommendations.
Avoid Frequent or Careless Permalink Changes
Frequent changes to the URLs on a website can hurt search engine optimization. When URLs are changed often, it confuses search engines and wastes their "crawl budget" on pages that no longer exist.
Additionally, if a URL is changed after being crawled before, any backlinks or social shares for that page become broken. This negatively impacts SERP position and traffic from search engines. Stable URLs over the long run are better for maintaining visibility.
Furthermore, if you change a URL after it has been crawled, any current backlinks and social shares will become invalid, affecting your website's rating and traffic. When creating a new page or post for publication, take the time to carefully select the appropriate URL and use it as the final permalink. Simply put, avoid changing your URLs in the future to avoid a drop in SEO score.
According to John Mueller, one of Google analysts, it is better to keep the old URLs intact as long as it is possible rather than to change them & redirect to new address.
Do URL Structure Changes Affect SEO?
Restructuring a website often becomes necessary. Keep a few things in mind when that time comes. Before making any changes, do thorough research. Constantly monitor how your changes affect your traffic and SEO. Also, in order to retain as much traffic as possible, redirect old URLs to new ones.
This overview simplifies a complex process. Check out a helpful video about the topic from Google on YouTube for more information.
301 Redirect Strategy for Keeping SEO Value
If you must change permalink for whatever reason, make sure to provide a 301 redirect as a fallback. This will signal the search engines that your content has been relocated to a new URL address. Otherwise, some traffic may still be sent to pages that are no longer relevant. As a consequence, visitors will abandon your website if they discover the link is broken, resulting in a high bounce rate. In other words, your website's organic traffic might be slashed if a large number of visitors from search engines arrive at an error page or a blank page.
If you necessarily need to change your permalinks, you should remember about 301 legacy redirects. The 301 status code means that a page has permanently moved to a new location.
Keep Your WordPress Permalinks Short and Straightforward
Keep your URLs short and simple. A permalink that clearly describes the page content will help with search engine optimization. In general, aim to keep the full URL under 100 characters. Theoretically, shorter, simpler URLs may rank higher in Google search results.
Custom post types like "portfolio" are often registered by WordPress plugins that create permalinks that contain hard-coded generic bases. Unfortunately, these do not appear to be understandable or beneficial from an SEO standpoint. Replace them with new bases (for example, "our-work" "products" and "team") that clearly reflect the structure of your website.
https://example.com/portfolio-cpt/foo-bar-com
https://example.com/our-work/foo-bar-com
Organizing your permalinks into a logical structure is a great way to improve their readability. The structure of your website should have a naturally flowing page hierarchy to make it easier for users to navigate and for search engines to crawl.
However, keep in mind that while an ordered structure is good, keeping your permalink as short as possible should also be your priority. So, in your permalinks, avoid using any redundant folders or other long naming structures.
As seen in the example below, the plugin allows you to use the same URL structure for custom post type ("Band") items while also adding custom taxonomy slugs ("Genre") to their permalinks.
https://example.com/genres/80s/heavy-metal/ (Custom taxonomy: "Genre")
https://example.com/bands/ozzy-osbourne/ (Custom post type: "Band")
https://example.com/bands/80s/heavy-metal/ (Custom taxonomy: "Genre")
https://example.com/bands/80s/heavy-metal/ozzy-osbourne/ (Custom post type: "Band")
Do Not Repeat Keywords and Avoid "Stop Words"
There is no need to repeat the single keyword more than once. If your permalinks uses multi-level categories, you should also consider make their structure flatter.
https://www.example.com/animals-in-europe/birds-in-europe/big-birds/stark/
https://example.com/shop/apparel/women-shoes/high-leather-boots/
https://example.com/european-animals/birds/stark/
https://example.com/shop/women/apparel/footwear/leather/shoes/high-boots/
One way to shorten your permalink is to remove so called "stop words". "Stop words" include common words like "the", "a", and "an". It is pointless to remove stop-words from URLs that are already well-positioned. Nevertheless, for URLs for new content, it may still be a good idea considering your visitors.
https://example.com/blog/how-to-start-a-big-business-in-a-few-months
https://example.com/blog/start-business-in-few-months
Use Hyphens Rather Than Underscores and Avoid Special Characters
Google recommends using hyphens instead of underscores in one of their website articles. In other words, the hyphens are preferred over the underscores. When used in URLs, hyphens improve readability for both humans and search engines.
What exactly is the practical problem here? You should avoid the underscores, and remember to use the hyphens to separate the words.
https://example.com/kitchenappliances/digitalmicrowaveoven
https://example.com/kitchen_appliances/digital_microwave_oven
https://example.com/kitchen-appliances/digital-microwave-oven
Although Google will be able to index your URL even if it contains spaces, commas, underscores & special characters. Remove them or replace them with dashes or Latin letters for improved reading.
https://example.com/countries,regions/balkan|southeastern-europe/Ελλάδα
https://example.com/countries-regions/balkan-southeastern-europe/ellada
Improving User Experience with Keywords in URLs
Even while keywords are no longer one of the major determinants of search results, they can still have an effect on user engagement through URLs. Google now values overall quality and usefulness over keyword density or placement.
Remember, having certain keywords in your URL doesn't guarantee a high ranking on its own. In addition to page quality and backlinks, search engines consider other factors too.
Still, certain phrases will grab the attention of those browsing the search results. People are more inclined to click if their search terms are prominently placed in snippets and page titles.
Assume you are looking for a cake recipe on Google. A whole list of different results appears, two of which catch your attention:
https://example.com/article-12345
https://example.com/chocolate-cake-recipe
Which one are you most likely to click on? Most people would select the second choice since it clearly states what they may expect when they arrive on the page.
Keywords in URLs can also help people remember the URL of a given page. If they have been to your site before and want to go back to a certain page, they may remember the keyword phrase in the URL better than a general URL that does not describe the content.
Translate Your WordPress Permalink Format to Match the Language of the Content
Google is able to translate URLs on its own, so it can figure out what a page is about. However, URL translation may somewhat increase your user metrics and experience, both of which are ranking criteria.
Given that you are already localizing the content, why not translate the URLs as well? The disparity between content and URL language is not only inconvenient for users, but it also impacts SEO because keywords are dependent on the language of translated page. One of the videos on Youtube's official Google Search Central channel discusses multilingual URLs.
To sum it up, if your website is multilingual, you should translate the permalink bases. This might be extremely beneficial if your target market consists of customers from all around the world. Making your WooCommerce URL addresses have a distinct structure for each language will also aid your clients in navigating around your store.
https://example.com/en/books/history/herodotus
https://example.com/pl/books/science-fiction/stanislaw-lew
https://example.com/de/books/philosophy/friedrich-nietzsche
https://example.com/en/books/history/herodotus
https://example.com/pl/ksiazki/fantastyka/stanislaw-lew
https://example.com/de/bucher/philosophie/friedrich-nietzsche
Do Not Add .html Extension to the End of URL
Despite what some may think, adding file extensions to URLs makes no difference for search rankings. While the idea has persisted for years with some, Google has never treated extensions as a meaningful signal.
Google Search Central published detailed video that debunks this SEO myth, in case you still need more convincing.
The only exception is if you previously used a CMS that adds file extensions to the end of URLs, such as Magento. In such case, you can keep them after switching to WordPress. That way, any existing traffic to those URLs will not be lost.
https://example.com/music/hard-rock.html
https://example.com/music/hard-rock
Permalink Manager can help you if you switched from a different CMS to WordPress and wish to add .html to your new URLs to reconstruct the previous permalink structure.[/info]
Summary
Permalinks may have a impact on your search rankings. By adhering to these tip, you can build optimized permalinks that will help your content rank higher in search results.
In summary, for SEO and UX, URLs should be informative and simple, efficiently reflecting the page's content without unnecessary data or query parameters. Remember to utilize relevant keywords, keep it brief, and use hyphens to separate words.
Now that we understand the significance of permalinks in SEO, let us look at some instances of bad and good permalinks that you can apply on your own website.
Examples of Good Permalinks
As you can see from the below examples, good permalinks are brief, descriptive, and incorporate relevant keywords. They also adhere to an organized structure that allows both people and search engines to easily comprehend what the website is about.
https://example.com/blog/5-tips-for-writing-great-content
https://example.com/services/website-design-for-small-businesses
https://example.com/healthy-recipes/vegan-soups
The first example is a blog post that gives advice on how to write great content. The permalink informs both humans and search engines that this is a blog post with tips for producing amazing content. The number "5" in the URL shows that the article has five recommendations, making it more appealing to click on.
The following is an example of a service page for website design services. This is an excellent permalink for a company targeting small businesses since it includes relevant keywords that appropriately define the company's service and target audience. The target audience is more likely to find this company online because to the concise and understandable permalink.
The final illustration demonstrates a category page for plant-based, healthful soup recipes. The subcategory is vegan soups, which helps users identify the sort of recipe they are seeking for and also helps search engines categorize the page appropriately.
Examples of Bad Permalinks
Now you know what a good permalink should look like. To round it up, here are some examples and things you should definitely avoid.
https://example.com/?p=12345
https://example.com/2019/03/05/the-best-cake-recipe-ever
https://example.com/products/shirts/?q=keyword
The first example is not descriptive and gives no information about the page's content. This can have a negative influence on SEO since search engines may be unable to grasp what the website is about. In terms of user experience, consumers may find it difficult to remember or share the URL.
The second URL is very long and includes unnecessary information such as the date the article was published. This can have a negative influence on SEO because the URL may be perceived as being less relevant to search engines. Also, considering the user experience, the length of the URL might make it difficult for visitors to read and remember.
The final URL contains a query parameter that search engines may not recognize, making it harder to rank for certain keywords. Furthermore, the addition of a query parameter in the URL might make it challenging for visitors to share or bookmark the website.