The SEO of your website relies heavily on its permalink structure. Search engines use website URLs to return search results, and potential visitors may also click on URLs that pique their interest. The proper permalink structure helps readers understand the content and indicates the trustworthiness of your website.
In this article, we will go over six fundamental permalink SEO tips for improving your permalink structure. These suggestions are based on information and documentation supplied by Google through their websites and social media platforms.
Remember, these suggestions are beneficial for almost every website, but keep in mind that there's no one-size-fits-all solution for every website. Finally, it is up to you to determine which permalink format is ideal for your individual website.
The Importance of Permalink Structure for SEO
Before we go into the details, it is essential to understand what permalinks are and how to adjust them for the best results. If you need more information on what permalinks are and how WordPress generates and handles them, please see the linked article.
The permalinks are simply URL addresses used by WordPress to distinct the content pages. The correct permalink structure is important for a number of reasons. First of all, search engines will use your website URLs for search results. Secondly, they should attract the potential visitors to click on your links. The best permalink is one that allows readers to understand what the content is about.
By large, it is crucial to take into account the effect that the structure of your website's permalinks will have on the website hierarchy while developing the structure. A well-structured permalink structure may help search engines and visitors in understanding the relationships between pages on your website.
What Happens if You Modify Urls That Google Has Already Indexed?
Changing the URL structure of pages that have not yet been published is generally considered a risk-free solution. However, changing the URLs of pages that Google has already indexed might have a substantial impact on your website's search engine optimization (SEO) and rankings:
Changing URLs can lead to broken links and the loss of valuable backlinks causing a poor user experience and negatively impacting search engine rankings.
If 301 redirects are not implemented, search engines may penalize and devalue the new URLs because they see them as having duplicate content.
If the potential advantages of changing existing URLs are greater than the associated hazards, it is advisable to proceed with the modifications. For example, if you are changing URLs to improve user experience, rearrange your website, the possible risk to your website's SEO may be acceptable.
As a rule of thumb, you should do a thorough SEO analysis before changing them. Before making any changes, it is critical to carefully assess the possible advantages against the potential dangers, and to have a well-planned strategy in place to minimize any negative impact on your website's SEO and user experience.
How To Set Up Permalinks In WordPress?
There are a few different ways to modify your WordPress permalinks, and doing so may need some technical know-how. The default WordPress permalink structure is not SEO-friendly and may not be appropriate for all website owners.
However, WordPress does allow you to alter your permalink structure to a more user-friendly and SEO-friendly style. You may accomplish this by navigating to the "Settings > Permalinks" area of your WordPress dashboard. From there you may then select one of many standard permalink structures or create your own to meet your specific requirements.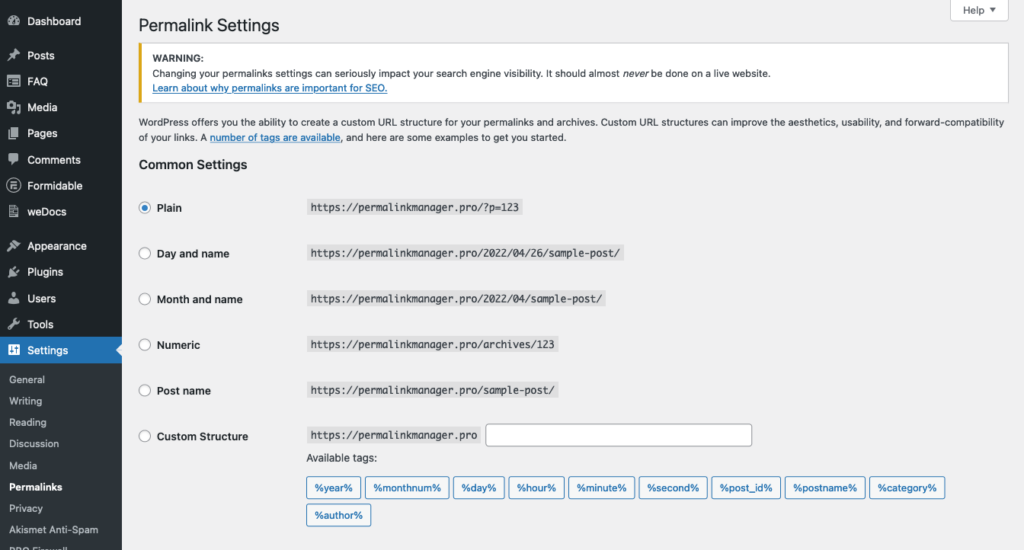 Customizing WordPress Permalinks
Although WordPress is an excellent tool for building websites, it provides few choices for controlling permalinks. Permalink Manager is a great option if you want more granular control over your permalinks, such as the ability to modify the URLs for specific content types and taxonomies.
To learn more, check out the dedicated article on changing permalinks with this plugin.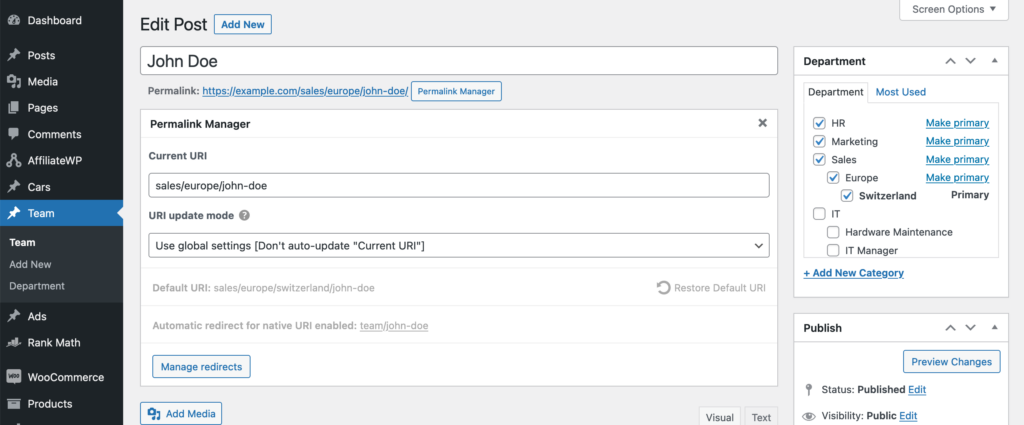 Best Practices for WordPress Permalinks
Listed below are some basic SEO tips and ideas to get you started. Please keep in mind that the following are only suggestions. It is up to you to determine whether or not to adopt them.
Avoid Frequent or Careless Permalink Changes
Frequent URL changes can negatively impact the SEO performance of your website by confounding search engines and causing them to waste crawling resources on irrelevant pages. As a result, it may take some time for Google to index all the URL changes.
Furthermore, if you change a URL after it has been crawled, any current backlinks and social shares will become invalid, affecting your website's rating and traffic. When creating a new page or post for publication, take the time to carefully select the appropriate URL and use it as the final permalink. Simply put, avoid changing your URLs in the future to avoid a drop in SEO score.
According to John Mueller, one of Google analysts, it is better to keep the old URLs intact as long as it is possible rather than to change them & redirect to new address.
301 Redirect Strategy for Keeping SEO Value
If you must change permalink for whatever reason, make sure to provide a 301 redirect as a fallback. This will signal the search engines that your content has been relocated to a new URL address. Otherwise, some traffic may still be sent to pages that are no longer relevant. As a consequence, visitors will abandon your website if they discover the link is broken, resulting in a high bounce rate. In other words, your website's organic traffic might be slashed if a large number of visitors from search engines arrive at an error page or a blank page.
If you necessarily need to change your permalinks, you should remember about 301 legacy redirects. The 301 status code means that a page has permanently moved to a new location.
Keep Your WordPress Permalinks Short and Straightforward
First and foremost, keep your permalinks understandable and short. Having a solid URL address that describes what is inside the content will improve your search engine ranking. In general, the complete URL address should be no more than 100 characters long. In theory, the shorter the URL address, the simpler it should be to rank higher in Google search results.
Custom post types like "portfolio" are often registered by WordPress plugins that create permalinks that contain hard-coded generic bases. Unfortunately, these do not appear to be understandable or beneficial from an SEO standpoint. Replace them with new bases (for example, "our-work" "products" and "team") that clearly reflect the structure of your website.
https://example.com/portfolio-cpt/foo-bar-com
https://example.com/our-work/foo-bar-com
Organizing your permalinks into a logical structure is a great way to improve their readability. The structure of your website should have a naturally flowing page hierarchy to make it easier for users to navigate and for search engines to crawl.
However, keep in mind that while an ordered structure is good, keeping your permalink as short as possible should also be your priority. So, in your permalinks, avoid using any redundant folders or other long naming structures.
For custom post types and taxonomies, WordPress offers very few permalink customization options. Permalink Manager can be useful in this regard since it allows you to use the same URL structure for multiple content types.
As seen in the example below, the plugin allows you to use the same URL structure for custom post type ("Band") items while also adding custom taxonomy slugs ("Genre") to their permalinks.
https://example.com/genres/80s/heavy-metal/ (Custom taxonomy: "Genre")
https://example.com/bands/ozzy-osbourne/ (Custom post type: "Band")
https://example.com/bands/80s/heavy-metal/ (Custom taxonomy: "Genre")
https://example.com/bands/80s/heavy-metal/ozzy-osbourne/ (Custom post type: "Band")
Do Not Repeat Keywords and Avoid "Stop Words"
There is no need to repeat the single keyword more than once. If your permalinks uses multi-level categories, you should also consider make their structure flatter.
https://www.example.com/animals-in-europe/birds-in-europe/big-birds/stark/
https://example.com/shop/apparel/women-shoes/high-leather-boots/
https://example.com/european-animals/birds/stark/
https://example.com/shop/women/apparel/footwear/leather/shoes/high-boots/
Getting rid of so-called "stop words" is a good way of making your permalink shorter. Examples of "stop words" include "the", "a", and "an"". There is little question that using them in your URLs is a waste of valuable space, since they do not help search engines grasp what your content is about.
https://example.com/blog/how-to-start-a-big-business-in-a-few-months
https://example.com/blog/start-business-in-few-months
Use Hyphens Rather Than Underscores and Avoid Special Characters
Google in one of the articles published on their websites straightforwardly recommends to use hyphens instead of underscores. In other words, the hyphens are preferred over the underscores.
You should not only avoid the underscores, but also remember to use the hyphens to separate the words.
https://example.com/kitchenappliances/digitalmicrowaveoven
https://example.com/kitchen_appliances/digital_microwave_oven
https://example.com/kitchen-appliances/digital-microwave-oven
Although Google will be able to index your URL even if it contains spaces, commas, underscores & special characters. Remove them or replace them with dashes or Latin letters for improved reading.
https://example.com/countries,regions/balkan|southeastern-europe/Ελλάδα
https://example.com/countries-regions/balkan-southeastern-europe/ellada
Improving User Experience with Keywords in URLs
One of the primary reasons why website owners use keywords in their URLs is to boost their search engine rankings. When a search engine crawls a website, it considers a number of factors to decide where the site should rank in its search results. One of these variables is the page's content, which includes the URL.
By incorporating important keywords in the URL, you are giving the search engine a clear idea of what the website is about. This can increase your chances of ranking higher in search results for that certain keyword phrase.
But keep in mind that just because you use certain keywords in your URL does not mean you will automatically get a good ranking. In addition to the quality of the content on a page and the quantity of high-quality backlinks pointing to a particular website, search engines also take into account a number of additional variables.
Using keywords in URLs may help with SEO while also improving the overall user experience on your website. When a person sees a URL that effectively indicates the content of the page they are going to view, it might give them confidence that they are in the right location.
Example
Just pretend you are in search of a chocolate cake recipe. When you enter "chocolate cake recipe" into Google, you will receive two results with the following URLs:
https://example.com/article-12345
https://example.com/chocolate-cake-recipe
Which one are you most likely to click on? Most people would select the second choice since it clearly states what they may expect when they arrive on the page.
Keywords in URLs can also help people remember the URL of a given page. If they have been to your site before and want to go back to a certain page, they may remember the keyword phrase in the URL better than a general URL that does not describe the content.
Translate Your WordPress Permalink Format to Match the Language of the Content
Google is able to translate URLs on its own, so it can figure out what a page is about. However, URL translation may somewhat increase your user metrics and experience, both of which are ranking criteria.
Given that you are already localizing the content, why not translate the URLs as well? The disparity between content and URL language is not only inconvenient for users, but it also impacts SEO because keywords are dependent on the language of translated page. One of the videos on Youtube's official Google Search Central channel discusses multilingual URLs.
To sum it up, if your website is multilingual, you should translate the permalink bases. This might be extremely beneficial if your target market consists of customers from all around the world. Making your WooCommerce URL addresses have a distinct structure for each language will also aid your clients in navigating around your store.
https://example.com/en/books/history/herodotus
https://example.com/pl/books/science-fiction/stanislaw-lew
https://example.com/de/books/philosophy/friedrich-nietzsche
https://example.com/en/books/history/herodotus
https://example.com/pl/ksiazki/fantastyka/stanislaw-lew
https://example.com/de/bucher/philosophie/friedrich-nietzsche
Do Not Add .html Extension to the End of URL
There is one more thing to think about if you want to improve your website's permalink for SEO. Sometimes people misinterpret this suggestion, but it points out a common mistake that some website owners make. It is a common practice to add the .htm, .html, .php or another suffix to the end of URL.
The issue is the common practice of appending unnecessary file extensions to URLs, such as.htm,.html, and.php. This is a mistake that some website owners continue to make, even with new websites.
https://example.com/music/hard-rock.html
https://example.com/music/hard-rock
Adding extensions to your permalinks, contrary to popular opinion, has no effect on your Google rating. Many people still believe it, but it is time to debunk it. Google does not consider it a ranking factor. Google Search Central has created detailed video that debunks this SEO myth, in case you still need more convincing.
Permalinks and Website Security: Why HTTPS Matters
It is critical to need HTTPS in all of your URLs if you run a WordPress website. HTTPS is the secure version of HTTP that encrypts data exchanged between a user's browser and a website. By enforcing HTTPS, you secure your website from cyber risks while also following Google's recommended practices.
Google's search algorithm also includes HTTPS as a ranking component. As a result, if your website is not safe, it may rank lower in search engine results pages (SERPs) than secure websites with identical content. By mandating HTTPS, you are telling Google that your website is safe and trustworthy, which might help your website rank higher.
Google Chrome and HTTP sites
In terms of SEO, Google penalizes insecure HTTP websites. In July of 2018, Google Chrome began labeling all HTTP sites as "not secure". This implies that if your website is not safe, your visitors may receive a warning notice when they visit it, which may dissuade them from staying on your website or completing a transaction. This warning notice has the potential to impair your website's trust and reputation, which can have a negative influence on your SEO.
Furthermore, by requiring HTTPS, you secure your visitors' data and privacy. When users submit sensitive information onto your website, such as credit card information, HTTPS encrypts the data and prevents thieves from intercepting it. This not only protects your visitors, but also your company from responsibility in the event of a data breach.
Summary
Permalinks are an essential SEO feature that may have a major impact on your search rankings. By adhering to these best practices, you can build optimized permalinks that will help your content rank higher in search results.
In summary, for SEO and UX, URLs should be informative and simple, efficiently reflecting the page's content without unnecessary data or query parameters. Remember to utilize relevant keywords, keep it brief, and use hyphens to separate words.
Now that we understand the significance of permalinks in SEO, let us look at some instances of bad and good permalinks that you can apply on your own website.
Examples of Good Permalinks
As you can see from the below examples, good permalinks are brief, descriptive, and incorporate relevant keywords. They also adhere to an organized structure that allows both people and search engines to easily comprehend what the website is about.
https://example.com/blog/5-tips-for-writing-great-content
https://example.com/services/website-design-for-small-businesses
https://example.com/healthy-recipes/vegan-soups
The first example is a blog post that gives advice on how to write great content. The permalink informs both humans and search engines that this is a blog post with tips for producing amazing content. The number "5" in the URL shows that the article has five recommendations, making it more appealing to click on.
The following is an example of a service page for website design services. This is an excellent permalink for a company targeting small businesses since it includes relevant keywords that appropriately define the company's service and target audience. The target audience is more likely to find this company online because to the concise and understandable permalink.
The final illustration demonstrates a category page for plant-based, healthful soup recipes. The subcategory is vegan soups, which helps users identify the sort of recipe they are seeking for and also helps search engines categorize the page appropriately.
Examples of Bad Permalinks
Now that we have looked at some examples of good permalinks, it is time to look at some examples of problematic permalinks as well. These examples list is not complete, but they represent some of the most typical errors that website owners make.
https://example.com/?p=12345
https://example.com/2019/03/05/the-best-cake-recipe-ever
https://example.com/products/shirts/?q=keyword
The first example is not descriptive and gives no information about the page's content. This can have a negative influence on SEO since search engines may be unable to grasp what the website is about. In terms of user experience, consumers may find it difficult to remember or share the URL.
Second, the following URL is overly lengthy and includes redundant details such as the date the post was published. This can also have a negative influence on SEO because the URL may be perceived as being less relevant to search searches. From the standpoint of user experience, the length of the URL might make it difficult to read and remember.
The final URL contains a query parameter that search engines may not recognize, making it harder to rank for certain keywords. Furthermore, the addition of a query parameter in the URL might make it challenging for visitors to share or bookmark the website.