By and large, you may change the permalinks structure of WordPress posts and pages, but not of custom post types and taxonomies. In this article, we will show you a few options on how to quickly change your permalinks structure.
As you surely know, each page in your WordPress site will have its own permalink. However, WordPress' capability to modify permalinks is clearly limited. If you're interested, the official documentation has further information on basic permalink settings.
Permalink Manager is compatible with custom post types and taxonomies registered using custom code snippets and third party plugins, including Pods, Custom Post Type UI, Toolset Types and WooCommerce.
Some of the functionalities presented in this article are not available in free version (Permalink Manager Lite). Buy Permalink Manager Pro
What are permalinks?
The term "permalink" is derived from the phrase "permanent link" and it is used to describe a complete URL address assigned to a certain post, page or category on your website. The idea behind them is to make it easy for people to share or link to a certain URL. However, the terms "permalink" and "URL" are not synonymous.
In spite of this, not all URLs may be considered permalinks. Permalinks, as a general rule, are used to connect pages created by content management systems like WordPress. Static file addresses, such as images, CSS stylesheets, or JavaScript files are not considered permalinks.
Using well-structured permalinks may help visitors find their way across your site since they give them a sense of where they will end up next. A consistent URL structure can make your site more SEO-friendly, allowing you to attract more visitors from search engines.

The screenshot above shows a very basic example of a native WordPress URL address. In contrast to WordPress's limited permalink system, Permalink Manager allows you to customize and change URL formats in almost any way you want.
What is the difference between a permalink and a slug?
The example permalink, as shown above, consists of a domain with a TLD and the pathname. The latter is made up of a base and a slug at the end. The base, in turn, may include, for example, categories assigned to a post, parent pages, or the date when a blog post was published. The slug appears at the end of the URL, and in the example above, it is "custom-post-type-permalinks".
WordPress slugs
More information about
WordPress slugs
may be found in a separate article.
How do I find WordPress permalinks?
In short, the location of the permalink is determined by the version of WordPress editor you are using. If you use the classic one, the URL will be shown directly
below the title area
. To use the URI Editor after installing the Permalink Manager plugin, click the "Permalink Manager" button shown next to the URL address.

Similarly, if your theme is built on Gutenberg, you should be able to access the permalink of a single post within the sidebar. The URI Editor, which allows you to customize permalinks using Permalink Manager, is similarly added to the end of the sidebar in this situation.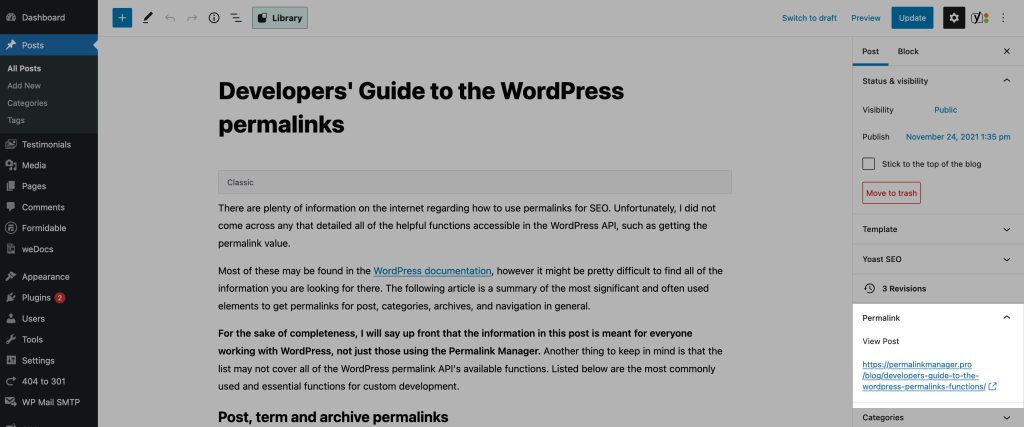 How to change permalinks settings in WordPress dashboard?
For the record, we should also provide information on where and how to change permalinks in WordPress. WordPress has a few basic, out-of-the-box permalink structure formats. To adjust them, go to "Settings > Permalinks" in your admin dashboard. In WordPress, the default option for post permalinks is "Day and name". Additional information may be found in the WordPress documentation.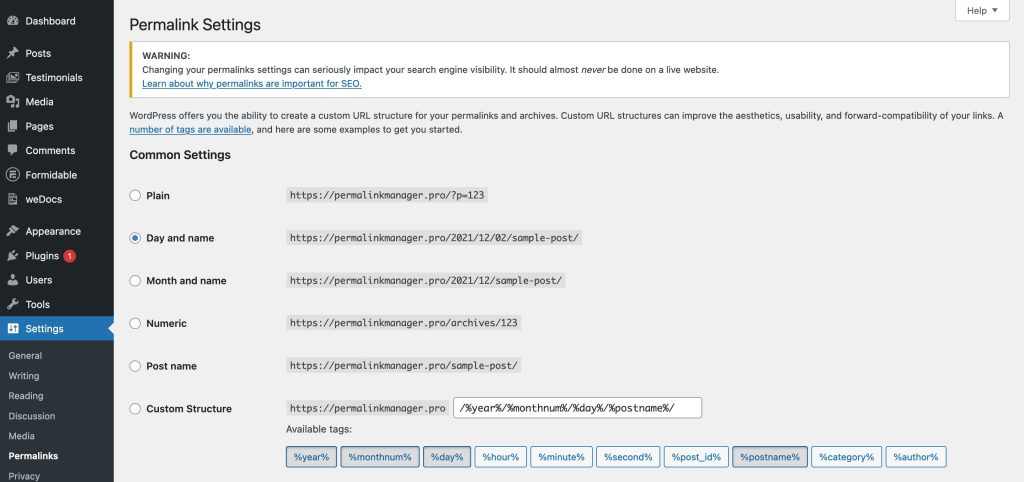 How to change permalinks using Permalink Manager?
Perhaps the most well-known issue with WordPress is the lack of ability to customize permalinks. It is because, WordPress provides with a few basic permalink structure choices. The guidelines below describe how to use the plugin to replace the permalink system included into the WordPress core.
If you do not like what WordPress has to offer, you may use Permalink Manager to create your own permalink structure in minutes. The plugin is the most convenient and versatile way to make better use of the permalinks' possibilities.
Scroll down for more information and examples of uses.
How to change individual custom post type permalinks?
If your site does not have a big number of pages it may also be a good idea to manually adjust each URL address individually.
URI Editor
All information in this article is provided briefly. If you want to learn more about URI Editor
go to a separate article
.


You may both alter them either directly when you modify the text content or quickly review and adjust multiple URLs at once using the Bulk URI Editor.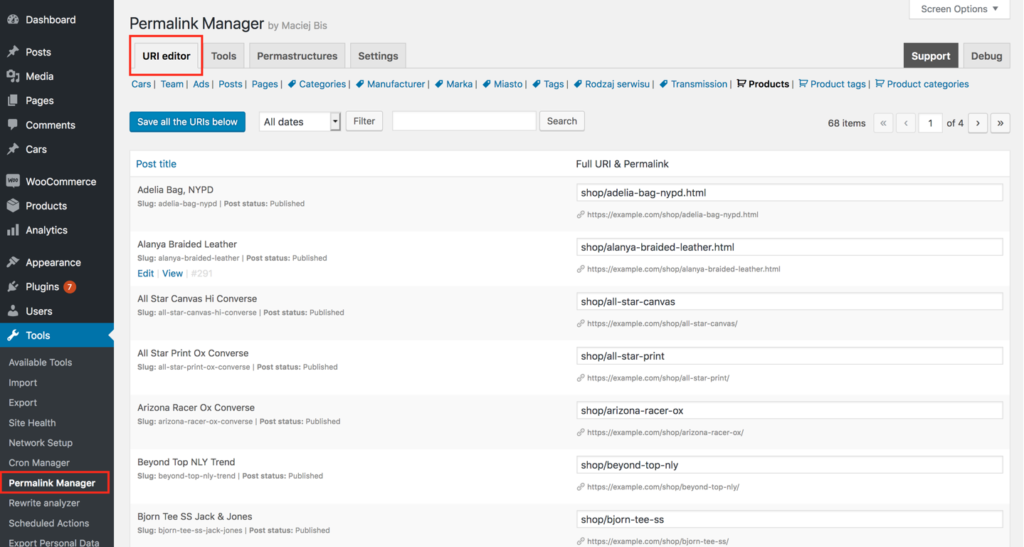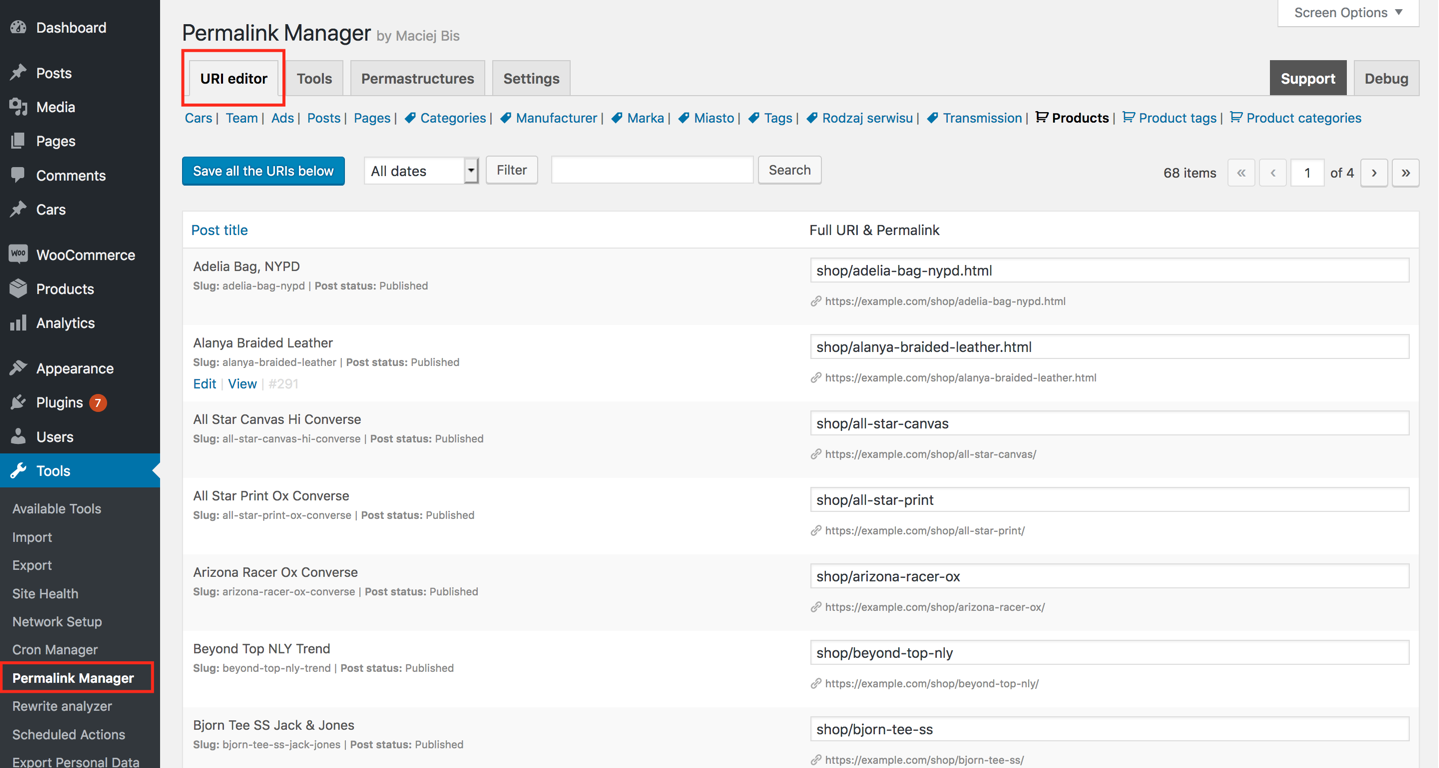 How to change custom post type permalinks in bulk?
As illustrated below, you may change the permastructures for each post type and taxonomy separately. You have complete control over how they are modified.
Permastructures
Using "
Permastructures
" editor you can replace original permalink settings with fully customised formats individually for each post type and taxonomy. You can remove the permalink bases completely or change them to whatever you like. Here you can find
more info
on how to do it.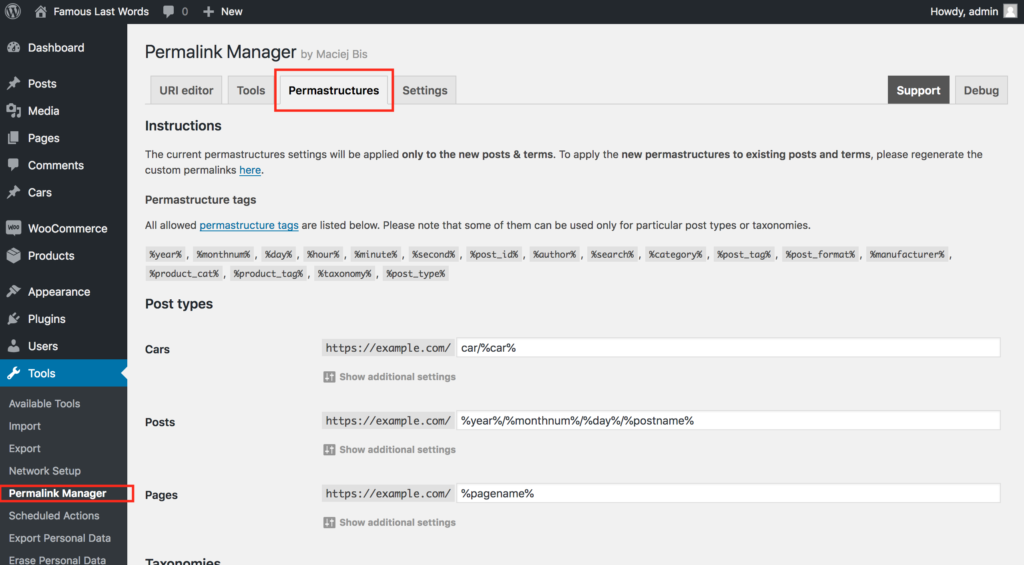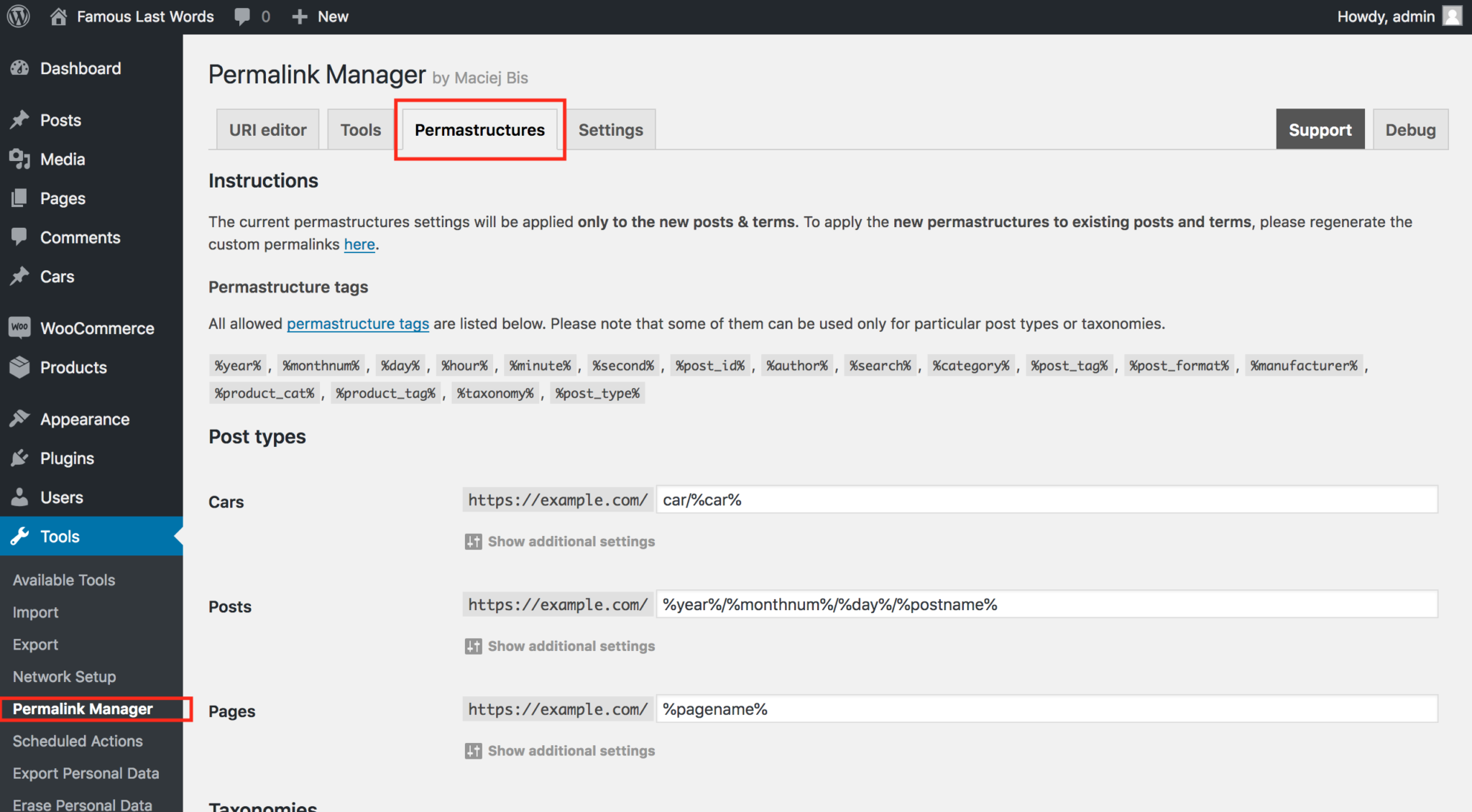 How to add taxonomy slugs to custom post type permalinks?
Permalink Manager is the easiest solution if you would like to add custom taxonomy slugs to custom post type permalinks.


How to add custom fields to permalinks?
Permalink Manager supports custom fields controlled by popular third-party plugins "out of the box".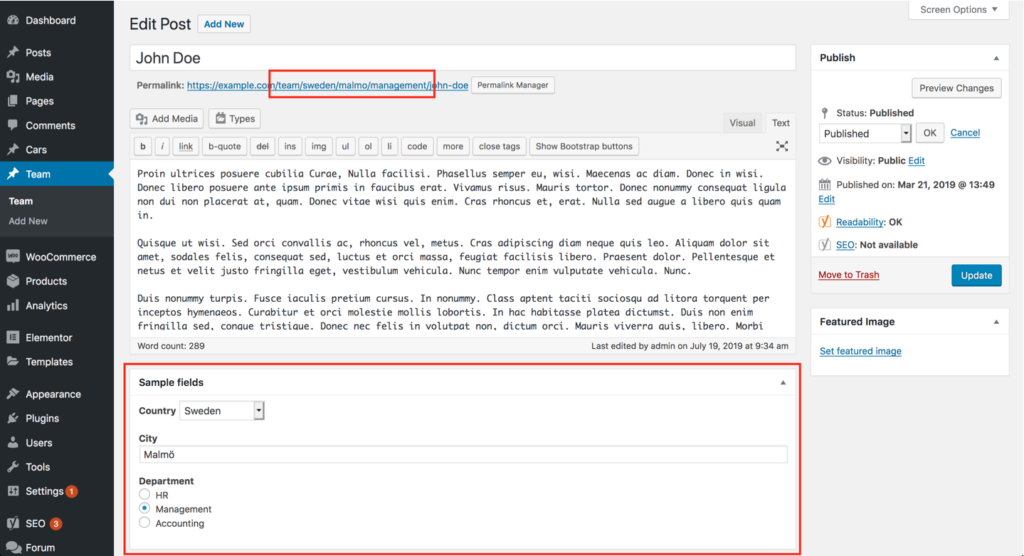 How to use the same permalink base for multiple content types?
Unlike WordPress's original settings, Permalink Manager allows using the same permalink/rewrite base for more than one post type and/or taxonomy.
How to update WooCommerce permalinks?
How to translate WordPress permalinks?
It is also possible to translate the permalink bases or define custom permastructure settings per language. With Permalink Manager, you can easily translate not only WooCommerce products and categories permalinks; it also works perfectly with posts, pages, and custom post type items.