By and large, you may update the permalink structure of WordPress posts and pages, but not of custom post types and taxonomies. In this article, we will show you a few options on how to quickly alter your custom post type permalinks structure.
As you surely know, each page in your WordPress site will have its own permalink. However, WordPress' capability to modify permalinks is clearly limited. If you're interested, the official documentation has further information on basic permalink settings.
Permalink Manager is compatible with custom post types and taxonomies registered using custom code snippets and third party plugins, including Pods, Custom Post Type UI, Toolset Types and WooCommerce.
Some of the functionalities presented in this article are not available in free version (Permalink Manager Lite). Buy Permalink Manager Pro
How to update individual custom post type permalinks?
If your site does not have a big number of pages it may also be a good idea to manually adjust each URL address individually.
URI Editor
All information in this article is provided briefly. If you want to learn more about URI Editor
go to a separate article
.


You may both alter them either directly when you modify the text content or quickly review and adjust multiple URLs at once using the Bulk URI Editor.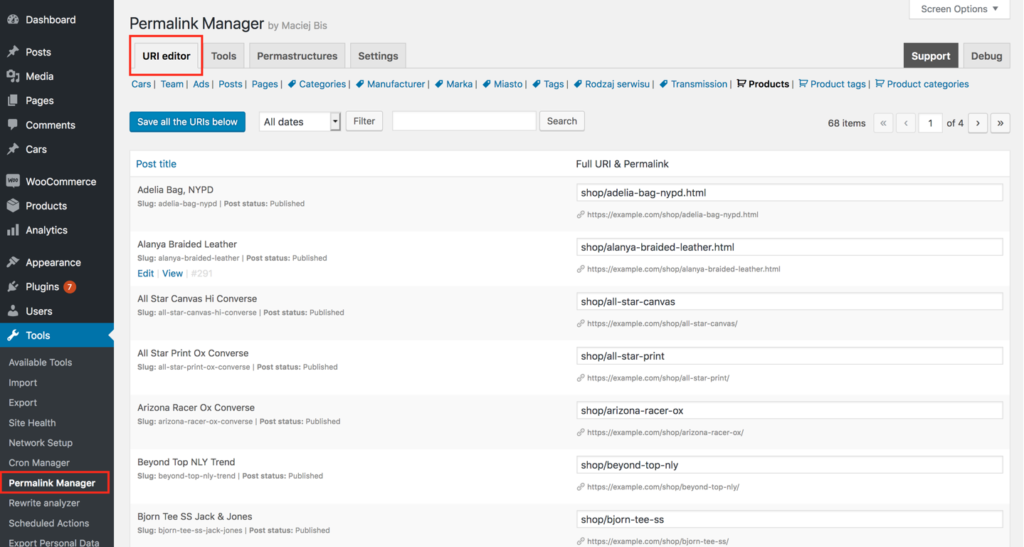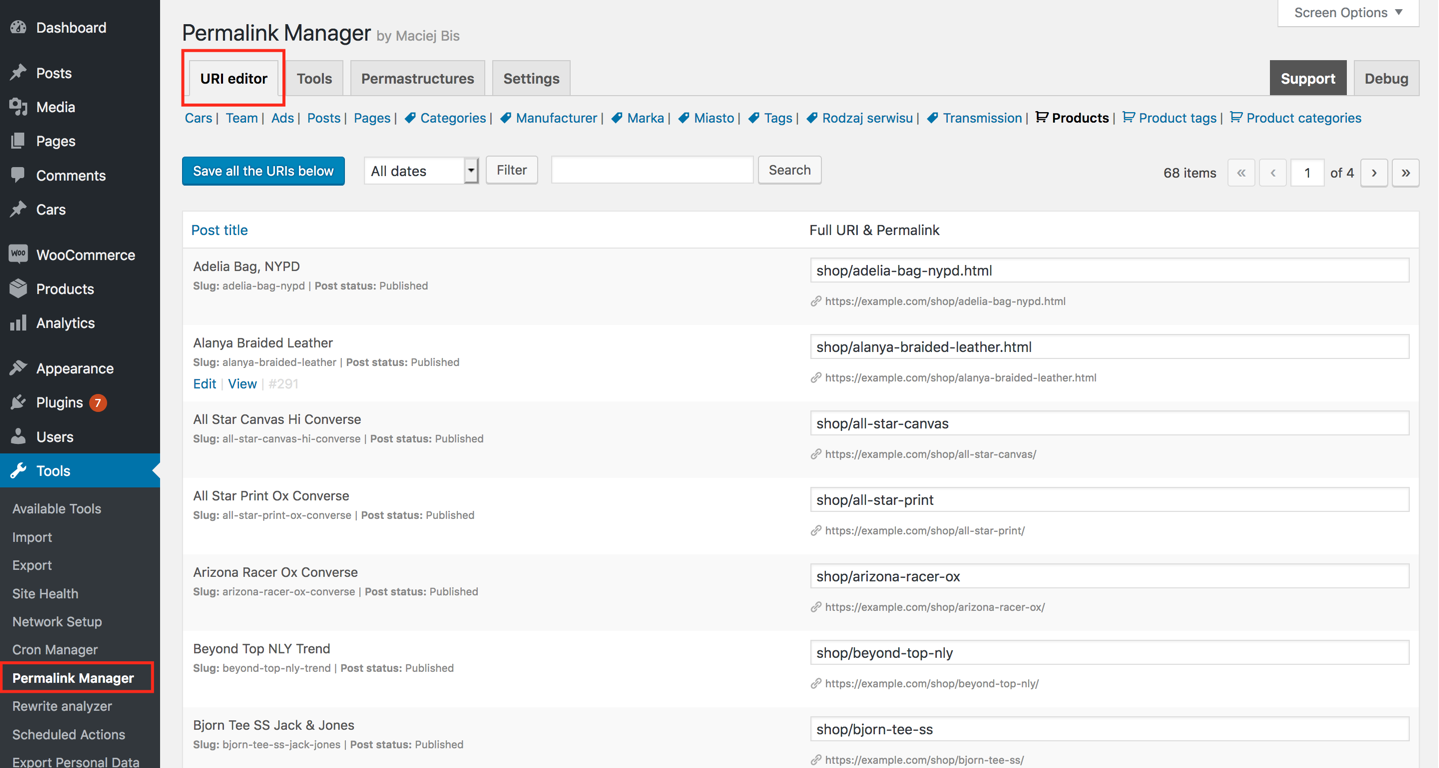 How to update custom post type permalinks in bulk?
As illustrated below, you may change the permastructures for each post type and taxonomy separately. You have complete control over how they are modified.
Permastructures
Using "
Permastructures
" editor you can replace original permalink settings with fully customised formats individually for each post type and taxonomy. You can remove the permalink bases completely or change them to whatever you like. Here you can find
more info
on how to do it.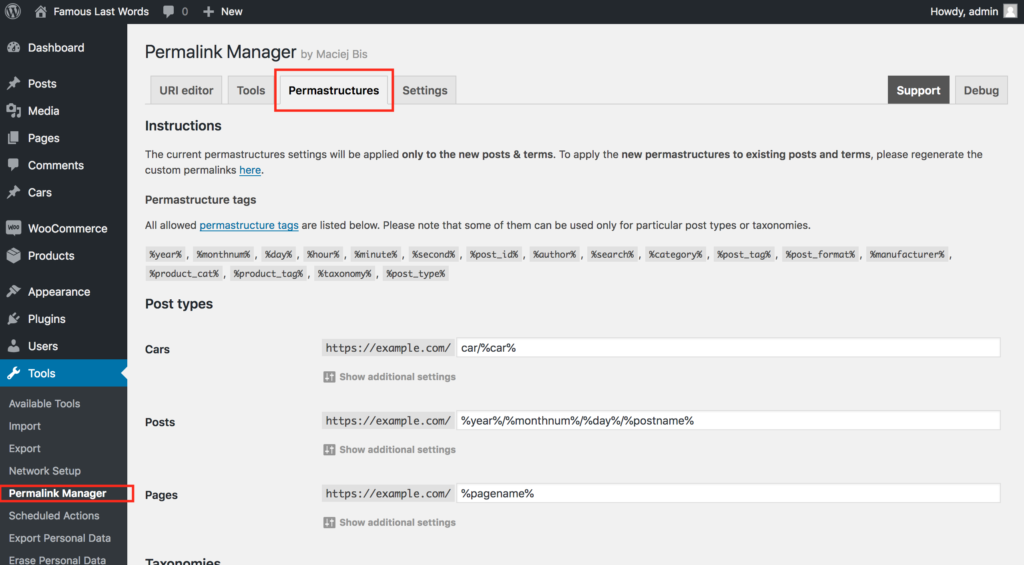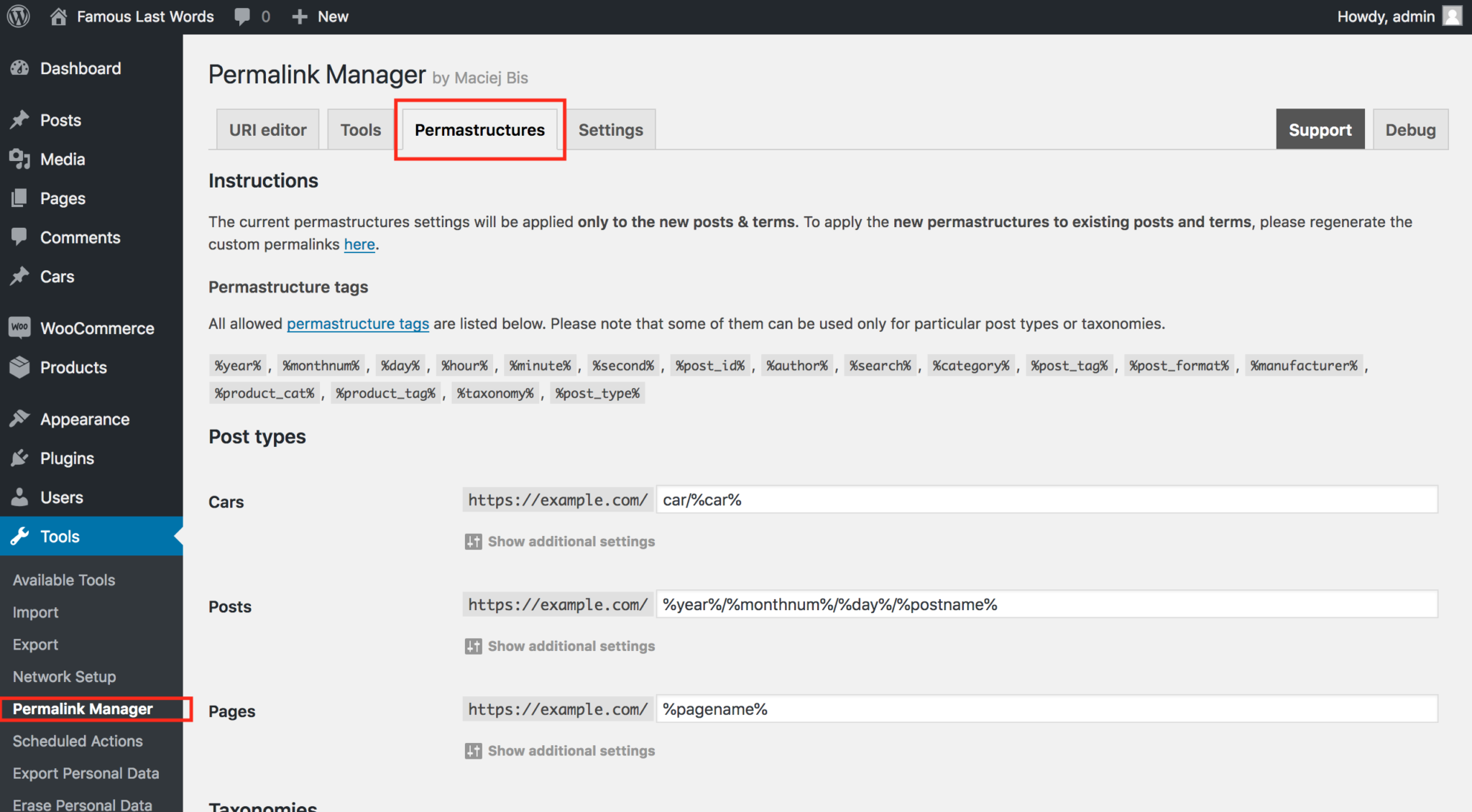 Typical user scenarios
How to add taxonomy slugs to custom post type permalinks?
Permalink Manager is the easiest solution if you would like to add custom taxonomy slugs to custom post type permalinks.


How to add custom fields to permalinks?
Permalink Manager supports custom fields controlled by popular third-party plugins "out of the box".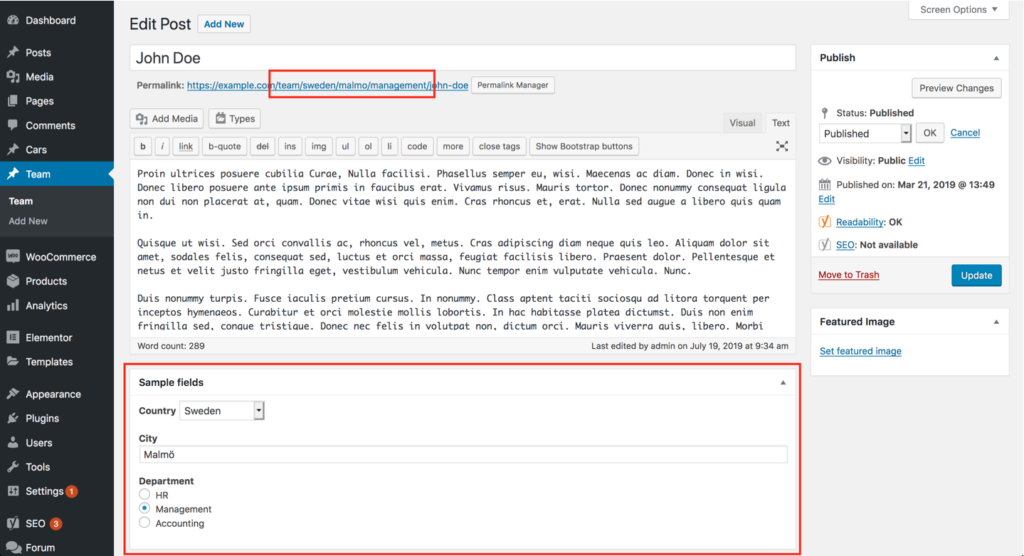 How to use the same permalink base for multiple content types?
Unlike WordPress's original settings, Permalink Manager allows using the same permalink/rewrite base for more than one post type and/or taxonomy.
How to update WooCommerce permalinks?
How to translate WordPress permalinks?
It is also possible to translate the permalink bases or define custom permastructure settings per language. With Permalink Manager, you can easily translate not only WooCommerce products and categories permalinks; it also works perfectly with posts, pages, and custom post type items.