How to purchase Permalink Manager Pro license key?
To acquire a Permalink Manager plugin license, simply check the pricing table above and choose the appropriate option for your needs. You may select between a low-cost license that includes one year of support and plugin updates and a more expensive option that includes lifetime plugin updates.
After you complete the checkout process, you will be redirected to a "welcome" page where you can access your new license key and download the most recent version of Permalink Manager Pro files. You should also receive an email confirmation with a link to the invoice page.
Even if your Permalink Manager license expires, you will continue to have complete access to all the plugin's functionalities. However, unless you renew your license for another year or upgrade to the lifetime version, you will no longer be able to download plugin files or receive automatic updates.
---
The most powerful URL editor for WordPress
A problem that every WordPress site owner is likely to face is how to deal with messy or unprofessional looking permalinks. This plugin will help you keep them clean and tidy, giving you complete control over the URL of each individual post. You can also bulk delete the permalink bases completely or change them to anything you need.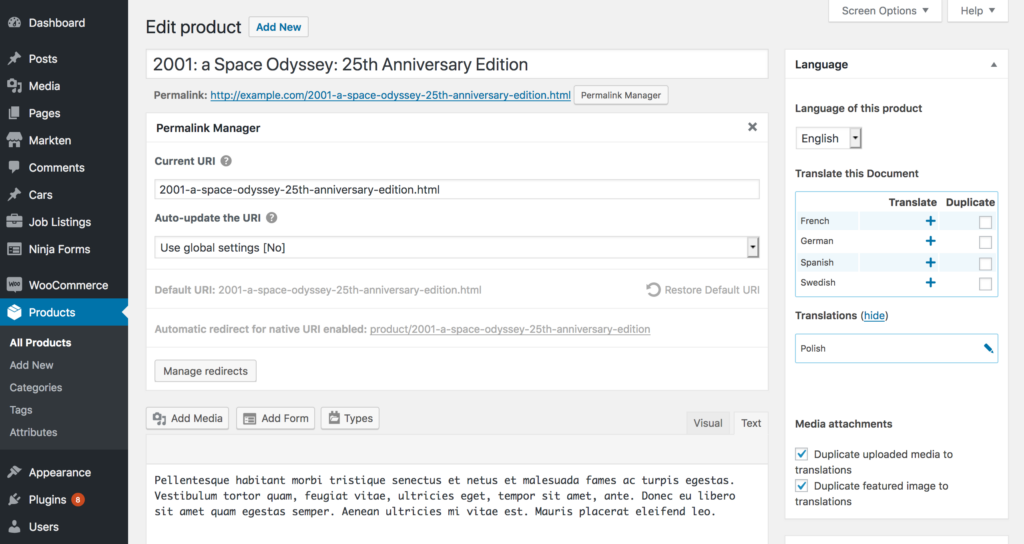 WordPress URL editor is very limited when it comes to adjusting the URL addresses. This plugin extends the power of WordPress by adding many new options for URL generation. Permalink Manager also offers a number of other features including canonical redirects, extra 301 redirects, and bulk editing.
The plugin supports all custom post types & custom taxonomies and major 3rd party plugins including WooCommerce, Yoast SEO, WPML, and Polylang. To avoid 404 or duplicated content issues when the permalink is updated, the users trying to access the old address will be instantly forwarded to the new custom URL. Furthermore, it allows to easily add custom fields to the URLs. It works out of the box with native custom fields and Advanced Custom Fields.
Explore the plugin documentation that has all the tips you need to get started with the necessary tools.