In general, redirect should be used as a "fallback" for defunct URLs. They should be handled carefully, not only for SEO purposes, but also to offer a smooth user experience by preventing users from accidentally visiting a removed page. Consider Permalink Manager if you need a more advanced solution to compliment WordPress redirect tools.
Changes to your URLs are unavoidable if you use Permalink Manager to reorganize your permalink structure. WordPress can identify and catch invalid URLs to some extent. That is, when an outdated URL is requested, WordPress looks for the new, updated URL and forwards the visitor if it finds it.
Canonical & old slug redirect
The
canonical redirect
and old slug redirect functionalities are a integral part of WordPress codebase. You can read about them in a separate article.
Permalink Manager and WordPress redirect functions
Some of the functionalities presented in this article are not available in free version (Permalink Manager Lite). Buy Permalink Manager Pro
When it comes to controlling redirects, Permalink Manager Pro provides much more versatility than the standard WordPress capabilities. To summarize, you may use the plugin to generate extra custom redirects (aliases) for each post/page/category or term.
The custom redirects panel is easily accessible from the URI Editor. To open it, click the "Permalink Manager" button located under the title field. Then, at the bottom, click the "Manager Redirects" button.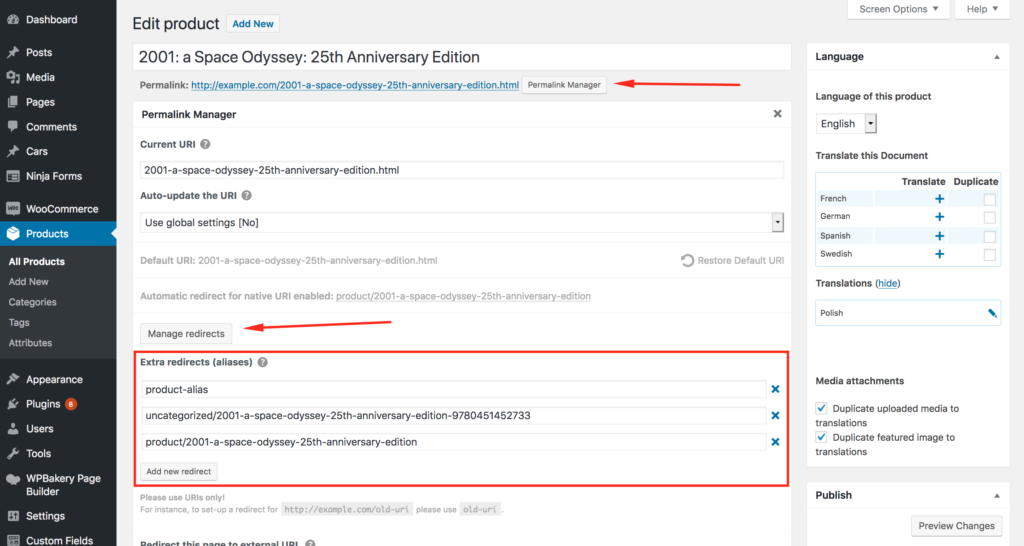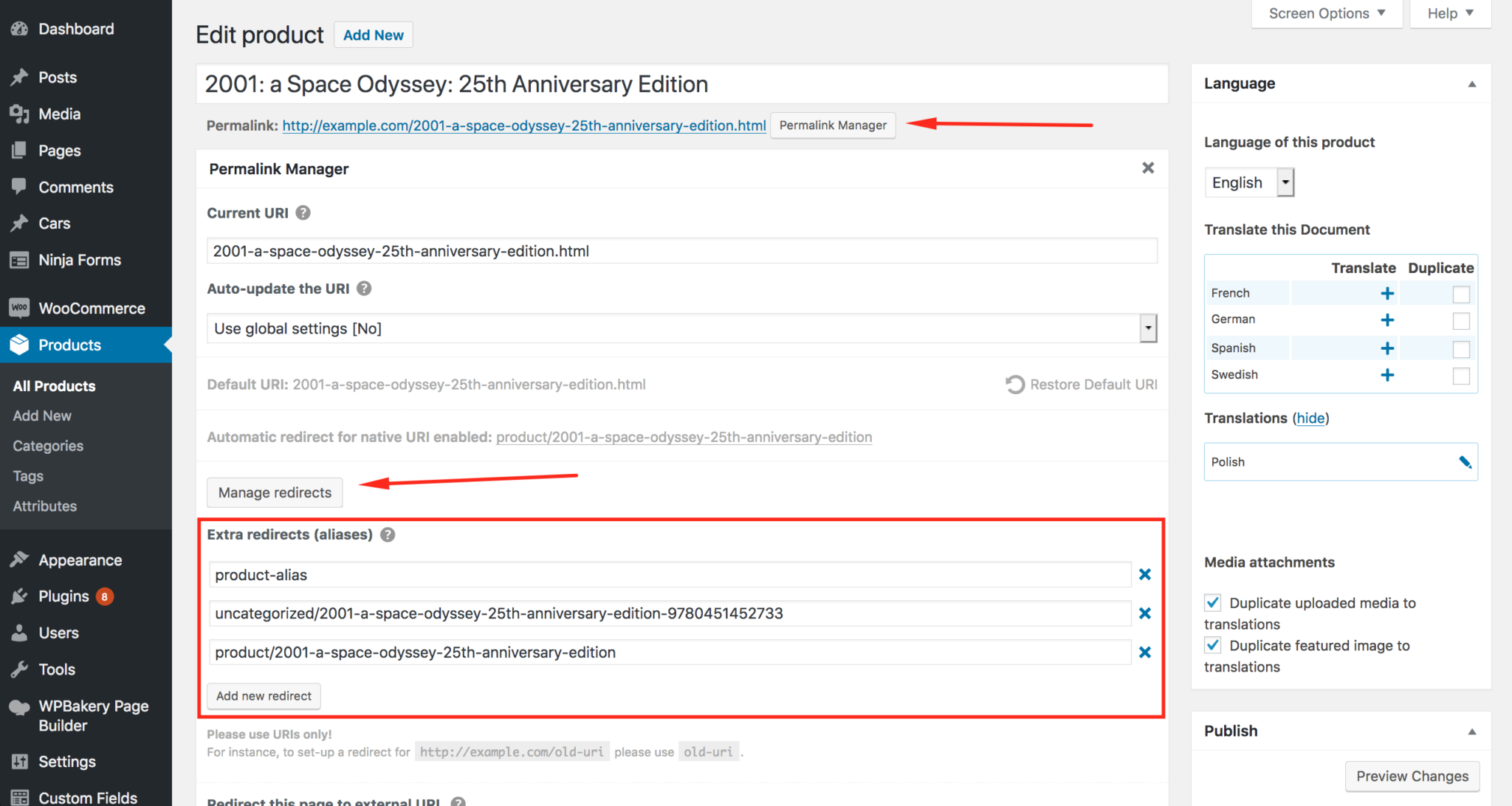 Source URL
(redirect from multiple alias URLs)

Target URL
(redirect to one canonical URL/custom permalink)

http://example.com/product-alias
==>
http://example.com/2001-a-space-odyssey-25th-anniversary-edition
http://example.com/uncategorized/2001-a-space-odyssey-25th-anniversary-edition-9780451452733
http://example.com/product/2001-a-space-odyssey-25th-anniversary-edition
How to automatically save redirects for old permalinks?
Extra redirects can also be generated for previous versions of custom permalinks. This might come in handy if you decide to modify the URLs several times.
How does it work? If the "Save old custom permalinks as extra redirects" option in the plugin options is enabled, the fallback version of the URL will be saved as a "extra redirect" if the permalink is manually altered with URI Editor or bulk updated with the "Regenerate/reset" tool.
Save old custom permalinks as extra redirects
You can find more detailed information about this functionality
in this article
.
How to redirect post/term to external URL?
Permalink Manager Pro may also be used to redirect any public post, page, or term to any external URL. Unlike internal redirects, you must type the whole URL address into the input field: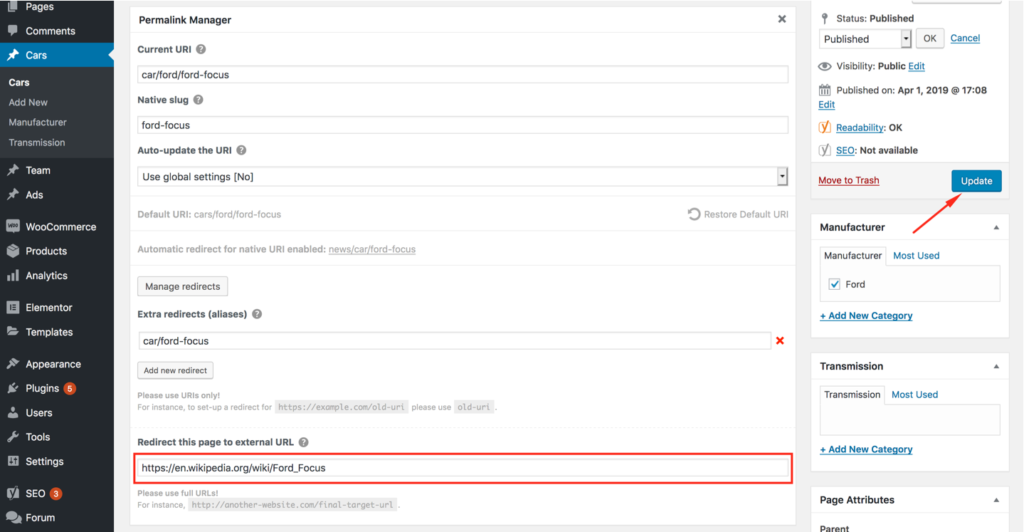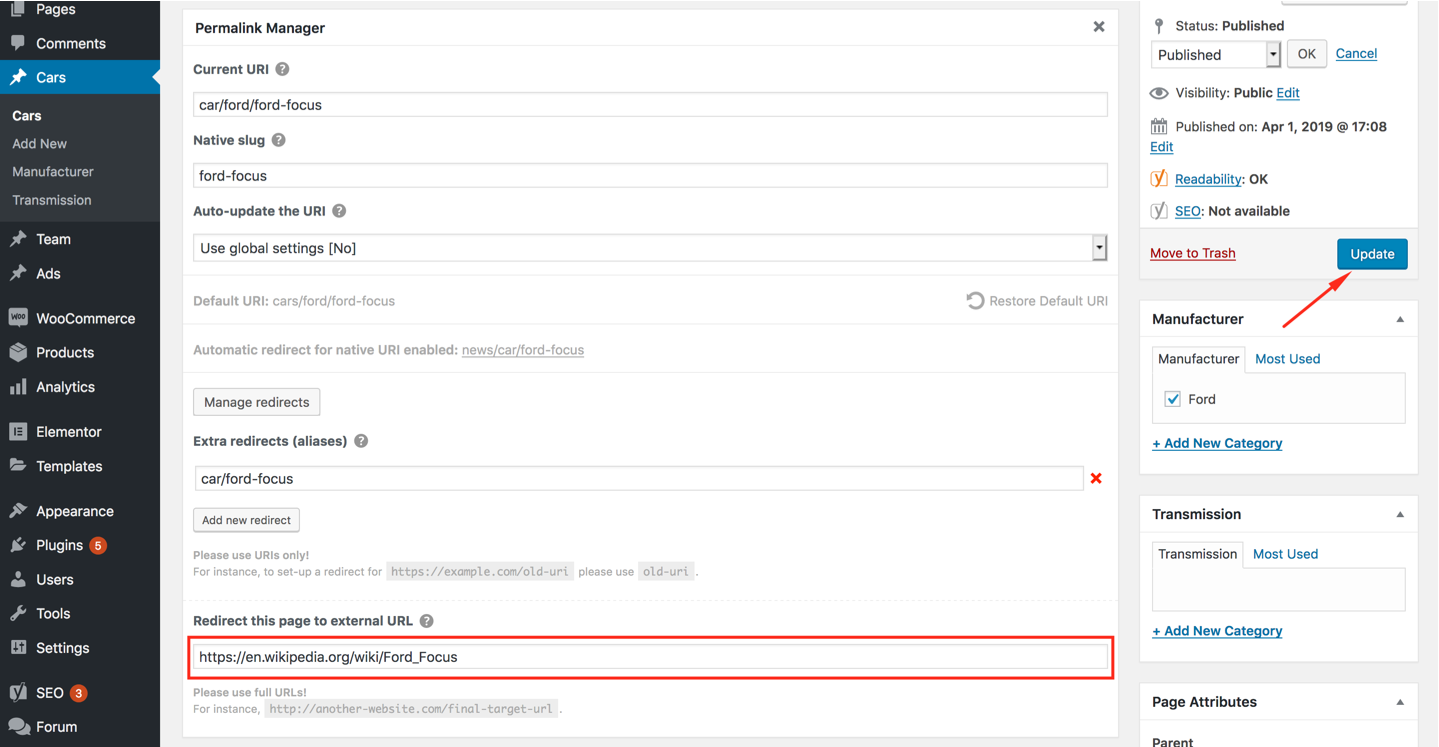 Source URL
(redirect from canonical URL/custom permalink)

Target URL
(redirect to external URL)

http://example.com/car/ford/ford-focus
==>
https://en.wikipedia.org/wiki/Ford_Focus
How to disable the redirects manager completely?
The extra redirects functionality is enabled by default in the plugin settings. However, if you decide not to use it (for example, if you use another plugin to manage redirects, such as Yoast SEO Premium or Redirection), you may disable it.
To accomplish this, navigate to the plugin settings and uncheck the "Extra redirects (aliases)" option.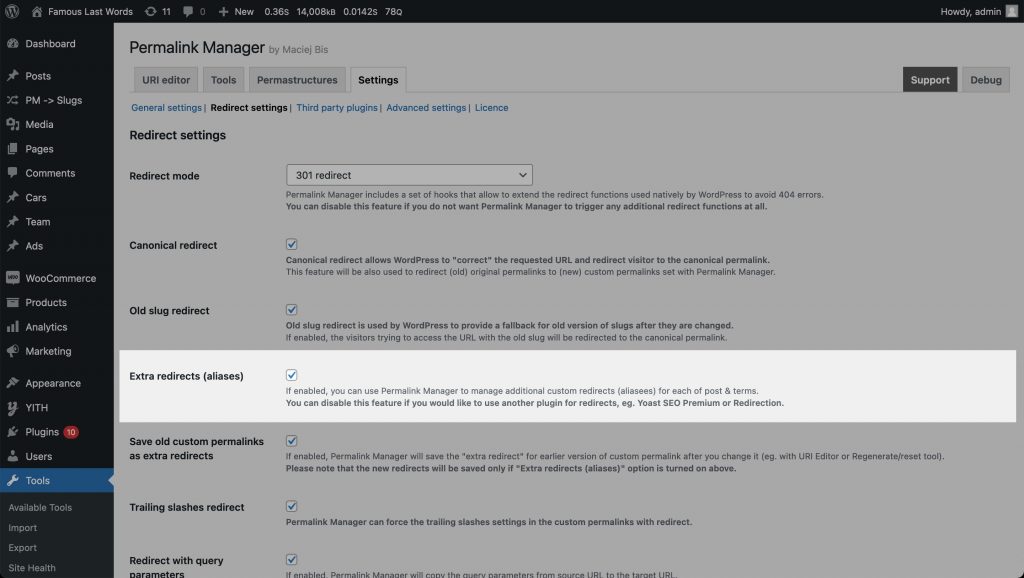 Can WordPress redirect functions affect your SEO performance?
There are several articles on the importance of redirects in SEO optimization. Please see the article on Ahrefs.com's blog for additional information about them. We also suggest you see the following video to learn how Google handles redirection.