The license key should be delivered to you after the payment process is completed. If you did not receive the email with your unique key, please check your SPAM inbox or use the contact form
License key
What will happen after the license key expires?
After the license key expires, you will still be able to utilize all Permalink Manager features without limitation. All custom permalinks, redirects, and plugin settings will remain unaffected. However, until you renew your license key, you will be unable to update the plugin to the most current version or request support.
Can a single-site license be used on development websites?
There is no need to purchase an extra license key if you want to use it on a staging/development website. Please note, that the update server request logs are carefully examined and if any abuse is identified your license key might be restricted. In such a circumstance you would not be able to automatically update the plugin straight from WordPress admin dashboard.
How to renew or upgrade your license key?
You can check the expiry date of your license key in Permalink Manager settings or on "License info" page.


If you renew the license before it expires, the key will be prolonged in your favor for an additional year, starting with the expiry date. For instance, if you renew it on November 10, 2021 and it is good until December 15, 2021, the new expiry date will be December 15, 2021.
If you acquired a license key for a single year or one domain (ex. to test the plugin) you can still upgrade the license to any higher plan in a few clicks and you will pay just the difference in the price.
To renew or upgrade the license key, please use the form and enter your license key below:
Invoices
The confirmation email should be delivered by Paddle.com (payment operator) to you immediately after the payment is finished.
How to generate/print the invoice?
If you would like to generate your invoice just open it and click on "View invoice" button. After that you will be sent to a page where you will be able to input your company data and print your invoice.

Do you have a VAT-EU number?
Paddle automatically will apply VAT (value added tax) rate applicable in your country. However, if you have a valid VAT-EU number, you may have it deducted from the final price before you pay.
If you require an invoice and have a valid VAT-EU number, please enter it during the checkout procedure. After your email is provided in the checkout form, you will see "Add VAT Number" button near the bottom of popup.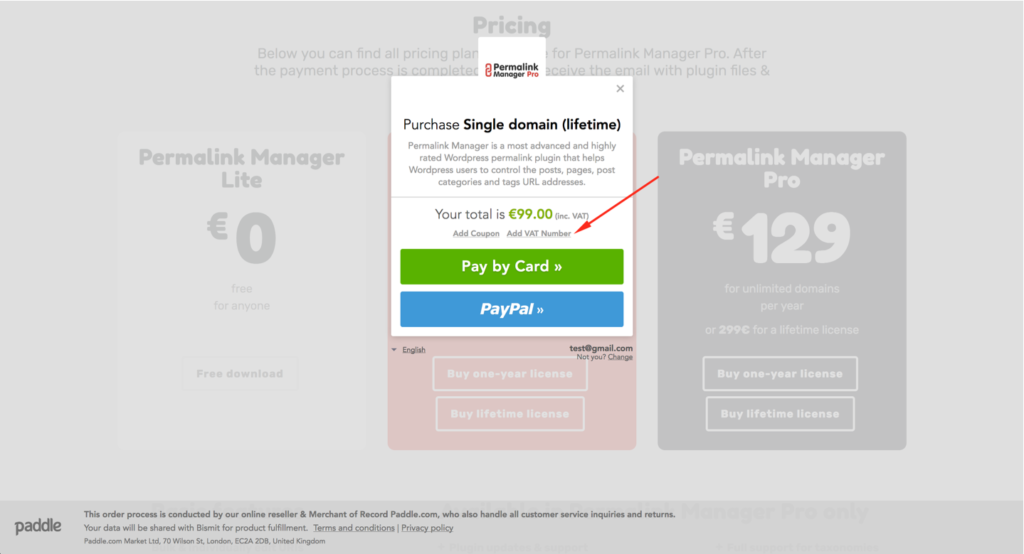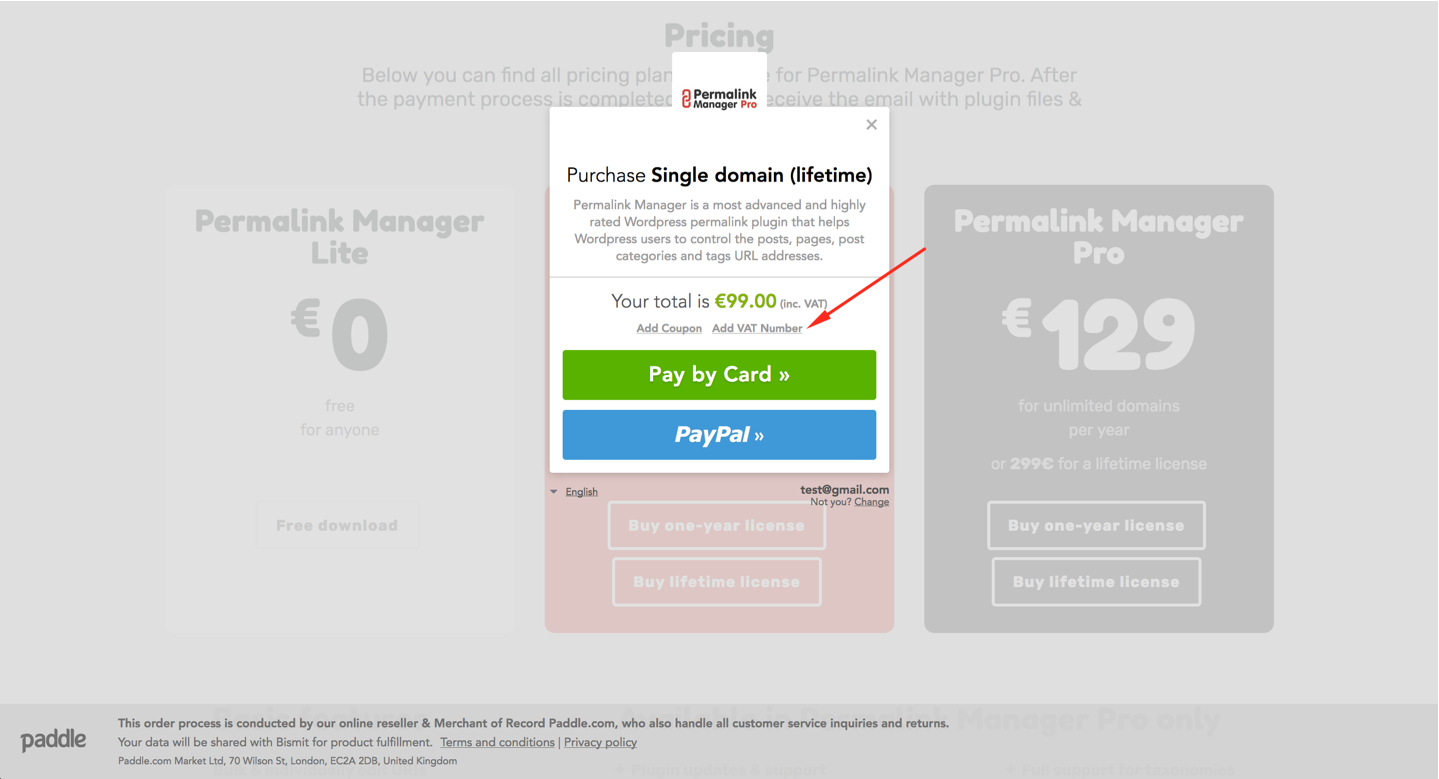 It is also possible to submit the VAT ID number after the transaction was completed. If you forgot it to provide it at the checkout, you may add it along with the business details using the link delivered in the purchase confirmation email by Paddle.com.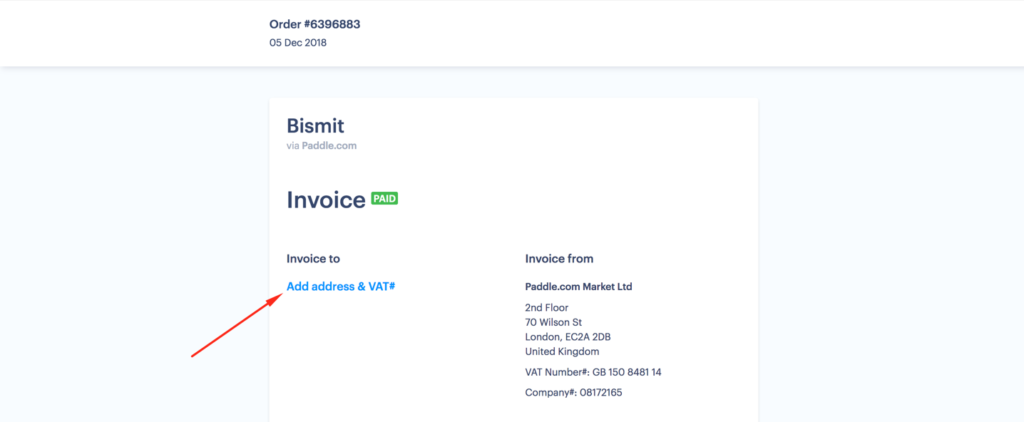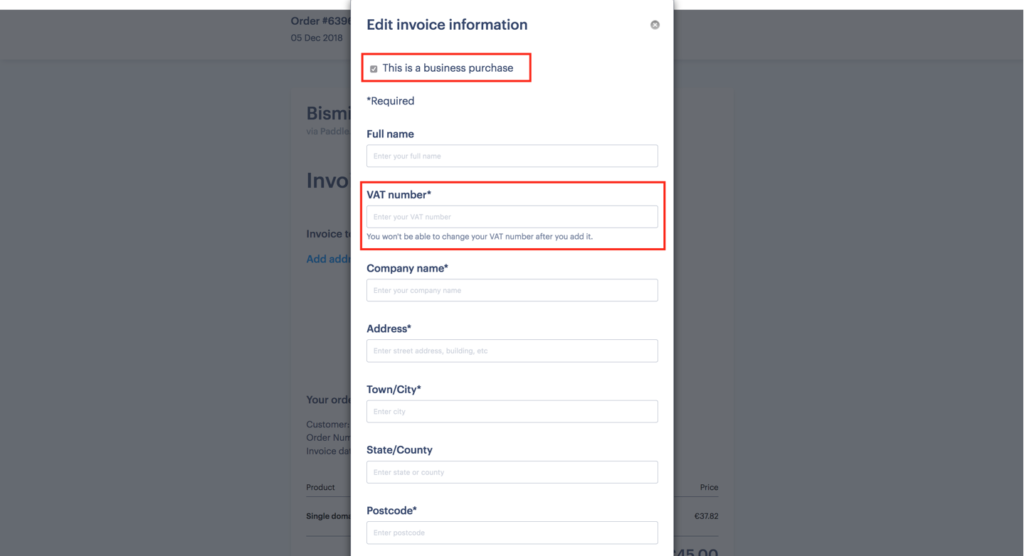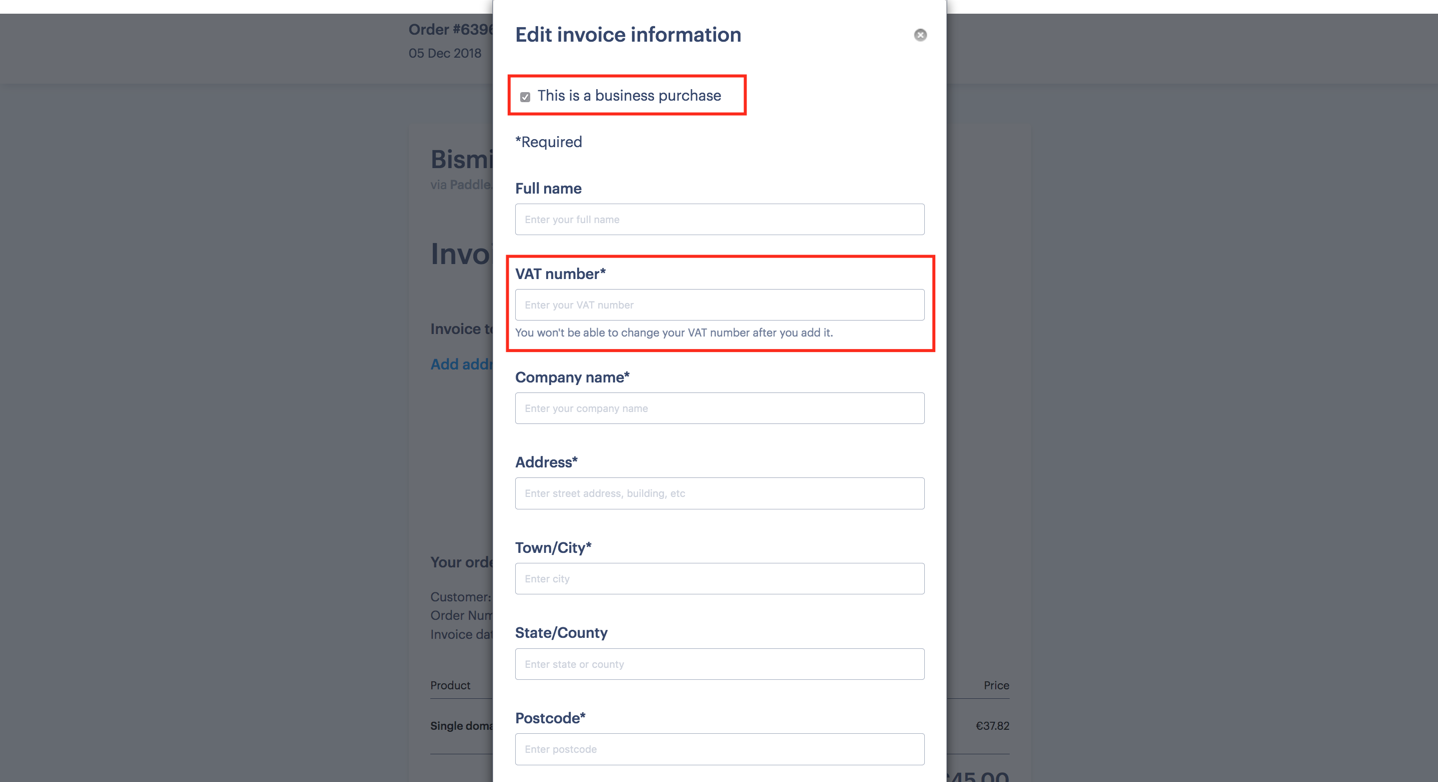 The tax amount will be refunded in max. 12 hours after it is confirmed by Paddle.
Why do I use Paddle to collect payments?
Paddle operates as a Merchant of Record and handles all taxes (VAT, etc.) that should be collected from normal consumers (non-B2B transactions) in EU. Building a system to verify and store customer data in compliance with current EU tax legislation, as well as making the shop VAT-MOSS compliant, would be excessively costly and difficult for a small business like mine.
In brief, when you acquire the license, you buy it from Paddle (Merchant of Record, intermediary/reseller). Technically, Paddle issues invoices, charges my clients and collects VAT tax from them. Every month, all the single transactions are totalled up and Paddle deducts its fees and commissions. After that, I can generate a VAT invoice for Paddle that gives me the money in a single wire transfer.