If you would like to bulk edit the custom permalinks used by any post type (posts, page, products or another custom post type items) or term (categories, terms, product categories or another custom taxonomies) you should start the configuration from Permastructures section.
The permastructure settings defined with Permalink Manager are
automatically applied only to the new post & terms
and if you would like to apply new URL structure to the existing content elements you will need to
regenerate the permalinks
.
It is also possible to edit the URLs manually using "URI Editor" accessible from "Edit post/term" admin page.
Here you can find
a further information on how to edit the custom permalinks individually.
How do the permastructures work?
Wordpress in its "vanilla version" does not allow to fully customize the permalinks and it is caused by the system of rewrite rules used to recognize the content type and slug from requested URL that helps WordPress to identify and load specific post or term. Permalink Manager bypasses this limitation and uses a custom algorithm to detect posts and terms. Here you can find more information on how the custom permalinks are stored.
Permastructures (permalink structures) are used by Permalink Manager to indicate the default permalinks. They are not automatically applied to old posts and terms (you can preview them in URI Editor), but are always used for the new posts and terms.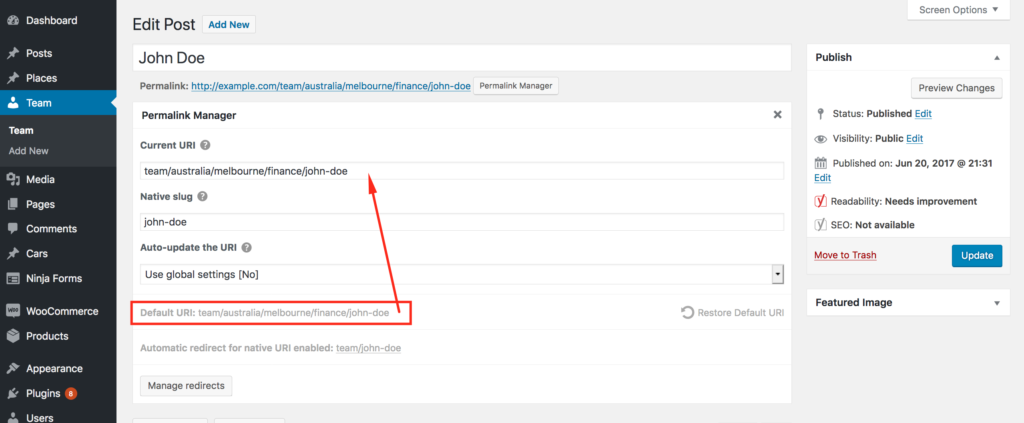 How to change the default permalink structures?
To display the current permastructure settings, please click on "Permalink Manager" (below "Tools" in admin sidebar) and then go to "Permastructures" settings tab.
As you can see, there is a separate text field where you can check how the current permastructure settings look like for each post type & taxonomy.
Initially, the fields will display the native formats, but you can easily adjust them by eg. removing the permalink base (eg. "cars") or setting completely customized structure (eg. by adding to the posts the slugs of the assigned categories as in example below):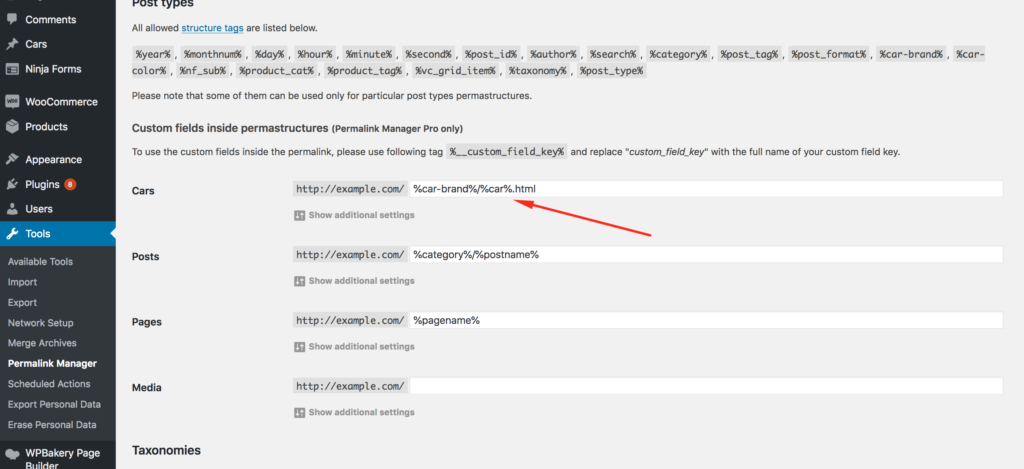 Permalink Manager allows also to easily translate the permalink bases or define custom permastructure settings per language. Here you can find more information how to translate the permalinks.