WordPress is a user-friendly CMS that requires very little technical know-how to operate. However, this simplicity can also be a drawback. While WordPress makes it easy to create and manage blog content, keeping the site up-to-date with new features and security fixes can be challenging for inexperienced users.
Fortunately, updating WordPress and its third-party plugins and themes isn't as complicated as it seems. In this step-by-step guide, you will learn how to update your WordPress themes and plugins in no time. If you used WordPress to build your website, you almost certainly have some additional plugins and themes installed. There is absolutely nothing wrong with that. They are here to save you time and effort when you are building your website by making it easier to add new features.
Why is it important to keep your plugins and theme updated?
Hence, it is essential that you find plugins and themes that can provide all the necessary features. However, as time goes by, new versions of these tools are released with new features and bug fixes. This means that if you continue to use an older version of a tool, there are chances of being targeted by hackers or some vulnerabilities. So, it is important for you to keep a track of the latest versions available for your chosen WordPress plugin or theme.
The question now is how you will determine whether your website's theme or plugins need to be updated. This question has a very simple answer. When a theme or plugin update is available, a round badge with a number indicating the number of updates available will appear on an admin sidebar.
Now, you may be wondering if it's necessary to keep your plug-ins up to date. Well, most developers release new versions of their plug-ins whenever they have a new feature to add or a bug to fix. Upgrades prevent most security breaches and malware assaults that succeed because software updates are not installed and hackers target outdated code. This is especially true with plugins, but it also holds true for themes and WordPress core itself.
Should you always install the plugin updates right after they are published?
It is generally assumed that all updates should be installed as soon as they are released. Personally, I would suggest waiting a few days after the update has been published. This is because some plugins are not thoroughly tested before the developer decides to release them, and it is wise to make sure that the new version is stable.
However, the more plugins you use to customize the look and feel of your WordPress site, the more complicated its underlying code becomes. Since these plugins are developed independently, we can not predict how they will react to future WordPress releases. Given the above, it is usually a good idea to keep a backup of your website's files and database. Backups would allow you to quickly restore your website if an error occurred while you were updating it.
Generally, most reputable WordPress hosting providers offer this service. Kinsta, for example, has a very helpful feature that allows you to automatically create a backup and update the plugins and themes with a single click of the mouse.
How to update WordPress and its plugins & themes automatically?
Generally, WordPress updates are delivered through the auto-updater. Automatic background updates have been available in WordPress since version 3.7 in an effort to improve security and simplify the updating process.
Most websites have this functionality enabled by default. You may choose to auto-update just minor releases, or both major and minor releases, depending on your preference using the auto-update settings that WordPress provides. More details on how to use them may be found in the WordPress documentation.
Updates for major WordPress releases, plugins, and themes must be installed manually. You may, however, activate automatic updates for specific themes and plugins to make the upgrade process go more smoothly.

Automatic updates seem like a great convenience at first glance since they ensure that your website is always up to date with minimal input from you. Fixing bugs, adding new features, and patching security vulnerabilities would all be a breeze, and you would not even have to keep track of when updates were released.
However, while updating, there is a risk of theme and plugin compatibility issues, which might disrupt some functions or even cause the website to crash. If the website is dependent on a large number of plugins, it may be safer to undertake manual updates, at least for plugins.
How to manually install the updates?
Also, you may want to manually install the update if you want to test a beta version of the new software. To manually install the updates, you'll have to log into your WordPress dashboard. From there, you should click the "Updates" tab to view the available updates. Next, select the WordPress updates and click the update button to begin the installation process.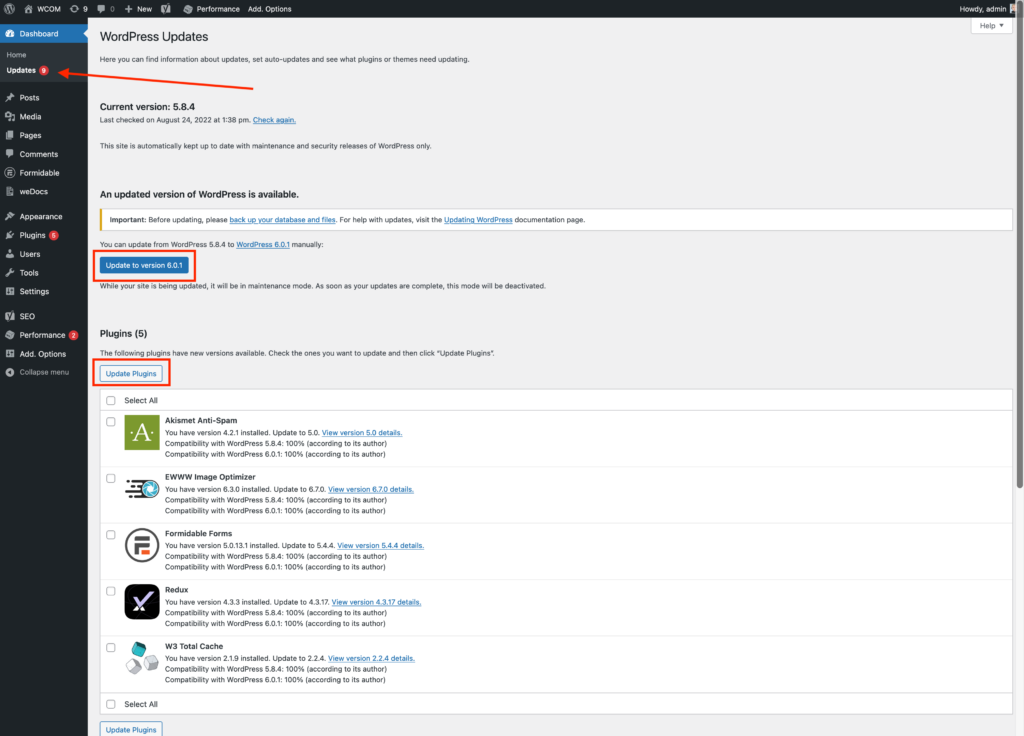 In addition to the "Updates" area, you may install updates from the "Plugins" and "Themes" sections separately. To update a WordPress theme or plugin, click the "Update now" link in the notification bar.