It is not uncommon for WordPress plugins or themes to have issues or bugs. They are more difficult to avoid when you use custom code snippets. There is a chance that you may solve them by switching to a different plugin or theme. Although it may not always be possible.
Having an issue with your WordPress site is never a pleasant experience. In some cases, disabling the problematic plugin or theme can fix the issue. If you can not fix the problem yourself, the next obvious step is to contact the support team. In such a circumstance, time is crucial especially if your website crashed and you are losing traffic.
Your problem will be fixed as quickly as the developer can make sense of the details you provide them. You may save yourself and the developer time by providing all the relevant information from the start.
This article provides a few guidelines on how to write support requests. Our goal is to submit a precise support request and minimize unnecessary back-and-forth with the support team.
Submitting the Support Request
Free and Paid Plugins/Themes
If you have have exhausted your own troubleshooting methods, it is time to contact a plugin or theme developer. The process of sending support requests is straightforward for most WordPress plugins
and themes. Therefore we will not go into too much detail about the process itself.
The support channel depends on whether you purchased a plugin or theme or downloaded it for free. Most developers offer a dedicated support channel, such as a ticket system or a support forum. For example, if you are a Permalink Manager Pro license holder, you can use the dedicated contact form.
If you are having problem with a free plugin or theme, there may be a dedicated support forum in the WordPress.org repository available. It is likely that another user reported the exact problem and there are existing instructions how to fix it.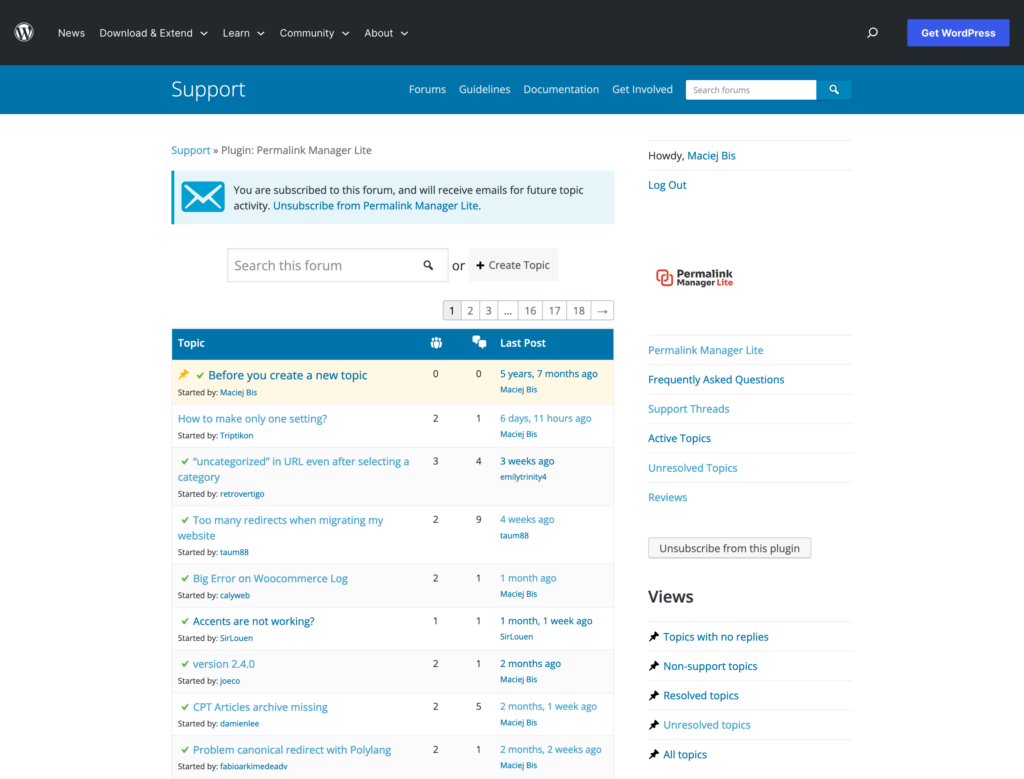 Understand the Developer's Perspective
For many, the first reaction to any sort of difficulty is to become frustrated. This may be even more aggravating if it is related to the paid software. You have every right to expect the developers to "fix it" if you feel this way.
Empathy and respect for those who wants to help really can make a difference. Support team members, like everyone else, are human beings. They are, without a doubt, aware of your irritation and really want to solve your problem.
Keep in mind that they get multiple support requests every day. Therefore, by giving them clear information you can save both their and your time.
The person who receives your request cannot see your screen or know what steps you took before the problem occurred. They can understand the problem and offer a solution based only on the information you gave them.
4 Tips for Writing a Effective Support Request
Clearly Describe the Problem and Give the Background
To begin, please describe the problem you are having as precisely and straightforwardly as possible. Begin by outlining what you were trying to get done when the problem happened. Explain what did not work as intended and how it should have. With this information, the programmer is closer to understanding the final objective.
Please specify the solutions you tried so far if you attempted to fix the problem. Maybe you are missing a detail or you need to do in a slightly different way. It is frustrating when someone suggests a solution you have already investigated and rejected.
Remember that the main objective is to provide a clear picture of the problem so that the developer can reproduce it and come up with a fix.
Collect Information About Your WordPress Site
It is advised to include the bare minimum of information regarding your server and WordPress setup when filing a support request. If you could start by mentioning the plugin or theme's version, it would be a great help.
If you suspect any "third party" plugins or themes are at fault, please mention them as well. If the problem started after the upgrade, this might be very helpful to identify its source. This data lets support to pinpoint the issue, detect plugin incompatibilities, and give a precise solution.
For example, if you are using an old version of WordPress or a plugin, the problem might be a known bug that has been solved in a more recent version.
Attach Screenshots or Video
Importantly, if you are uncomfortable writing or cannot communicate in English well, please try illustrating the problem through screenshots or video. A picture is worth a thousand words, and this is especially true when asking for help.
Please make sure that any screenshots or videos you take to illustrate the problem adequately describe its context. They need to allow the support staff to fully comprehend the problem.
You will not always be able to attach media files to support tickets. In such situation, simply use a free image/video hosting service, such as Imgur.com, and paste the URL of the media file to the message.
Share Error Messages or Logs
If you spot any PHP error messages or have access to server logs, send them with your support request. The fragments of error logs may help developers in determining the source of the problem.
You need to activate debug mode in WordPress in order to see PHP problems and warnings. If you do not know how, I covered it in a separate article.
Gather Information About Your Website?
Site Health Report
Site Health, which debuted with WordPress 5.2, is a useful tool for assessing your site's performance. You may also use it to determine whether anything requires your urgent attention.
When you write a message to a support team, it would be really great if include information about your website's setup. Naturally, you can manually find and collect all necessary data on PHP, WordPress version, and installed plugins.
There is, however, a better and much faster way. You can simply share the Site Health data with the support team! All you have to do is go to "Tools" in your WordPress dashboard and choose "Site Health" from the sidebar.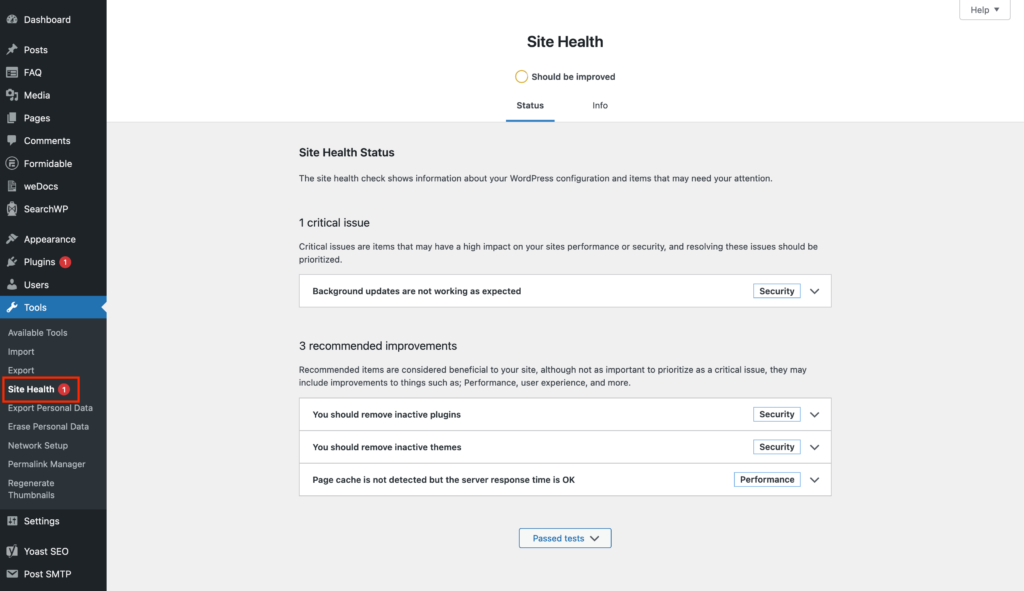 You will notice two tabs: "Status" and "Info" when you get there. The first, "Status" will provide you general advice on how to improve and fix your WordPress site. However, the information we want is under the second tab, named "Info".
Now, click the "Copy site info to clipboard" button and paste the copied information into an email or support ticket.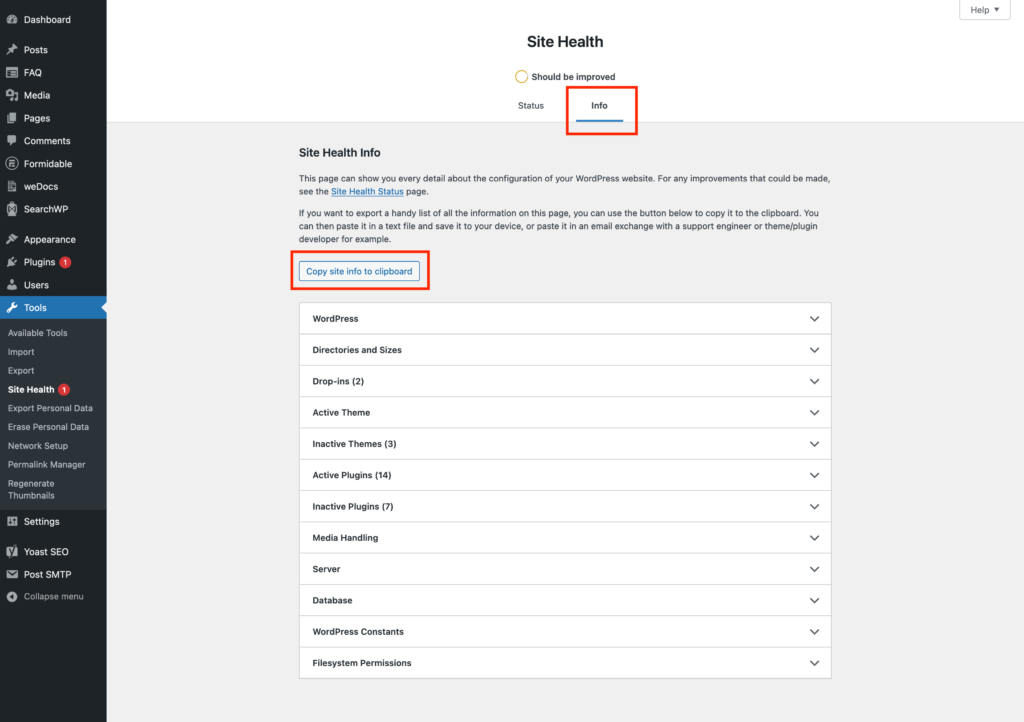 Browser's Console Log
Frequently, especially with page builders like Gutenberg or Elementor, interface elements or do not work in the admin panel. If you are experiencing this, there may be a problem with JavaScript or a plugins conflict. This might also be the case if the slider, buttons, or other elements are not working properly on the front-end.
Fortunately, all widely used browsers provide developer tools that may be used to identify such problems. You may use them to take a screenshot of the console log from your browser and attach it to your support request. This could help the developers in tracking down and addressing the issue you are experiencing.