Most advanced yet user-friendly permalink plugin for Wordpress
With Permalink Manager Pro you can easily control all your permalinks for posts, pages, custom post types, categories, tags, custom taxonomies and WooCommerce shops. It will also help you to bulk regenerate your permalinks or replace any word in your URLs with just a few clicks.
Current rating in Wordpress Plugin Directory
Must-have SEO plugin for Wordpress
Take full control of your permalinks and and boost your SEO score!
With Permalink Manager you can bypass Wordpress rewrite rules and edit the whole URL addresses, not only the slug!
WooCommmerce Permalink Manager
Remove /product-category/, /product-tag/ from your WooCommerce permalinks in less than 2 minutes or customize your URLs to look exactly the way you want.
Furthermore, you can edit permalinks of all WooCommerce pages, products, taxonomies indivudally using "URI Editor" and also set-up public URLs for WooCommerce coupon codes to apply the discount automatically when the link is used.
Improve your SEO performance
Tired of undesirabled 404 error pages? Permalink Manager Pro would automatically (if enabled in settings) create the redirects for ALL previously used custom permalinks.
You can also decide if you would like to redirect your visitors from native permalinks and set-up extra URL redirects or aliases for each post, page or term.
Bulk edit the permalinks
Regenerate the native slugs or apply the new permalink settings (permastructures) to all or selected post/pages/terms with just a few clicks using "Regenerate/reset" tool.
Replace or remove any word in your permalinks using "Find and replace" tool or make the process fully automated and remove user-defined "Stop-words" from default permalinks.
Full support for all post types & taxonomies
Permalink Manager is fully compatible with native post types: pages, posts and taxonomies: categories and tags.
It works perfectly with not only WooCommerce products, product tags or categories permalinks, but also all custom post types & taxonomies controlled by 3rd party plugins or themes.
Extra tools included
With Permalink Manager you can also control native canonical redirect functionality and decide if trailing slashes should or should not be appended to the end of your permalinks.
Permalink Manager is the only supported plugin that is compatible with Advanced Custom Fields and allows to use the custom fields inside your permalinks. Read more about this feature here.
No permalink duplicates!
The possibility to edit full permalinks may in some cases lead to undesired permalinks duplicates. If such a situation occurs an alert will be prompted below the custom URI field.
By using "Tools -> Permalink Duplicates" section you can easily check which posts, pages or terms permalinks should be changed to keep all your website URLs unique.
Translate WordPress permalinks easily!
Permalink Manager is the only WordPress plugin that allows to easily translate the permalinks or define the custom URL structure per language.
The permalinks for each post type & taxonomy can be adjusted and set individually for each language added via WPML or Polylang plugins!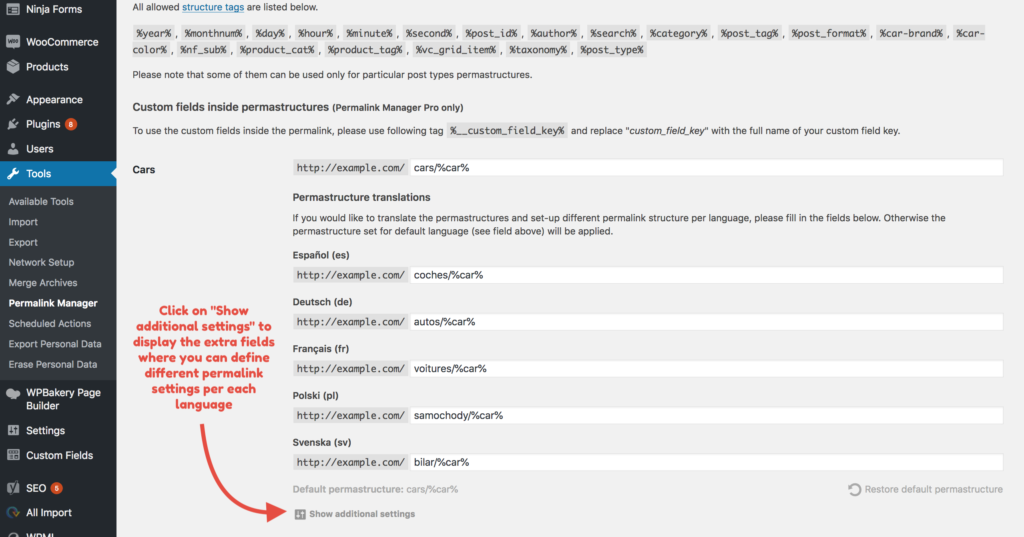 Screenshots
The main sections & features of Permalink Manager Pro are displayed below.
Pricing
Below you can find all pricing plans available for Permalink Manager Pro. After the payment process is completed you will receive the email with plugin files & unique license key.
Basic features included
---
Edit full permalinks via URI Editor
Permastructures Editor (translate/modify permalink bases)
Custom post types support
Auto-update URI
"Regenerate/Reset" & "Find and replace" (support for posts, pages & custom post types only)
Canonical & auto redirects settings
Basic plugin hooks included
Testimonials
Awesome plugin + dev

The plugin delivers a lot of options for customising your URLs. You can do anything you can imagine with it. Custom taxonomies are supported and there are a lot of tools to change URLs in bulk or troubleshoot any problems. The best thing about the plugin is the support. The dev usually answers in a matter of minutes (rarely hours) and is super helpful.

sonnendieb
Major Timesaver

I literally spent the entire morning trying to figure out how to rewrite the permalink structure for an LMS plugin. Then I found this plugin. The plugin does it easily. And the interface is beautiful. Absolutely worth a donation.

lflier
Good plugin, great support

This is the best plugin to manage custom permalinks compared to others that I've used in the past.

pratham2003
Great plugin

Perfectly working and very flexible plugin :)

kobrenko
Quick and great support

A compatibility issue with a template was very quickly resolved. The tools works great so five starts is well earned.

andrebrussee
Amazing customer support!

Amazing customer support!

xantrix
Amazing Support - best Permalink plugin!

I had to migrate a 20 years old website with a horrible URL structure to wordpress. Dozens of subfolders and urls with .html and so on. The permalink manager was the only plugin supported all my needs.The support of Maciej on the other hand is amazing. When I was asking for help to setup permalinks with my own php code, I received support within 60 minutes even on xmas. AMAZING!

sweih
JUST what I was looking for!

So happy to have found this plugin. I wanted to add %product-brand% to my permalink structure. The fact that it adds redirects from all the old URLs is simply AMAZING. thank you!

grantog
Read all the reviews
Contact & support
To find the answers on frequently asked questions and information about how to deal with most common issues please visit the Knowledge Base page.
Go to Knowledge Base
If you still did not find the answer to your question or have any questions, please send us a message via contact form or using following email address contact@permalinkmanager.pro.